Singer Katy Perry's performance at the 59th Annual Grammy Awards Sunday night wasn't just "Chained to the Rhythm." The entertainer's live debut of her new album of the same name was visibly chained to politics, as well.
The left-leaning website Vox described the record as having a "political streak." And, given the recent discourse in American politics, it's hard to argue with that assessment.
"So comfortable, we're living in a bubble, bubble. So comfortable, we cannot see the trouble, trouble ... Are we tone deaf? Keep sweeping it under the mat, Thought we could do better than that. I hope we can," Perry sang in her first live performance of the album.
Perry actively supported Hillary Clinton for president and wrote in an Instagram post after the election that the Democratic nominee "lit a fire inside of me that burns brighter and brighter every day."
As Vox noted, Perry wore during her performance Sunday an armband, which read "PERSIST." The accessory was a reference to Republicans shutting down Massachusetts Democratic Sen. Elizabeth Warren's floor speech last week after they said she broke a rule while reading a letter written by Coretta Scott King during debate on the confirmation of President Donald Trump's nominee to be attorney general, Alabama Republican Sen. Jeff Sessions. King's 1986 letter accused Sessions of using the power of his office as U.S. attorney to "intimidate and chill the free exercise of the ballot by citizens," the Washington Post reported.
Senate Majority Leader Mitch McConnell (R-Ky.) said Warren was impugning Sessions' character by her reading of the letter. Warned by the presiding officer to stop, Warren continued. She was subsequently told by the chair to take her seat. When she appealed the ruling, the Senate voted to prevent Warren from speaking during the remainder of the debate on the confirmation.
"She had appeared to violate the rule. She was warned. She was given an explanation. Nevertheless, she persisted," McConnell said.
But perhaps the most blatantly political moment of Perry's performance came at the end, when she and Skip Marley, the grandson of the late singer-songwriter Bob Marley, joined hands in front of an image of the U.S. Constitution as Perry shouted "no hate."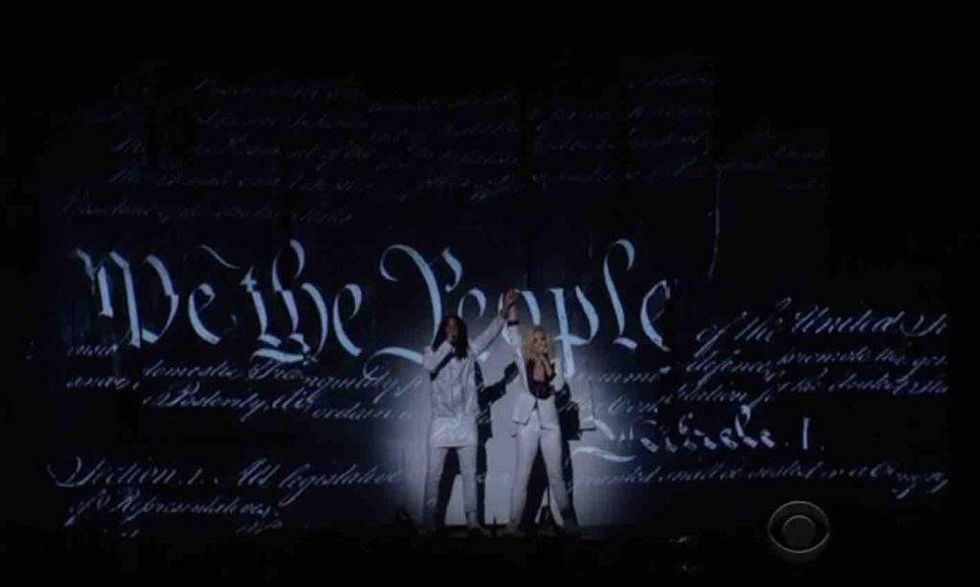 Image source: CBS
Perry acknowledged the political nature of her new album in a tweet sent out Friday.
"We gonna call this era Purposeful Pop," Perry tweeted in response to one fan referring to her latest work as "woke pop."
We gonna call this era Purposeful Pop. 👁 https://t.co/fCllqtlRTm

— KATY PERRY (@KATY PERRY) 1486704217.0
See Perry's entire Grammys performance for yourself: