If you're a student at the University of Massachusetts, Amherst — a public university — you must take two courses to fulfill the college's "Social and Cultural Diversity" requirement.
A course for first-year students that counts toward that requirement — Education 115: Embracing Diversity — was outlined for the College Fix last week by a student who spoke to the outlet anonymously.
As you might expect, the course — designed to move "the discourse of diversity beyond mere tolerance, celebration, or appreciation," the outlet said, citing the syllabus — covers topics such as white privilege, male domination, homophobia, sexism, colonialism, imperialism and classism.
More from the College Fix:
One reading assignment in the class, "Normal University and the Story of Sam," tells the story of Sam, a low-income black lesbian who attends "Normal University," an Ivy League-like university whose namesake had a role in the slave trade. Sam faces all sorts of oppression during her freshman year.

Her roommate's friends make racist remarks, funds are diverted from the campus LGBTQ organization and a protest over the use of bathrooms remind her of stories shared "about the Jim Crow era." To top it all off, she studies in a "male-centric" engineering department where a woman has never been promoted and tenured.

At the end of the reading, students in the course are tasked with choosing an option to make the university more welcoming for Sam.
Normal University and the Story of Sam Case Study by The College Fix on Scribd
"There were no real discussions. There [were] no debates or anything like that," the student, who provided assignments from last fall's course, told the College Fix. "It was just these are the facts and that was it."
The Embracing Diversity course is just the latest example of continuing left-wing sociopolitical indoctrination of students in American colleges and universities that have been conflated with academic pursuits.
And while one might be inclined to believe professors march in lock step with such an agenda, one faculty member — at the University of Massachusetts, Amherst, no less — is most definitely listening to a different drummer.
Daphne Patai — a professor of languages, literature and cultures who's been teaching at the school for more than three decades — has been quite outspoken about avoiding politicization in academics.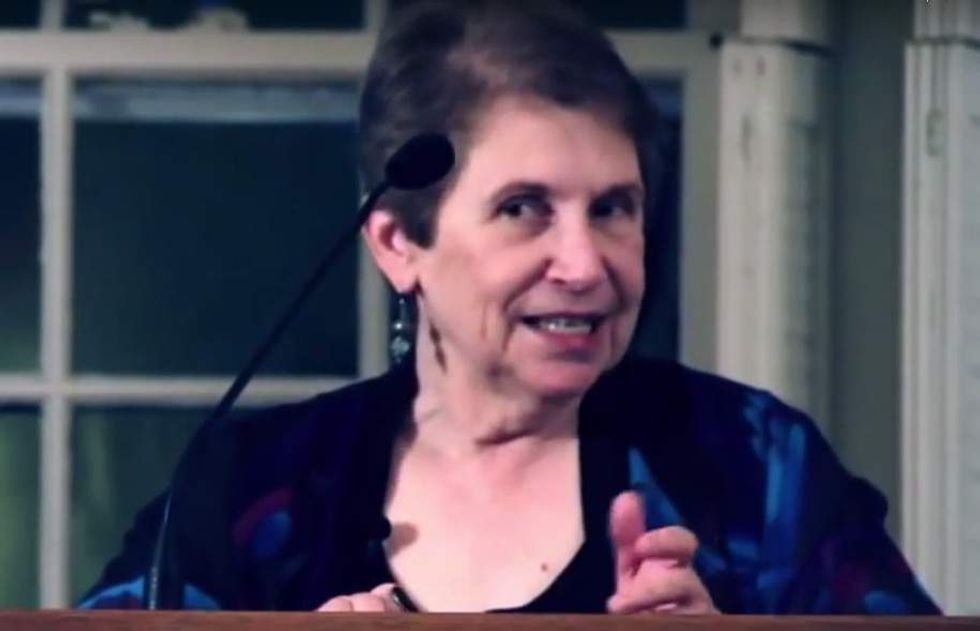 Professor Daphne Patai (Image source: YouTube)
Her faculty bio states that after a 10-year joint appointment in women's studies Patai "became highly critical of what she saw as the imposition of a political agenda on educational programs, which she believes not only debases but also threatens the integrity of education. Much of her recent research deals with these problems in higher education as well as with the decline of free speech in academe."
In a December piece she penned for Minding the Campus, Patai declared that "code words" such as "diversity" represent a "brazen attempt at thought control" in the college classroom and are an "exercise in compelled speech, unworthy of higher education and unconstitutional in a public institution."
More from Patai's article:
The university may have a social mission to enhance diversity, equity, and inclusion, even in the name of "social justice" (which Jonah Goldberg notes is currently merely a stand-in for "goodness"), but that is quite different from adopting these words as an educational mission. In addition, these terms have by now become an orthodoxy, constantly reiterated by administrators whose numbers and dedication to these issues keep expanding while the quality of liberal arts education — and above all its "diversity" — has patently declined.
Patai told TheBlaze that while the latter may be viewed as a "liberal" pursuit, nothing could be further from the truth.
Being truly liberal, she said — in the sense of classical liberalism, which values individual freedom and limited government — is a far cry from what passes as "liberal" today.
Rather, Patai emphasized — again in the classical sense— that "liberal" is "a positive term and definitely does not describe the rampant and thoughtless leftism that prevails in academe. ... There's nothing remotely liberal about this heavy-handed ideological policing!"
And as far as the possibility of courses like Embracing Diversity becoming more rooted in the academic landscape, Patai told TheBlaze: "Nothing surprises me by now, given the general climate of self-righteousness and political grandstanding that occurs in higher education these days."