Texas high school wrestler Mack Beggs, 17, is undefeated this season — 44 wins, zero losses, KTVT-TV reported.
Last weekend a referee again raised Beggs' hand in victory, and this time it was for the 110-pound championship at the Class 6A Region II meet.
#Transgender wins regional #wrestling title despite attempts to ban him from competing #Texas #MackBeggs https://t.co/EvABQlZdL9

— Champion Vision 🤼‍♂️ (@Champion Vision 🤼‍♂️) 1487658277.0
But Beggs' success on the mat is mired in controversy.
Beggs, a junior at Trinity High School in Euless, is transitioning from female to male and has been taking testosterone since October 2015 for that purpose, the Dallas Morning News reported.
The other twist, the paper noted, is that Beggs identifies as male and reportedly wants to wrestle boys — but state athletic rules prohibit the three-time state qualifier from doing so. One policy says student-athletes must compete as the gender listed on their birth certificates, the Morning News reported, adding that another rule forbids boys from wrestling girls, and vice versa.
So Beggs must wrestle girls.
His opponent in Saturday's title match, Madeline Rocha, didn't walk on the mat to wrestle Beggs, the paper said — which resulted in a forfeit. The Morning News noted that Beggs pulled a tearful Rocha on the victory stand, and the pair exchanged a hug.
Beggs' first-round opponent, Lewisville's Fatima Vaquerano, also forfeited, the Morning News said.
In the semifinal Friday night Beggs wrestled Grand Prairie's Kailyn Clay, the paper reported — and Beggs pinned Clay.
While the Texas Education Code and University Interscholastic League rules prohibit steroid use, the Morning News said the code has a "safe harbor" provision allowing them if "dispensed, prescribed, delivered and administered by a medical practitioner for a valid medical purpose."
Nevertheless, a wrestling parent and attorney, Jim Baudhuin, filed a lawsuit against the UIL, asking it to suspend Beggs for the testosterone use which he said places other athletes under "imminent threat of bodily harm," the Morning News reported. Baudhuin's daughter, a wrestler for Coppell High School, isn't in Beggs' weight class, the paper added.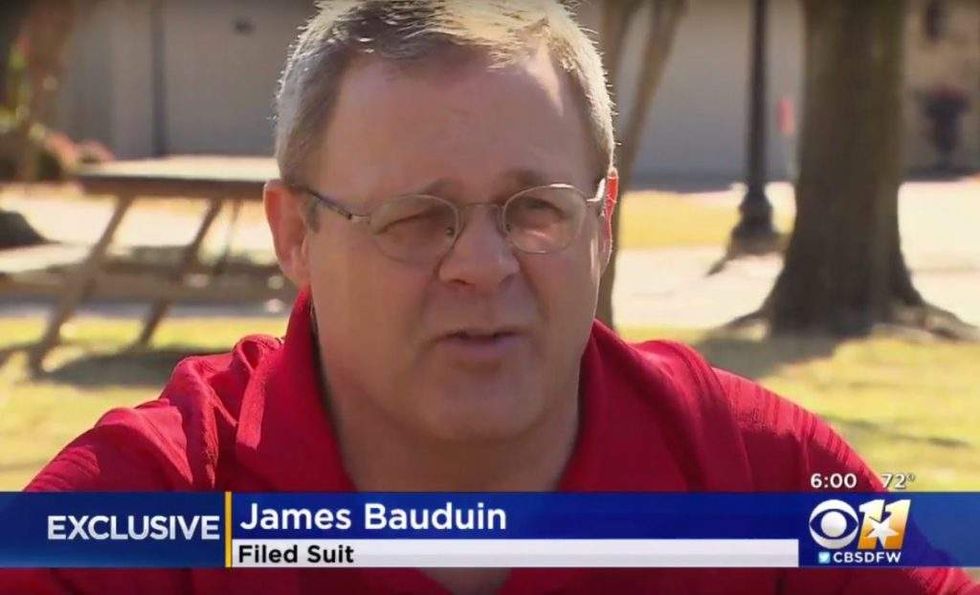 Jim Baudhuin (Image source: YouTube screen cap)
Baudhuin added to the Morning News that his lawsuit wasn't about Beggs' being a transgender male.
"I respect that completely, and I think the coaches do," Baudhuin told the paper. "All we're saying is she is taking something that gives her an unfair advantage. It's documented. It's universal that it's an unfair advantage."
He added to the Morning News that the Coppell coaches who forfeited the championship match previously indicated they would do so over safety concerns for Rocha.
But Beggs took to Facebook on Sunday, saying "we want to wrestle each other. I feel so sick and disgusted by the discrimination not by the kids, the PARENTS AND COACHES. These kids don't care who you put in front of them to wrestle. We just want to WRESTLE. THEY are taking that away from me and from the people I'm competing with. SHARE SO WE CAN MAKE A CHANGE FOR THIS SPORT AND DISCRIMINATION!"
Beggs' grandmother and guardian is angry about the controversy, saying Beggs wants to wrestle boys but can't, the paper reported.
"Today was not about their students winning," Nancy Beggs told the Morning News. "Today was about bias, hatred and ignorance." She added to the paper that her grandchild has wrestled members of the Coppell girls' team before and that "they know each other and they were not happy with this."
Both Beggs and Rocha are headed to the state championships Friday and Saturday in Cypress, the Morning News said.