According to a report from the Wall Street Journal, the issue of criminal justice reform, due to its success in some states, could unite left- and right-leaning voters. Mark Holden, general counsel and senior vice president for Koch Industries, hopes President Donald Trump takes notice.
Trump thus far is not on record as supporting — or not supporting — efforts to reform the criminal justice system. However, he did run as the "law and order" candidate during the 2016 campaign, rhetoric that tends to reflect a reluctance to investigate criminal justice reform.  The Blaze reported Tuesday that the prison system in the United States spends roughly $71 billion a year to house 1.53 million inmates in state and federal prisons. 
Of that number of total inmates, 53 percent of those currently held in state prisons are there for non-violent offenses, and it's this group that interests Holden and other criminal justice reform experts. These offenders, who often find themselves victims of mandatory minimum sentencing end up being lumped in with a more violent and hardened prison cohort. The recidivism rate according to the Bureau of Justice Statistics indicates those released from state prisons have a recidivism rate of 76.6 percent after 5 years. Federal prisoners released have a 44.7 percent re-arrest rate after five years.
Complicating matters, judges without discretionary power due to mandatory minimum sentencing are not given the latitude to decide if a lesser punishment is appropriate for under mandatory minimums. As a result, more people go to jail in the U.S. than in any other Western nation. In fact, the U.S. currently claims 25 percent of the world's prison population, but only 5 percent of the world's total population.
The significance of these numbers inspires Holden and others to fight year after year to try to get criminal justice reform on the radar of legislators on the Hill and, ultimately, on the radar of the Trump administration.
According to Holden, there are cases to be made in support of criminal justice reform: the moral case, the constitutional case and the financial case. And while Holden is complimentary of the improvement being made in the states, incidents like the one that happened Monday in Whittier, Calif. have set the effort back.
Whittier, California Police Officer Keith Boyer was shot and killed by known gang member Michael Christopher Mejia, who had been released on probation. Mejia was arrested after Boyer and Officer Patrick Hazell responded to the site of a traffic accident Mejia was involved in and Mejia opened fire.  Hazell was wounded while Boyer was killed. In response to the incident, media outlets openly wondered if criminal justice reform efforts in the state were to blame for Mejia being back on the street.
In a Monday news conference, Whittier Police Chief Jeff Piper and Los Angeles County Sheriff Jim McDonnell said statewide criminal justice initiatives may have played a role in what happened to officer Boyer. The men were emotional at the loss of their colleague and left the impression that criminal justice reform initiatives were a danger to society rather than a benefit.
"We need to wake up. Enough is enough," Piper said. "You're passing these propositions; you're creating these laws that are raising crimes. It's not good for our communities and it's not good for our officers. What you have today is an example of that."
The question of whether criminal justice reform initiatives in the state were responsible for Mejia's early release were put to rest Wednesday when Jeffrey Callison, a spokesman for the California Department of Corrections and Rehabilitation, said "none of the state's recent criminal justice reform initiatives affected the length of Mejia's prison sentence."
Holden expresses dismay over these incidents  but does not think they are fair reflections of the good that has come in many states that have implemented criminal justice reforms.
"Obviously [this was] an awful, tragic event," says Holden, who has many family members in the law enforcement community. "But...[the perpetrator in the LA case] was a gang member and had an automatic weapon so it sure seems he is a violent criminal. There has been criticism before about how California went about its criminal justice reform efforts.  Some of the criticism was that they were not being more selective and deliberate about what offenders were being released from prison generally."
And that's where Holden says California — and the federal government for that matter — could learn from states like Georgia. The reforms in that state have led to a drop in the crime rate and early release for some non-violent criminals.
Georgia's Governor Nathan Deal was presented with the state's 2017 Criminal Justice Reform report Wednesday, and some of the findings in the report are encouraging for criminal justice reform advocates:
At the start of 2009, 58 percent of the state's prison beds were occupied by Georgia's most serious offenders [it was not immediately clear how "most serious offenders" was defined in the report]; now that proportion stands at 67 percent.

Between 2009 and 2015, overall prison commitments dropped 16.3 percent to the lowest total number of commitments since 2002. In that same timeframe, commitments of African-American males dropped 25.3 percent to the lowest total since 1988.

Since 2013, yearly juvenile commitments to the Department of Juvenile Justice have decreased by 46 percent.

At the start of 2017, Georgia had 139 accountability courts in 47 out of the 49 judicial circuits. The number of new participants entering such courts statewide increased by 147 percent in 2016, more than doubling capacity.
Holden hopes that if and when the federal government gets around to tackling the issue of criminal justice reform, they will look to states like Georgia as a model and craft reform measures that can be incorporated into federal legislation.
"In the states that have had the most success with criminal justice reform, they have prioritized and released those individuals who were least likely to be violent or negatively impact public safety," Holden says. "The reforms [libertarians] favor have been shown to reduce crime rates and recidivism.  And when recidivism is reduced that makes everyone, especially law enforcement, safer.  That is our number one goal in our reform efforts."
Holden's firm Koch Industries focuses their reform efforts on an agenda tied to the three cases for criminal justice reform Holden mentioned above: ensuring the laws are just, that they meet the constitutional standards of due process and protection of the 6th amendment right of fair representation, and that they ease the financial burden of incarceration, both for the individual charged and for the states that have to pay to incarcerate.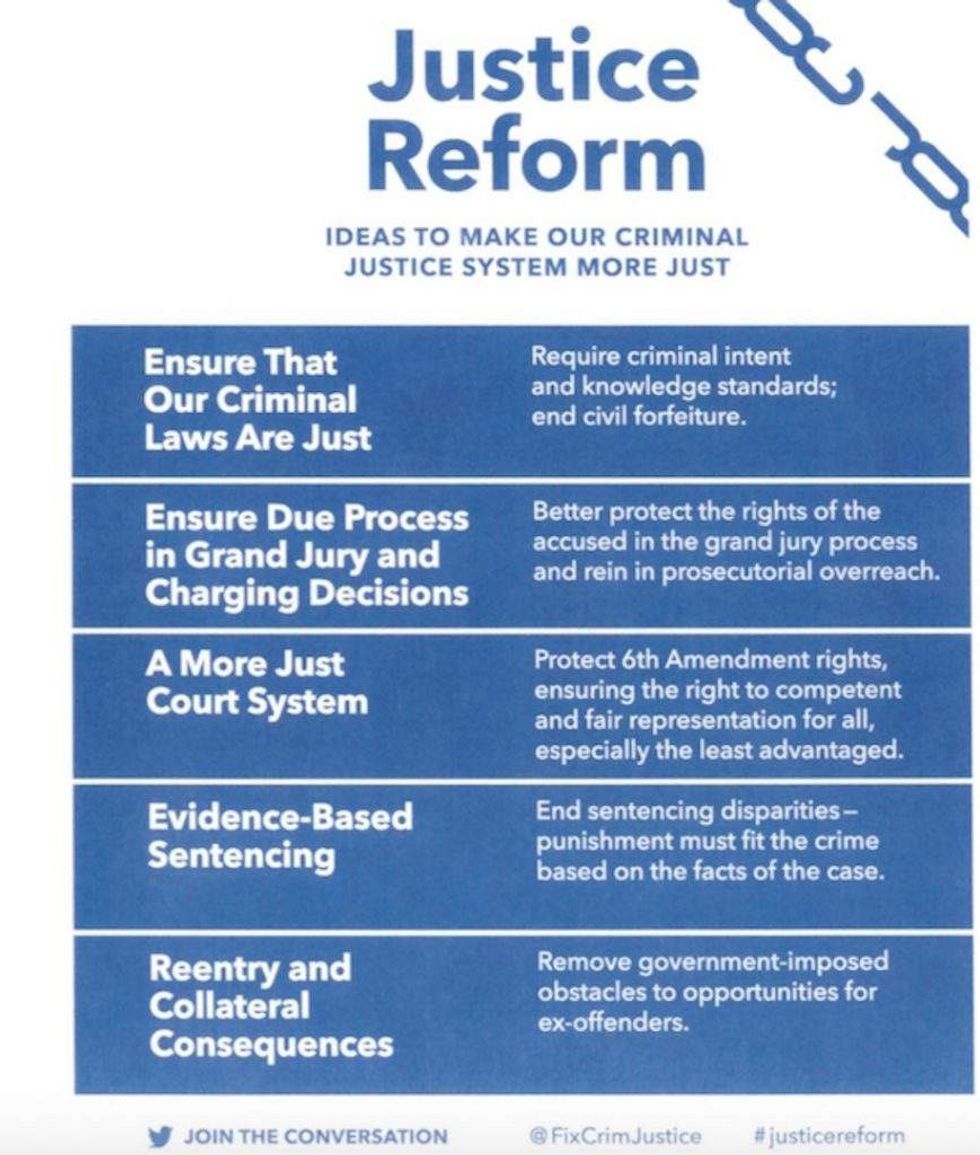 And while Holden points to states like Georgia as examples of successful criminal justice reform, he is confident there are legislators in Washington, D.C. who will advocate for criminal justice reform at the federal level.
Mark Lucas, a conservative who is executive director of Concerned Veterans for America, and Max Rose, a lifelong Democrat and chief of staff for Brightpoint Health, are also optimistic federal legislators will eventually take up the cause. They believe criminal justice reform is an easy sell because it is an issue that naturally crosses party lines.
Lucas and Rose penned an op-ed for Forbes on February 6, 2017, arguing their military service — both men are veterans of the Army Rangers — gave them a unique understanding of the criminal justice reform issue.
"I believe that criminal justice reform should not be a partisan issue at all," says Lucas. "What Max and I really wanted to do was try to get the media to promote an idea while the political world is so toxic."
That idea is that the warrior class has "a unique perspective on the freedom that is meant to be Americans' birthright."
We are "about second chances," he says. In their op-ed, the men write:
Fighting for freedom abroad has helped us recognize how America's current criminal justice system denies freedom to many people here at home. Decades of misguided laws have relegated too many people, particularly low-income minorities, to a lifetime of second-class status. We unnecessarily close these people off to jobs and opportunities, making it impossible for them to thrive in our society. Even after they've served their time, we deny them a second chance.
Lucas agrees with Holden: they must fight to get the issue in front of federal lawmakers, even as the states continue to make strides. They are not starting from scratch. There are already legislators who have warmed to the idea. GOP Sen. Mike Lee of Utah has been vocal recently, telling the Washington Examiner Editorial Board that he, like Holden, isn't sure what to expect from the Trump administration on the issue, but he's hopeful:
"As far as I can recall, President Trump hasn't spoken one way or another on the types of reforms that we address in the Sentencing Reform and Corrections Act last year." The Sentencing Reform and Corrections Act, which Lee has sponsored, would give judges more discretion in sentencing and improve the quality of federal prisons.

Lee added that there isn't anything "in the Sentencing Reform and Corrections Act that would counteract or contradict or undermine President Trump's law and order message. To the contrary, I think it is consistent with law and order. I think it would facilitate law and order for the simple reason that our federal prison population has grown between 800 and 900 percent since 1980.
Senator Ben Sasse (R-Neb) expressed his support Tuesday with a tweet linking to Pew Center research as a response to the Mejia case in California. The research directly contradicted the claim made in California about rising crime rates:
Gaps between hard facts & political perceptions need to be more aggressively highlighted--not just by media but als… https://t.co/e04RzQTtTu

— Ben Sasse (@Ben Sasse) 1487687210.0
Crime has been falling dramatically but year after year, most Americans say crime is increasing… https://t.co/bTg3skSSaz

— Conrad Hackett (@Conrad Hackett) 1487683754.0
John Malcolm, Director of the Edwin Meese III Center for Legal and Judicial Studies at the Heritage Foundation, says that many mainstream conservatives are coming around to the libertarian view on criminal justice reform, but the issue of civil asset forfeiture is one area that tends to divide conservatives.
Civil asset forfeiture is "the process thorough which law enforcement can seize property suspected of being connected to criminal activity," according to noted libertarian Jason Pye, director of public policy and legislative affairs for FreedomWorks, writing in The Hill.
"Libertarians would like to decriminalize drugs and do away with civil asset forfeiture," Malcolm says. "But conservatives like me are in favor of reforming civil asset forfeiture...but not in favor of abolishing it."
There is no catch-all conservative view of criminal justice reform, which is partly why getting the Trump administration on board is proving to be a challenge. While most conservatives favor some sort of reform, both Vice President Mike Pence and Attorney General Jeff Sessions are known to be more old-school in their approach to mandatory minimums and reforming civil asset forfeiture.
But Holden doesn't worry. He knows the data is compelling when considering that no more than 30 percent of the reduction in crime rates from the 1980s to current day is because of mandatory minimums, he says  And when one considers that there are more people with arrest records in the U.S. than there are with college degrees; and that 1 in 11 children have had a parent in prison; and that there are more than 6,000 federal crime statutes on the books; and that some states spend as much as $20,000 more to incarcerate one person than they spend on putting a child through public school in a year, Holden remains optimistic. Faced with this data, he knows the Trump administration will have to listen.
"I am still a happy warrior," he says. " Because the overwhelming majority of those incarcerated are in the states and the states are making progress. Eventually congress will get around to doing something."