CNN commentator Van Jones unloaded with "tough talk" for fellow liberals on college campuses who've been calling for "safe spaces" from ideas they disagree with.
While he said he supports safety from physical harm and hate speech, Jones called out a "horrible view" that has become "ascendant" in campus culture, describing it as "I need to be safe ideologically. I need to be safe emotionally. I just need to feel good all the time. And if someone says something that I don't like, that is a problem for everyone else, including the administration."
Then Jones turned the tables on his listeners at the University of Chicago.
"I don't want you to be safe ideologically. I don't want you to be safe emotionally. I want you to be strong — that's different," he said. "I'm not going to pave the jungle for you. Put on some boots and learn how to deal with adversity. I'm not gonna take all the weights out of the gym. That's the whole point of gym. This is the gym."
Jones then began raising his voice as he underscored his message.
"You can't live on a campus where people say stuff you don't like? And these people can't fire you, they can't arrest you, they can't beat you up. They can just say stuff you don't like — and you get to say stuff back! And this you cannot bear?" he said, placing the back of his hand against his forehead as the crowd laughed, apparently getting it. "This is ridiculous b.s.!"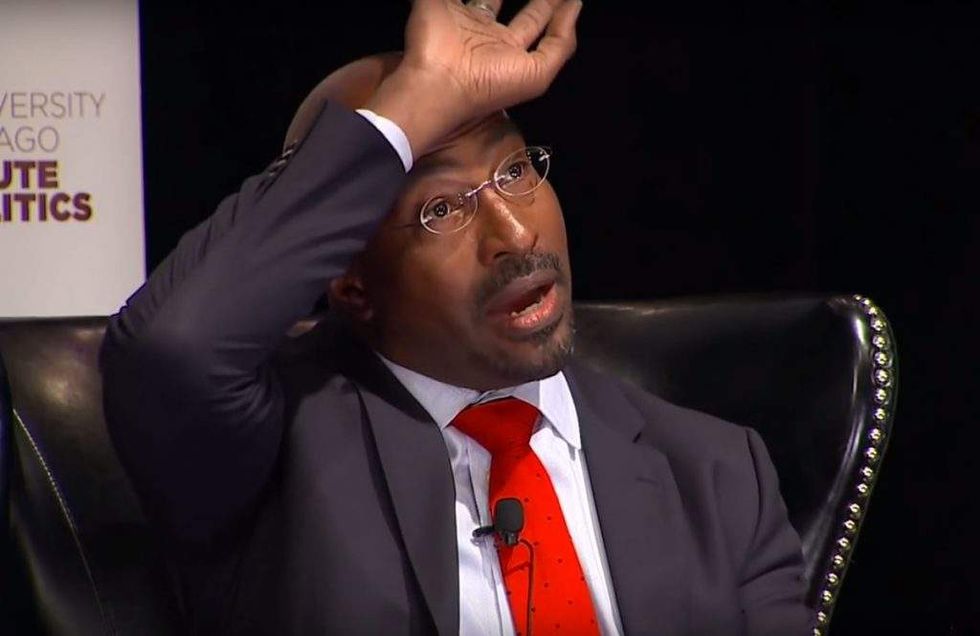 Image source: YouTube screen cap
Jones went on to describe his parents who marched and dealt with issues such as fire hoses, dogs and beatings. Then he asked the crowd, "You can't deal with a mean tweet?"
He wasn't through.
"You are creating a kind of liberalism that the minute it crosses the street into the real world is not just useless, but obnoxious and dangerous," Jones said. "I want you to be offended every single day on this campus. I want you to be deeply aggrieved and offended and upset — and then to learn how to speak back. Because that's what we need from you in these communities."
Jones was appearing at the school's Institute of Politics with fellow CNN commentator S.E. Cupp and IOP Director David Axelrod to discuss the political and cultural landscape under the administration of Republican President Donald Trump.
On the night of Trump's election, Jones called the Republican's win a "white-lash against a black president."
(H/T: Heat Street)