So you're asking yourself, "How might the Democratic U.S. representative from the 8th Congressional District of New York mark the 20th anniversary of the shooting death of hip-hop icon the Notorious B.I.G.?"
OK, you didn't ask.
But now that you're here, let it be known that Rep. Hakeem Jeffries took it upon himself Thursday to educate fellow members of the House of Representatives about the wonder that was Biggie Smalls, appearing on the House floor with a huge poster of him — and sharing some lyrics with the esteemed body.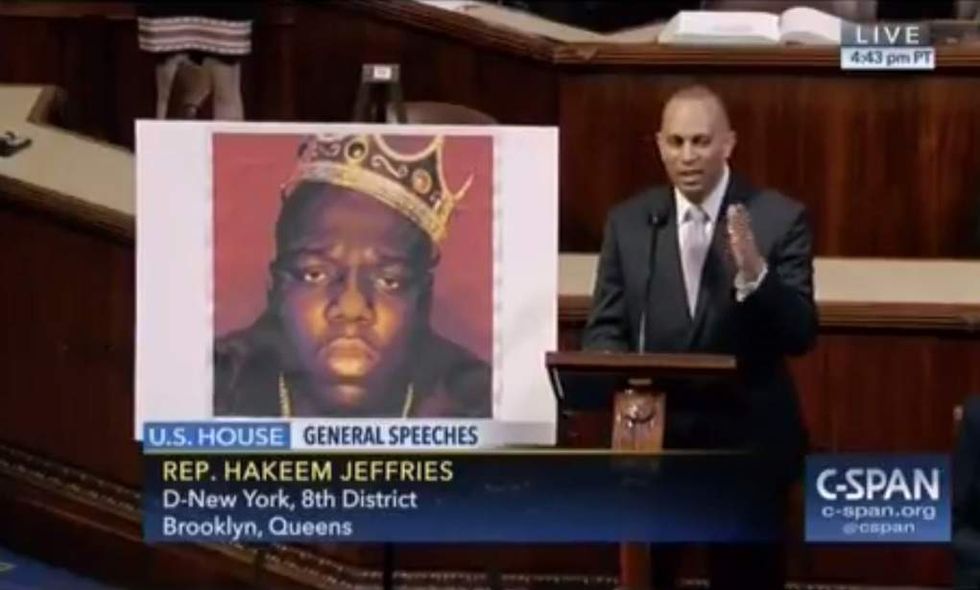 Image source: Twitter video screen cap
Jeffries could have chosen any Notorious B.I.G. tune: "Mo Money Mo Problems." "Big Poppa." "Ten Crack Commandments." "Gimme the Loot."
But instead, Jeffries opted for a selection from "Juicy" to mark the occasion: "It was all a dream. I used to read Word Up magazine. Salt-N-Pepa and Heavy D up in the limousine. Hangin' pictures on my wall. Every Saturday Rap Attack, Mr. Magic, Marley Marl."
And then congressman added his personal reflection at the mic:
Those were the words of late, great Notorious B.I.G. Biggie Smalls, Frank White, the King of New York. He died 20 years ago today in a tragedy that occurred in Los Angeles. But his words live on forever. I got the privilege of representing the district where Biggie Smalls was raised. We know he went from negative to positive and emerged as one of the world most important hip hop stars. His rags-to-riches life story is the classic embodiment of the American dream. Biggie Smalls is gone, but he will never be forgotten. Rest in peace Notorious B.I.G. Where Brooklyn at?
Just paid tribute to late/great #BiggieSmalls on House flr. Gone but never forgotten. #WhereBrooklynAt… https://t.co/q1liNJ2gtz

— Hakeem Jeffries (@Hakeem Jeffries) 1489107467.0
Jeffries wasn't alone in his tribute. Some members of Atlanta's WSB-TV news team dropped Notorious B.I.G. lyrics into their on-air reporting Thursday, believe it or not:
The rapper, whose real name was Christopher Wallace, was fatally shot March 9, 1997, while in the passenger seat of an SUV sitting at a stoplight.
The Los Angeles Times called his death "one L.A.'s biggest unsolved homicides." Rapper Tupac Shakur — who was feuding with the Notorious B.I.G. — was similarly murdered six months before in Las Vegas.
(H/T: Consequence of Sound)