A Pennsylvania high school student is suing his school district after he said he was told by an administrator to "tolerate" changing in a locker room in front of girl who identifies as male.
The plaintiff — a junior at Boyertown Area High School — alleged in the lawsuit filed Tuesday that he was standing in his underwear while changing into gym clothes for physical education class last fall and "suddenly realized there was a member of the opposite sex changing with him in the locker room, who was at the time wearing nothing but shorts and a bra."
The lawsuit says the plaintiff "quickly put his clothes on and left the locker room." After gym class, the plaintiff said he and other classmates informed assistant principal E. Wayne Foley about the encounter — but Foley replied that students who identify with the opposite sex could choose what locker room and bathroom to use, and physical sex didn't matter, according to the lawsuit.
The plaintiff asked Foley if there was anything he could do to protect him in this circumstance, but the lawsuit indicates Foley said no and to "tolerate" it and make it as "natural" as possible.
The lawsuit adds that the plaintiff "experienced embarrassment and humiliation, both in terms of being viewed and viewing a student of the opposite sex in a state of undress and because of the stigmatization and criticism he received from other students and adults, fueled by the administration's policy and actions. He also fears the future embarrassment of meeting students of the opposite sex in the bathroom when simply relieving himself. He now avoids using the restroom during the school day because of the ongoing risk of having his privacy violated."
The Alliance Defending Freedom said in a statement the plaintiff and his parents are suing Boyertown Area School District for sexual harassment and violation of his personal privacy, KYW-TV reported.
"Our laws and customs have long recognized that we shouldn't have to undress in front of persons of the opposite sex," ADF legal counsel Kellie Fiedorek said in a statement, the station noted. "But now some schools are forcing our children into giving up their privacy rights even though, in this case, Pennsylvania law requires schools to have separate facilities on the basis of sex."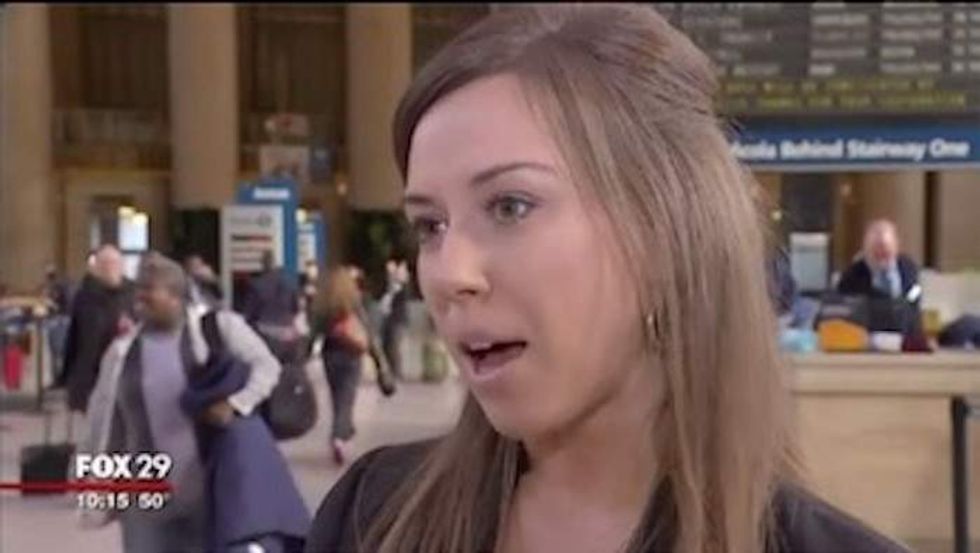 Alliance Defending Freedom legal counsel Kellie Fiedorek (Image source: WXTF-TV video screen cap)
The Alliance Defending Freedom said the district didn't give any notice to students or parents about letting students use restrooms or locker rooms of the gender they identify with, the station said.
"My client is standing up not only for himself, but for others who feel bullied," attorney Randall Wenger of the Independence Law Center said, KYW reported.
He noted it's "an egregious violation for the school to just brush off these students and tell them that their feelings don't matter and to make it 'as natural as they possibly can.'"
The Independence Law Center and the Alliance Defending Freedom are among several firms that filed the suit in U.S. District Court.
Boyertown Area School District refused to comment on its locker room policy, KYW reported, adding that the lawsuit notes the district has until April 4 to officially respond.
Eliza Byard — executive director of the Gay, Lesbian and Straight Education Network, which supports LGBT students — told Philly.com that nondiscrimination law says the student who felt uncomfortable in the locker room should be provided a separate accommodation: "This does not need to be made into a litigious issue."
(H/T: Todd Starnes)