A "Free Speech Bus" — a bright orange vehicle promoting opposition to transgender culture as it travels the eastern U.S. — was vandalized while passengers were inside the United Nations in New York City for an event Thursday.
Two people approached the bus — a promotion of the conservative National Organization for Marriage — and scratched it with a key, cracked its windows with a hammer and spray-painted graffiti on its side that read "trans rights now" and "trans liberation," NOM president Brian Brown told USA Today.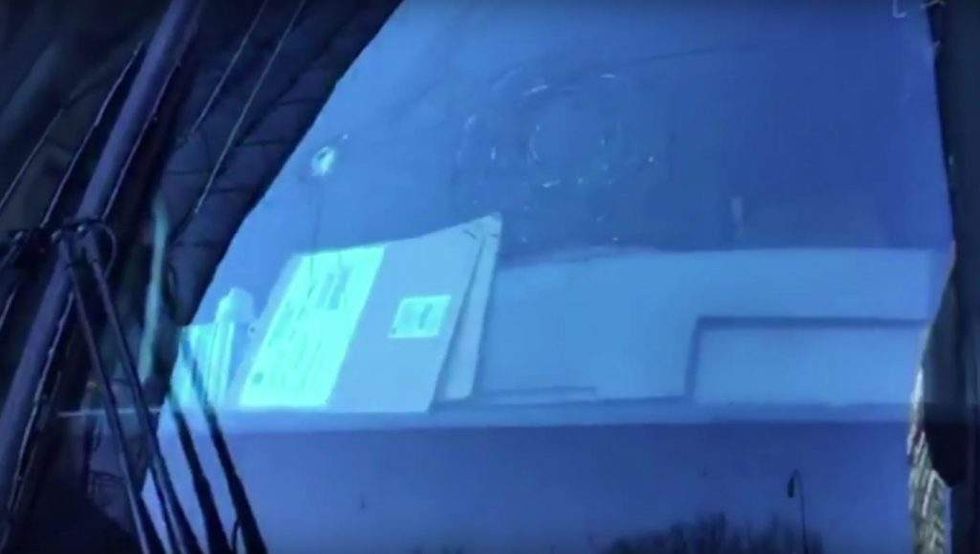 Windshield of "Free Speech Bus" is shown smashed and cracked. (Image source: YouTube screen cap)
The bus driver was with the vehicle, Brown told USA Today, and was tackled — but not hurt — by one of the vandals in an attempt to protect the bus.
"This is a hate crime," Brown added in a letter posted to the NOM website, "and sadly, the way that those who pretend to preach 'tolerance' feel about opposing viewpoints."
Brown made no bones to the paper about the message of the bus: "Boys are boys and girls are girls — it's very simple. We don't want men in girls restrooms. We don't want schools and our law attempting to say that people are bigoted simply because they understand that there's a difference between male and female."
RT @citizengo: #FreeSpeechBus is already rolling in the U.S.A.! https://t.co/RigwqHYsWf

— NOM (@NOM)1490198882.0
He added to USA Today that "if they thought that would silence us, they were totally wrong."
More from the paper:
The bus received a tumultuous reception in New York, a city known for its open support for LGBT rights and for its number of organizations supporting the LGBT community. Brown said as the bus made its way through New York's streets, it was greeted with the thumbs up from some people, and "some other hand signals" from others.

Pro-LGBT organizations condemned the intention of the bus, calling it the "Hate Bus."
The Free Speech Bus is coming to town! https://t.co/CJBH4Ss09Q

— Andrew D💜C (@Andrew D💜C)1490327318.0
Before the vandalism, a video showed a number of bus opponents protesting in front of it — chanting "hate speech is not free speech" — as Brown spoke about the bus' message:
"Free speech is a constitutional right, but language has consequences that must be considered," Jessica Stern, executive director of OutRight Action International — a pro-LGBT rights group in New York — said in a statement to USA Today, adding that the message carried by the bus "is irresponsible, factually misleading, disrespectful and dangerous."
Opponents of the bus' message seemed unmoved about the vandalism:
@KevinPONeil @TransgenderU Good on #NYC for showing in no unclear terms that the so-called #FreeSpeechBus is not welcome there.

— Eric Adler (@Eric Adler)1490380338.0
Transphobes: *make "free speech bus" with transphobic slogans* Trans people: *write on it* Transphobes: not that kind of free speech!

— Darius Quebec (@Darius Quebec)1490308049.0
So do you or do you not want free speech on the #FreeSpeechBus? You seem very confused. 🙃 https://t.co/CwtvOkLJlr

— Abolition Is A Presence (@Abolition Is A Presence)1490371433.0
Hey, they are the ones asking for Free Speech. You can't choose when you want it. #freespeechbus Oh and "respect a… https://t.co/wxYaBDiMCS

— Gabriela. (@Gabriela.)1490384033.0
Really weird to get bent out of shape about free speech happening all over your free speech bus https://t.co/hDurhAM8mt

— jon corpora (@jon corpora)1490383853.0
"Free speech" bus complaining about people exercising their free speech.🤔Perhaps you should park it in a safe space? https://t.co/pmMNK2zVle

— Lady MacDeath 🍞🌹 (@Lady MacDeath 🍞🌹)1490383605.0
Damage to the bus will delay its tour by about a day for repairs, Brown told the paper, adding that its next stop is Yale University in New Haven, Connecticut, followed by Boston and then a return to Washington next week.
New York City Police told USA Today the matter is being investigated as criminal mischief.
This story has been updated.
(H/T: Heat Street)