Thirteen people were killed Wednesday when a pickup truck collided with a church minibus outside of San Antonio.
All of the deceased victims were seniors with First Baptist Church of New Braunfels, Texas, traveling back from a church retreat. Twelve people died at the crash site and two others were injured and taken to a nearby hospital, where one of the victims died later. The other victim remains in critical condition.
Authorities are still investigating the cause of the accident.
"For reasons unknown, the truck veered into the southbound lane and struck the bus head-on," Texas Department of Safety Sgt. Orlando Moreno said.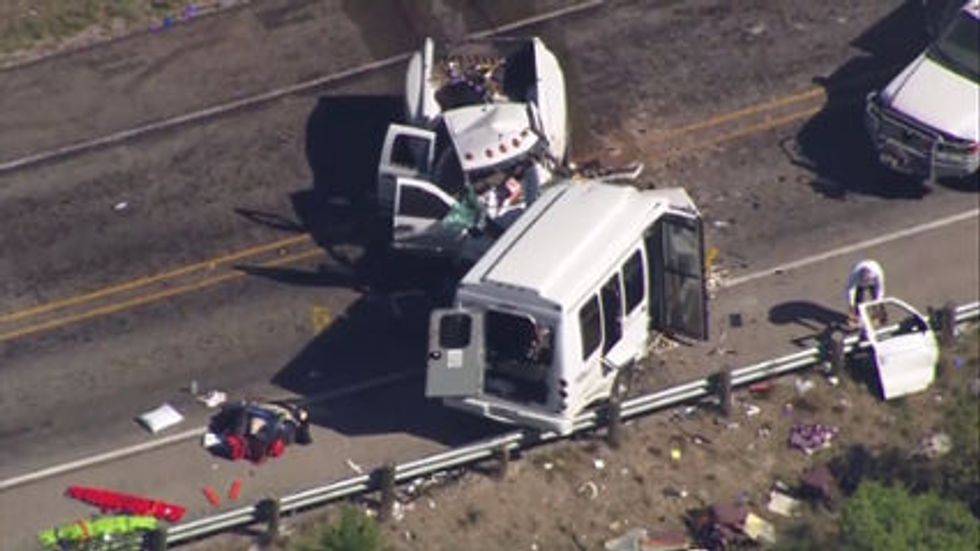 A witness told the Uvalde-Leader News that she was driving behind one of the vehicles involved right before the crash and had called the local police department to report reckless driving. But the fatal accident took place before authorities could arrive.
The driver of the pickup, 20-year-old Jack Dillon Young, was hospitalized in stable condition, officials said.
First Baptist Church Pastor Brad McLean told reporters that the church is handling it the best way they can.
"Our church family is doing what church families do," he said. "They're coming together, they're crying together."
Texas Gov. Greg Abbott released a statement Wednesday regarding the tragic accident, saying, "Cecilia and I extend our deepest condolences to the victims and the families of those involved in today's tragic event. We are saddened by the loss of life and our hearts go out to all those affected."
"We thank the first responders working on the scene in the wake of this unimaginable tragedy, and ask that all Texans join us in offering thoughts and prayers," he added.
Statement on today's tragic accident. https://t.co/cCnnfj1gYXpic.twitter.com/zes4B6IBfR

— Gov. Greg Abbott (@GovAbbott) March 29, 2017