Actress Scarlett Johansson called Ivanka Trump "cowardly" for saying that the greatest change she could make would be behind closed doors. She made the remarks while speaking at the "Women in the World Summit" Thursday.
"I've been thinking a lot about Ivanka Trump actually very recently," Johansson began. "Um, I'm sure you saw the interview she gave with Gail King yesterday. But, uh, it was kind of baffling, I have to say, it was really baffling. And you know I think you can't have it both ways right?"
"If you take a job as a public advocate, then you must advocate publicly," she said to applause from the audience. "And yesterday she said something which I found particularly disappointing. Which is that she felt the greatest change that she was going to, y'know, the biggest influence that she would have, or the change that she would make, actually would be behind closed doors, nobody would actually know that she had made this change."
"I thought to myself, well that's empowering!" she smirked sarcastically.
"How old fashioned!" Johansson exclaimed. "Y'know this idea that behind a great man is a great woman, what about being in front of that person, or next to them, or standing on your own? You know what I mean, it's so, it's such an old fashioned concept that to be this powerful woman you can't appear to be concerned with like that somebody is going to think that you're b**chy, or that you're, ah, I think powerful women often get concerned that they're gonna be seen in this unforgiven light, and y'know screw that!"
"It's so old-fashioned and it's so uninspired," she continued, "and actually, really cowardly. And I was just so disappointed by that interview she gave yesterday."
Johansson seemed to back off her criticism but only in order to support the idea that Trump never really wanted to be president.
"Uhm, I can't imagine how complicated it must be to see your parent y'know go for," she explained, "in this sudden, y'know, in the that position he's in, and know, deep down, and not so deep down, that it's a position that he never actually really wanted, and now he's in this position and he finds himself there."
"And I think it's, it must be, I think as a daughter," she concluded, "and as someone who looks up to a parental figure like that, it must be pretty, it's a unique and strange thing. It baffles me, the whole situation baffles me."
She went on to say that she knew Ivanka personally and that she thought her to be well-spoken, smart, and engaging, which is why she was disappointed by her seemingly anti-feminist views.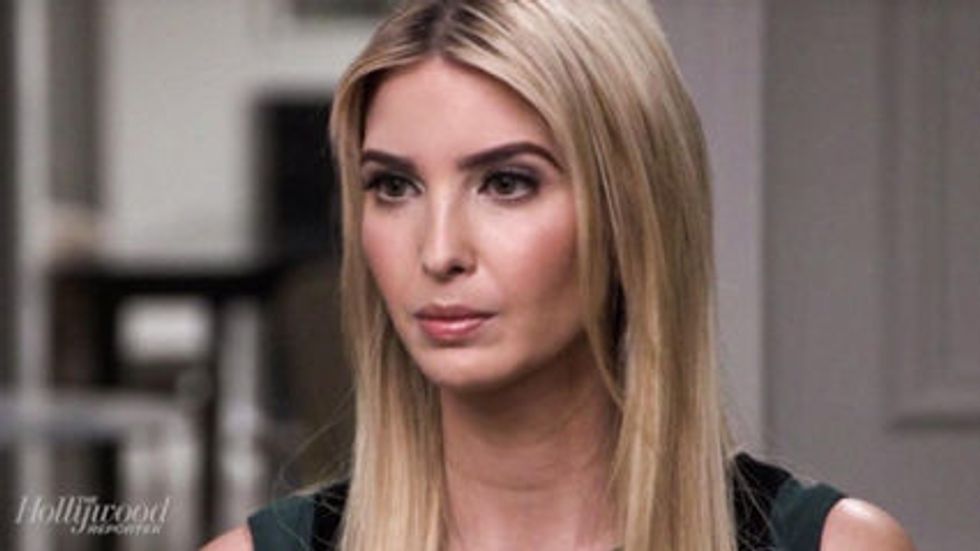 Ivanka has been a favorite target for leftists like Chris Matthews who compared her to the murderous sons of Saddam Hussein, and a Politico writer who wondered if Trump had committed incest with her.