A professor at a California university believes President Donald Trump should be hanged and other Republicans summarily executed.
"To save American democracy, Trump must hang. The sooner and the higher, the better," California State University at Fresno professor Lars Maischak tweeted in February.

The Daily Caller News Foundation first reported the existence of the mind-boggling tweets. Though the account isn't verified by Twitter, its bio and its interactions indicate that Maischak is its owner.
According to his professor profile on the university's website, Maischak teaches American history with a focus on 19th century, including the intellectual history of socialist Karl Marx.
A short scroll through Maischak's Twitter timeline shows he is very vocal about his disdain for Trump and Republicans.
In another tweet from February, Maischak's wonders if money is being collected to erect a monument honoring "the Trump assassin."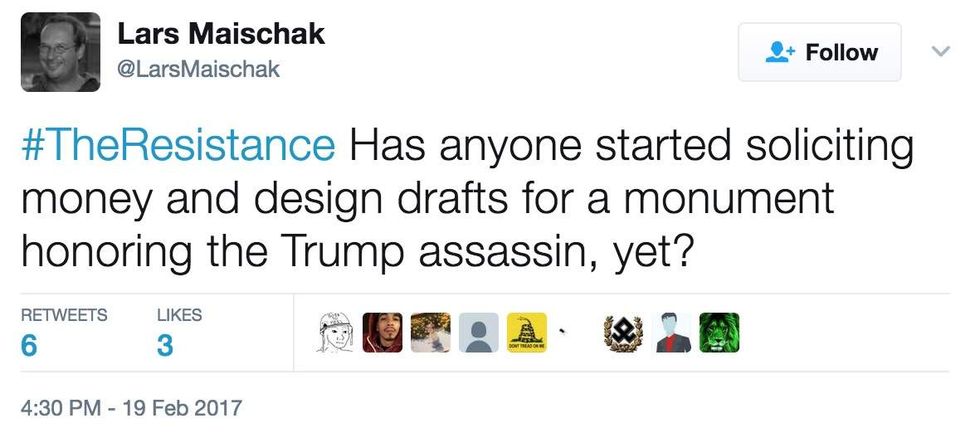 In another, Maischak defines "justice" as being two Republicans murdered for every illegal immigrant deported.

Maischak also said that the mother of Jesus Christ, Mary, should have aborted Jesus so he could be "spared this clerical-fascist crap."

The professor also called for the Republican Party to be banned in the U.S.

Replies on the tweets mostly include people ripping Maischak for his opinions while others tag the Secret Service's official Twitter handle to alert them of Maischak's call for Trump to be assassinated.
TheBlaze reached out to Maischak Saturday but did not hear back as of press time.
California State University at Fresno told the Daily Caller that Maischak's tweets don't represent their views.
"Lars Maischak is employed as a lecturer at Fresno State," a school spokesperson said. "Statements made on his personal social media accounts are his alone and are not endorsed by or reflect the position of the University."