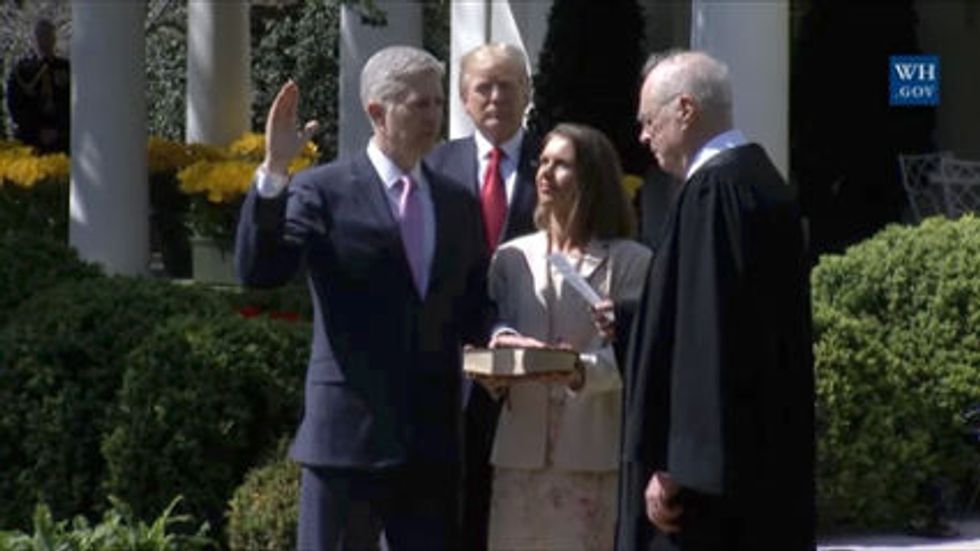 Neil Gorsuch was sworn in as a Supreme Court justice on Monday, filling the vacancy left on the nation's highest court by the death of Justice Antonin Scalia last year.
Gorsuch took two oaths in order to serve on the court, the first constitutional oath in a private ceremony at the Supreme Court, the second judicial oath during a ceremony at the White House.
9A: Chief Justice John Roberts administers Constitutional Oath at SCOTUS. 11a: Justice Anthony Kennedy administers… https://t.co/ZA1ydNbr06

— Mark Knoller (@Mark Knoller) 1491825424.0
Supreme Court releases photos of Justice Neil Gorsuch signing the Constitutional Oath during swearing-in ceremony.… https://t.co/NYP3EAxpS5

— ABC News (@ABC News) 1491835458.0
During remarks in the Rose Garden at the White House, President Donald Trump called the swearing in "a momentous occasion."
Trump remarked on the "beautiful spring day" in Washington, saying the season was "the perfect backdrop" for Gorsuch's swearing-in ceremony.
"Together we are in a process of reviewing and renewing and also rebuilding our country," Trump said.
The president praised Gorsuch as a man of integrity who will decide cases "based on a fair and objective reading of the law."
Trump said the American people expect Gorsuch to be "wise, impartial, and fair" in his work on the court.
The president also recognized Maureen Scalia, the widow of the late Justice Scalia, who was in attendance at the ceremony, saying her late husband was "a patriot who revered our Constitution."
In brief remarks, Gorsuch thanked the president, his family, and his staff, and said that he is "humbled by the trust placed in me today."
"I promise you that I will do all my powers permit to be a faithful servant of the Constitution and laws of this great nation," he said.
Gorsuch, previously a Colorado appeals court judge, was confirmed by the Senate last week after a contentious nomination process.
Democrats filibustered Gorsuch's nomination, labeling him an extremist. They also expressed outrage that Senate Republicans refused to act on former President Barack Obama's nomination of Judge Merrick Garland following Scalia's death last year. Republicans used the so-called "nuclear option" to circumvent the filibuster. During his remarks Monday, Trump thanked Senate Majority Leader Mitch McConnell (R-Ky.) for "all that he did to make this achievement possible."
Three Democratic senators — Sens. Heidi Heitkamp (N.D.), Joe Manchin (W.Va.) and Joe Donnelly (Ind.) — broke with their party to support Gorsuch's confirmation.