Talk about government overreach.
Mats Järlström set about to investigate the timing of red-light cameras — those contraptions that catch your lovely mug on camera when you go through a red light and then trigger your mandatory donation to the town coffers — when his wife fell victim to one in Oregon four years back.
Järlström — who has an electrical engineering degree from Sweden and was an airplane camera mechanic in the Swedish Air Force, Reason reported — questioned the timing of yellow lights at intersections where red-light cameras operated.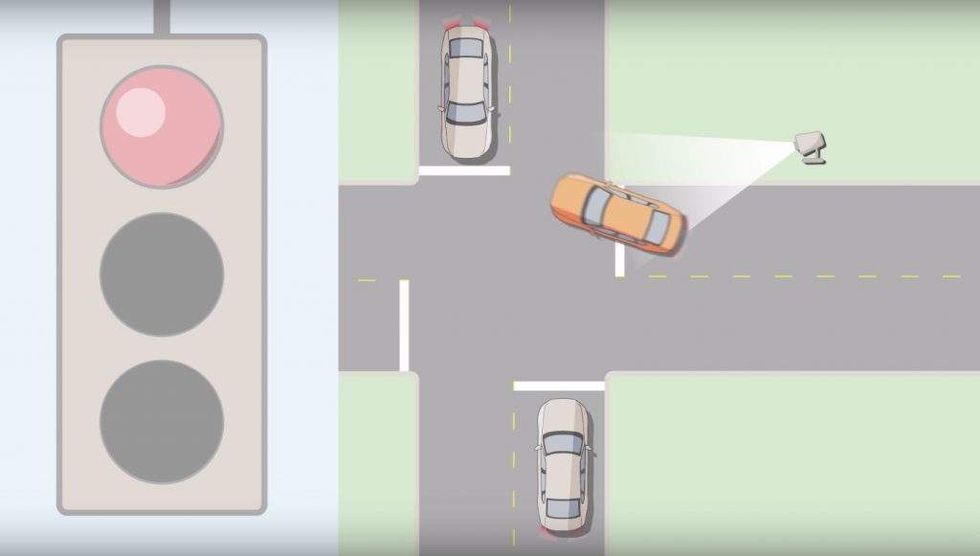 Image source: YouTube screen cap
Turns out his research — which was highlighted in the media, including "60 Minutes" — concluded yellow lights weren't on long enough, which added to revenue from fines while jeopardizing driver safety, Reason said. So Järlström sent a letter in 2014 to the Oregon State Board of Examiners for Engineering and Land Surveying, asking if he could present his findings to the esteemed body, the outlet noted.
Well, instead of inviting Järlström to share his research, the board decided to fine him $500 — for "practicing engineering without being registered," Reason reported.
Before officially fining him, the board informed Järlström that even referring to himself as an "electronics engineer" and declaring "I am an engineer" in his letter were sufficient to "create violations," the outlet said.
So, Järlström is suing the board over the fines, noting it's unconstitutional to get penalized for engaging in activities as basic as critiquing the government, Reason reported. The Institute for Justice — a libertarian law firm — is representing him, the outlet said.
"Criticizing the government's engineering isn't a crime; it's a constitutional right," Sam Gedge, an attorney with the firm, said in a statement, the outlet noted. "Under the First Amendment, you don't need to be a licensed lawyer to write an article critical of a Supreme Court decision, you don't need to be a licensed landscape architect to create a gardening blog, and you don't need to be a licensed engineer to talk about traffic lights."
Järlström's lawsuit isn't seeking cash, Reason reported — but it does want a judicial order that tells the state board to cease violating free speech.
"Anyone should be allowed to talk about the traffic signals — if they're too long or too short or anything — without being penalized," Järlström noted, the outlet said.
You can read the entire Reason article here, which includes other instances the Institute of Justice said the engineering board has been "overly aggressive about enforcing their rules for who is and who is not an engineer."