A 36-year-old Oregon man has been accused of decapitating his mother on Mother's Day in their home.
Investigators confirmed to the Oregonian that Joshua Lee Webb was holding the severed head of his mother — Tina Marie Webb, 59 — when he entered an Estacada, Oregon, grocery store Sunday afternoon. Estacada is about 30 miles southeast of Portland.
Witnesses said Webb was covered in blood and held an 8-inch knife in one hand and a severed human head in the other, the paper reported, before he allegedly stabbed a clerk at the Harvest Market.
"This is just a nightmare," a neighbor of the Webbs told the Oregonian. "It's something you wouldn't imagine someone would do."
One of Joshua Webb's sisters, who was visiting for the holiday, discovered her mother's headless body on the floor of the Colton home, two neighbors told the paper, adding that the sister came to their house crying and asking them to call police.
The sister also said she found her brother's dog dead on the kitchen counter, the neighbors told the Oregonian.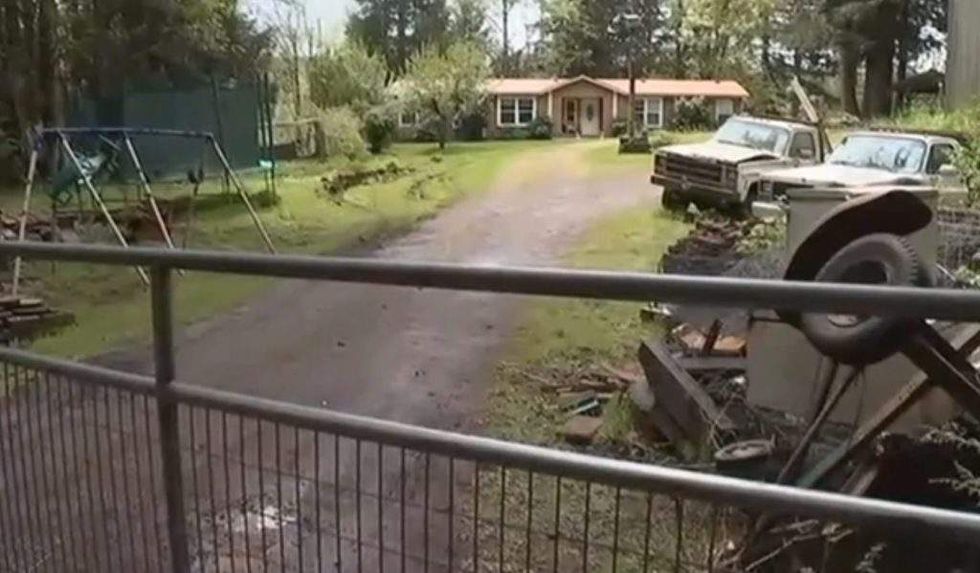 The Webbs home. (Image source: KPTV-TV video screenshot)
Joshua Webb — who lived in a pole barn on his parents' rural property and did odd jobs around the neighborhood — apparently, then traveled to the market, the Oregonian said. A 911 call was made just after 2 p.m., police told the paper.
Ashlie Crombie, 25, has been a store employee for about three years but wasn't working Sunday, the Oregonian reported. She said she started getting calls and texts from loved ones asking if she was OK. Crombie told the paper that fellow employees working that day told her what happened.
Crombie told the Oregonian a customer first saw the man, later identified as Webb, and then screamed and ran from the store. That tipped off other customers that something was wrong, she told the paper. The man then ran to the back of the store and told clerk Michael Wagner, "You better run," before stabbing him up to seven times, Crombie told the Oregonian.
But Wagner, 64, managed to chase down the suspect and tackle him, the paper said, before other employees joined in, kicking and beating the man, disarming him and taping his hands and feet until police arrived.
Interim Sandy Police Chief Ernie Roberts said Webb was "catatonic" when officers came into the store, the Oregonian reported.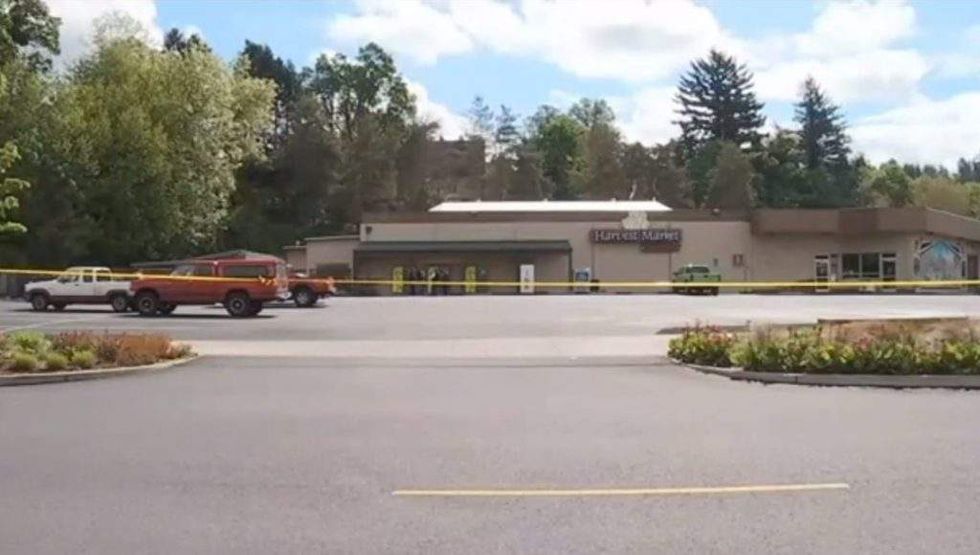 Image source: KPTV-TV video screenshot
Wagner is expected to recover after undergoing surgery for wounds to his stomach and sternum, police and friends told the paper.
"He is a tough cookie," his wife, Pam Wagner, said on Facebook while thanking his "work family" who helped him, the Oregonian reported.
Sandy police are investigating the store stabbing, the paper said, while the Clackamas County Sheriff's Office is investigating Tina Webb's death.
Joshua Webb was booked into jail on allegations of murder and attempted murder, the Oregonian reported. He has no history of violent crime in Oregon — only a conviction for unlawful use of metal objects on tires in June 2000, the paper said, citing court records.
Curtis Strandy, 34, told the Oregonian that Webb is his best friend and that he "loved his mother very much" and wasn't argumentative or violent: "It ain't Josh at all," Strandy told the paper regarding the charges against Webb.
More from the Oregonian:
Neighbors said Webb's girlfriend had recently moved out of Oregon. They called Webb "an OK guy" and said he had an eye condition that made it hard for him to keep a steady job. They never noticed any trouble between family members, they said. Tina and David Webb have four grown children.

The Webbs have lived in the neighborhood for 20 years. Tina Webb graduated several years ago with a horticulture degree from Clackamas Community College and was a master gardener, neighbors said. She had designed and worked on a garden at a local church, they said.
Joshua Webb's father, David Webb, wasn't home when his wife was killed, neighbors told the paper.
"My wife was wonderful," an emotional David Webb told the Oregonian Monday over the phone. "I've been married to her for almost 41 years. Joshua was our son. I never saw a problem. Evidently there was one. I don't know. I start crying every time I think about it."