President Donald Trump's national security adviser, Gen. H.R. McMaster, explained the "context" of Trump's Oval Office conversations with Russian Foreign Minister Sergei Lavrov, discussions in which he reportedly revealed highly classified information, according to the Washington Post.
McMaster gave the "context of the conversation" between Trump and Lavrov during a White House press briefing on Tuesday. McMaster insisted the talks were "wholly appropriate" because both Russia and the U.S. have a "common interest" in defeating the Islamic State terrorist group.
"When did he make the decision to share the information [with Lavrov]?" one reporter asked McMaster.
McMaster responded by saying the president "made the decision in the context of the conversation, which was wholly appropriate."
McMaster then recapped the conversation, explaining how the disclosure came to occur:
The president was meeting with the foreign minister about the terrorist threat. He'd also raised some difficult issues. What we expected in terms of different behavior from Russia in key areas like Ukraine as in Syria. But then the president was emphasizing, 'hey, we have some common interests here. We have to work together in some critical areas. We have an area of cooperation with transnational terrorist organizations, ISIS in particular, an organization that had already taken down a Russian airliner and murdered over 200 people in October of 2015.' So this was the context of the conversation in which it was wholly appropriate to share what the threat was as a basis for common action and coordination."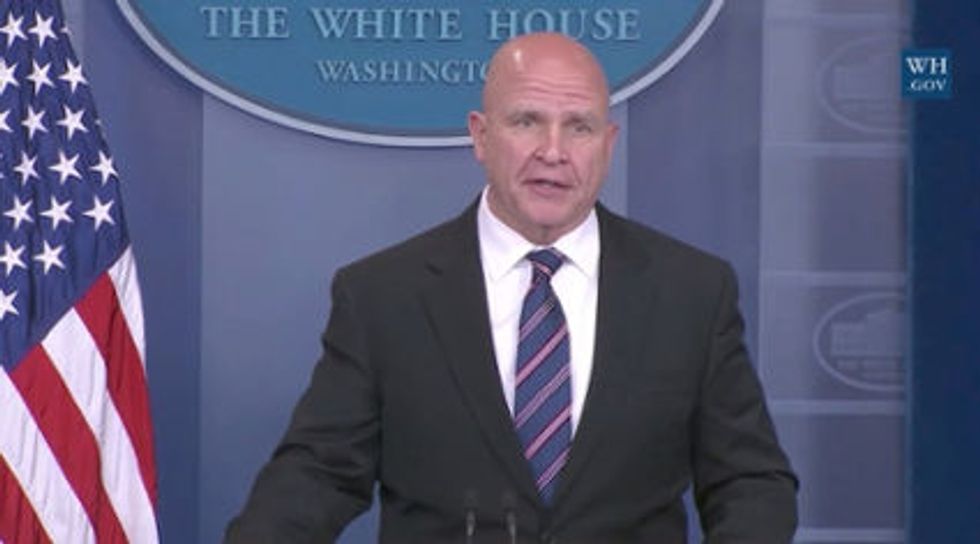 A group affiliated with Islamic State terrorists claimed responsibility in October 2015 for taking down a commercial Russian airliner. The plane crashed in Egypt's Sinai peninsula, killing more than 220 people. The group that claimed responsibility for the crash released a statement on Twitter shortly thereafter, expressing "thanks" for the many deaths.
"The fighters of the Islamic State were able to down a Russian plane over Sinai province that was carrying over 220 Russian crusaders. They were all killed, thanks be to God," the statement read.
The Washington Post reported Monday that the information Trump gave to Lavrov came from an intelligence partner and that Trump didn't get permission from the source to reveal it to the Russians, thus endangering the intelligence-sharing relationship between the two countries. The New York Times reported Tuesday that the source country for the intelligence was Israel.
McMaster said Tuesday  that Trump "wasn't even aware" of where the information came from.
"He wasn't briefed on the source and method of information, either," McMaster told reporters.
Although McMaster denied that Trump intentionally violated an intelligence-sharing agreement, his denial would seem to lend credence to the report that the material was, in fact, shared in violation of such an agreement, even if the violation was not intentional on Trump's part.