President Donald Trump gave a short statement early Tuesday to condemn what what authorities are calling a terror attack at an Ariana Grande concert in Manchester, England. He made the comments while standing beside Palestinian President Mahmoud Abbas in Bethlehem during his first foreign trip since being elected president.
"I extend my deepest condolences to those so terribly injured in this terrorist attack and to the many killed and the families — so many families of the victims," Trump said.
"We stand in absolute solidarity with the people of the United Kingdom," he continued. "So many young beautiful, innocent people living and enjoying their lives murdered by evil losers in life."
"I won't call them monsters because they would like that term," he said. "They would think that's a great name. I will call them, from now on, losers, because that's what they are. They are losers. And we will have more of them. But they are losers, just remember that."
"Our society can have no tolerance for this continuation of bloodshed," he said, "we cannot stand a moment longer for the slaughter of innocent people. And in today's attack it was mostly innocent children. The terrorists and extremists and those who give them aid and comfort must be driven out from our society forever."
"This wicked ideology must be obliterated and I mean completely obliterated, and the innocent life must be protected," Trump continued. "All civilized nations must join together to protect human life and the sacred right our citizens to live in safety and in peace."
This is not the first time Trump has used the epithet to describe terrorists. Before the election, he angrily denounced the media for referring to terrorists as "masterminds," saying they should be called losers instead.
The media must immediately stop calling ISIS leaders "MASTERMINDS." Call them instead thugs and losers. Young people must not go into ISIS!

— Donald J. Trump (@Donald J. Trump) 1448023814.0
Manchester police said they were investigating the attack as an act of terrorism until they had evidence otherwise. They believe the attack was conducted by one person who perished in the explosion, possibly as a suicide bomber. There are reports of "shrapnel injuries" in the victims at hospitals, leading some to believe the bomb contained nails, a common terrorist tactic.
Early Tuesday police said the fatality count had risen to 22, with 59 injured.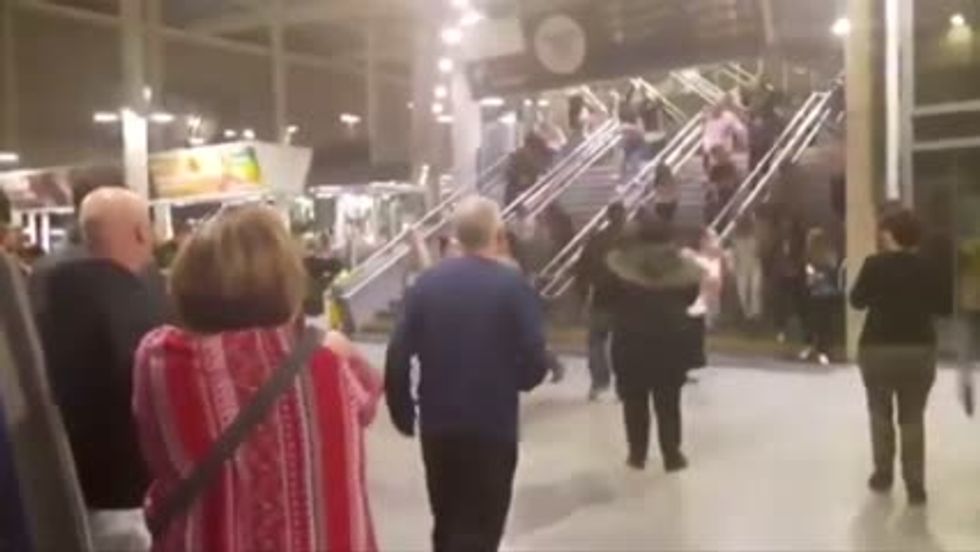 The bombing occurred after pop singer Ariana Grande ended the concert and attendees were exiting the venue. The explosion caused people to rush out of the stadium in shock and horror.
Witnesses to the bombing, Stephanie and Kennedy Hill, talked about what they saw after the explosion: