Minnesota Rep. Keith Ellison (D) took to Twitter early Sunday to slam the "cruel" health care system following a hate crime in Portland.
"Our healthcare system is so cruel, one of the heroes of the Portland stabbing has to crowdfund his lifesaving medical care," Ellison tweeted.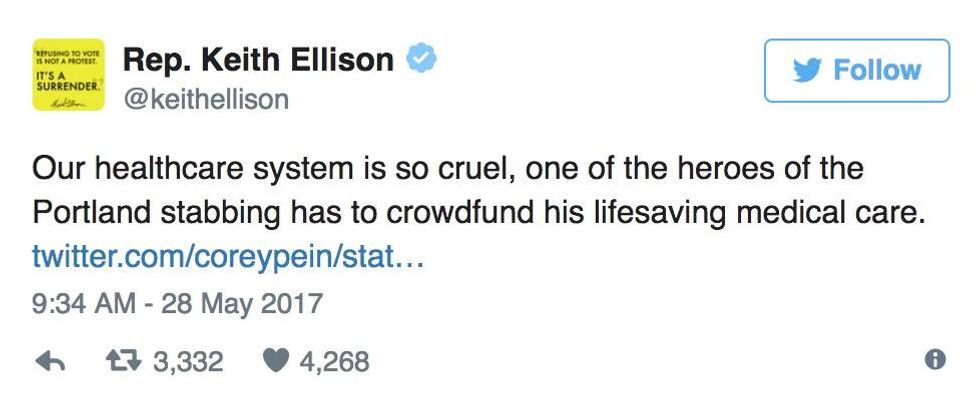 Image source: screenshot
Ellison later deleted the tweet sometime Sunday afternoon.
Ellison was referring to a hate crime that took place in Portland, Oregon, late Friday night that ended with two men dead after they defended young Muslim girls from a white supremacist who was harassing them on a commuter train. In addition to the deaths of the two men who are being hailed as heroes, a third man was also injured in the attack and remains in the hospital.
In response, friends of 21-year-old Micah David-Cole Fletcher — the attack's lone survivor — are raising money to help with Fletcher's medical bills through crowdfunding website GoFundMe. In 2017, people routinely financially help others with necessary expenses through crowdfunding sites.
And while Fletcher's goal of $100,000 is nearly reached, Ellison apparently believes it is a problem that people raise money to help one another in a time of need. Ellison presumably believes, given his deep progressive and liberal values, that Fletcher's care should be free.
Democrats have long blasted the broken American health care system, but in 2010, Democrats, under the leadership of then-President Barack Obama, reformed the entire health care system with the Affordable Care Act, otherwise known as "Obamacare," which is why many found Ellison's criticism of the health care system to be confusing.
https://t.co/WbjGmie2BD

— Stephen L. Miller (@Stephen L. Miller) 1495979886.0
I thought you guys fixed that. https://t.co/5QF0WJl6nD

— I didn't vote for him, so think of a new retort (@I didn't vote for him, so think of a new retort) 1495981314.0
Keith Ellison: Our Healthcare system is cruel. Also Keith Ellison: Touch our Healthcare system and you're a monster.

— Social Distance Champion (@Social Distance Champion) 1495980473.0
@keithellison Fun fact: our healthcare system is Obamacare. Bonus fact: you voted to put it in place.

— Jim Verdi (@Jim Verdi) 1495979937.0
Indeed, President Donald Trump and the Republican majority in Congress have long promised to repeal and replace Obamacare. After one failed attempt to pass an alternative earlier this year, House Republicans finally found success earlier in May.
Still, the Senate hasn't yet addressed the health care reform bill known as the American Health Care Act, so any attempt by Ellison to blame the GOP for the "cruel" health care system would be silly.
As Democrats reminded America so many times over the last seven years, Obamacare is law.