Comedian Kathy Griffin lifted a bloodied and detached replica of President Donald Trump's head for a recent photoshoot — a move she jokingly said could land her in hot water.
Griffin said in a video clip released by TMZ that she worked with photographer Tyler Shields on the shoot but offered few details.
"This is fake blood, just so you know," Griffin said at the start of the one-minute clip.
"I won't give away what we're doing, but Tyler and I are not afraid to do images that make noise," Griffin added.
The video then cut to Griffin holding up a gory replica of Trump's head, dripping with blood and detached from a body.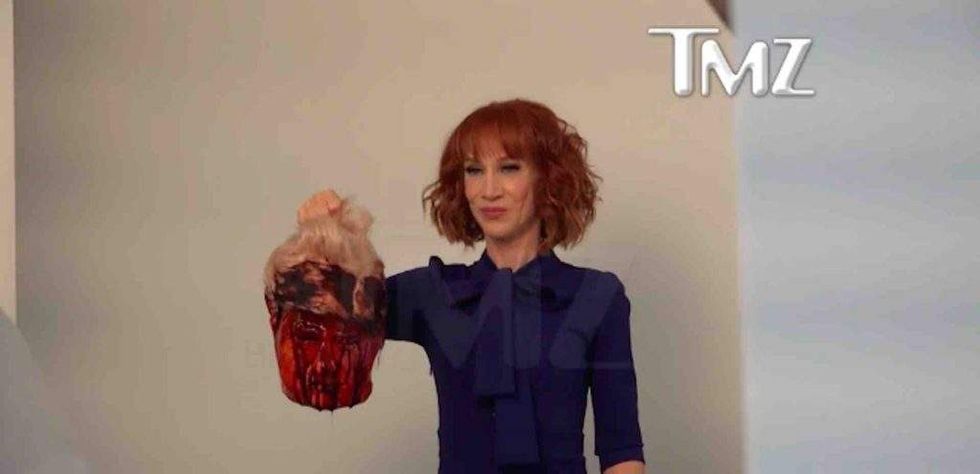 Image source: TMZ screenshot
It was unclear what exactly the purpose of the photoshoot was or if was it part of a larger project.
What was clear, however, was that Griffin knew the images would stir up controversy. Conservative writer Erick Erickson suggested in a tweet that's exactly what Griffin was trying to do.
"Hey look! We're all talking about Kathy Griffin and it isn't even New Years Eve. Well played," Erickson tweeted Tuesday.
For years, Griffin co-hosted CNN's New Year's Eve broadcast from Times Square in New York City with CNN anchor Anderson Cooper.
Griffin joked after the photoshoot that she and Shields might have to flee the U.S. because of the provocative photos.
"We have to leave for Mexico today," Griffin jokingly told Shields, "because we're going to prison — federal prison."
"Let's ... leave for Mexico today. Because we're not surviving this," Griffin said.