An online petition accuses Hedy Weiss, longtime theater critic for the Chicago Sun-Times, of racism in her reviews — and is demanding a punishment be exacted.
And the penalty can be carried out by theaters around the city: They should cease inviting Weiss to productions and stop giving her media passes, the petition states. If she wants in, Weiss has to pay for her own ticket.
The Chicago Theater Accountability Coalition, author of the petition, notes that the city's artists "have worked hard to create a safe, healthy environment to practice art in" and that Weiss "has proven that she is not willing to work with us to create a positive environment. She has proven this repeatedly with the racism, homophobia, and body shaming found in her reviews. She has proven this by never, not once, apologizing to a party injured by her words."
The petition, launched a week ago, has attracted nearly 3,600 signatures as of Thursday morning.
Weiss reportedly has a history of penning provocative reviews, but at issue now is her response to a play called "Pass Over," which in part deals with police harassment of young black men.
"To be sure, no one can argue with the fact that this city (and many others throughout the country) has a problem with the use of deadly police force against African-Americans," Weiss wrote. "But, for all the many and varied causes we know so well, much of the lion's share of the violence is perpetrated within the community itself. [Play creator Antoinette] Nwandu's simplistic, wholly generic characterization of a racist white cop (clearly meant to indict all white cops) is wrong-headed and self-defeating."
Weiss said that such elements contributes to a production that "ends up clubbing its audience over the head."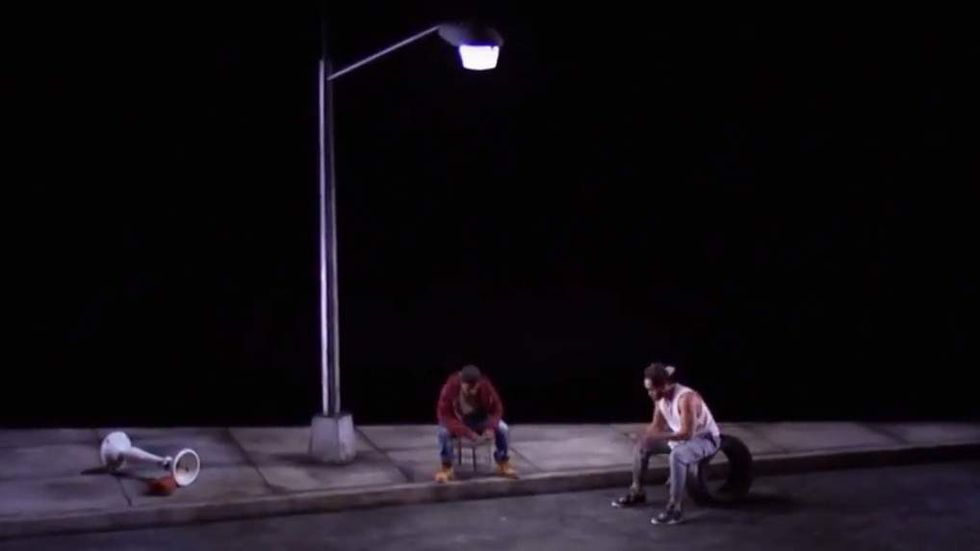 A scene from "Pass Over." (Image source: YouTube screenshot)
The famed Steppenwolf Theatre, which put on "Pass Over," wasn't happy with Weiss' review, either. An emailed statement to the Chicago Tribune spells that out:
We denounce the viewpoints expressed in some of these reviews as they fail to acknowledge the very systemic racism that "Pass Over" addresses directly. Particularly egregious are the comments from Sun-Times critic Hedy Weiss, whose critical contribution has, once again, revealed a deep-seated bigotry and a painful lack of understanding of this country's historic racism. Her contribution is actively working against the kind of theater we are striving to be.
Kirstin Franklin, co-artistic director of Akvavit Theatre, told the Tribune that an invite was sent to the Sun-Times for the theater's upcoming production of "Hitler on the Roof" prior to the petition's circulation — and that she prefers the paper send a reviewer other than Weiss. Or Weiss can buy her own ticket.
"I agree that it's important that we have freedom of press," Franklin told the Tribune, "and that they're able to speak their opinion, but it's also important for editors to really look at what is being printed and to say, 'Will words from this hurt a specific person?' or 'Will words from this review hurt a specific group of people?' I think that's important."
Weiss told the Columbia Journalism Review in an emailed statement: "All I can say is that the theater is obviously not exempt from the general state of the world right now. And none of it is very pretty."
The Sun-Times has not commented on the issue.
But alternative weekly the Chicago Reader published a "defense of Hedy Weiss," with writer Deanna Isaacs noting that the "eager herd brutality" she sees in social media regarding Weiss "brings to mind something very nasty and much older than the internet. Something like a witch hunt."
The Tribune ran an editorial Monday defending the critic from its rival paper. But a reader replied with a letter to the editor calling out the Tribune's "misleading, glib editorial" that failed to recognize "Weiss' pattern of, at best, racially tone-deaf criticism."
Bill Wyman, a longtime arts critic, penned the CJR piece about the controversy surrounding Weiss and said "at their worst" her "remarks betray a strident and somewhat simplistic political bent from the right of the mainstream. But it's probably safe to say that most theater critics are liberal, and have presumably contributed their own stridency from time to time."
He also blasts the Change.org petition, calling its first sentence — "a safe, healthy environment to practice art in" — as "as out of touch as any of Weiss's remarks."
"Theater is, of course, a highly public endeavor, and the world outside is a big bad place, with lions and tigers and critics who have opinions," Wyman concludes. "If its practitioners want safety, they should practice their craft behind closed doors."
(H/T: Heat Street)