German Ambassador to the U.S. Peter Wittig said Thursday that media coverage of President Donald Trump and German Chancellor Angela Merkel not shaking hands during Merkel's White House visit in March was "overblown" and was not representative of the two leaders' relationship.
Wittig's comment came during an interview with CNN's John Berman, just hours after Trump had arrived in Hamburg, Germany, for the G-20 summit. Upon arrival, Trump greeted Merkel with a handshake.
President Donald Trump and German Chancellor Angela Merkel shake hands before their meeting at the G20 summit https://t.co/PkiLDDUh0E

— CNN Politics (@CNNPolitics) July 6, 2017
In March, while Merkel and Trump sat in the Oval Office in the White House, Merkel asked Trump for a handshake, but Trump did not respond to the request. Much of the media, including CNN, hyped the moment as an anecdote of the perceived rocky relationship between Trump and Merkel.
Trump and Merkel, however, did shake hands during a joint press conference at the White House.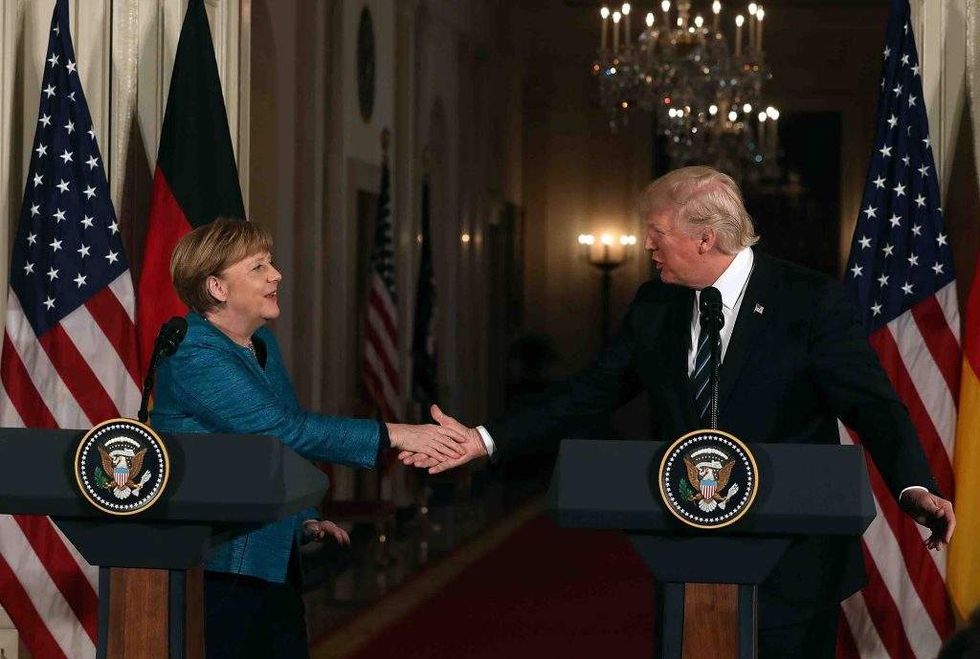 President Donald Trump and Germany Chancellor Angela Merkel shake hands at the White House on March 17. (Image source: Justin Sullivan/Getty Images)
Following Trump and Merkel's handshake in Hamburg on Thursday, Berman asked the German ambassador about the handshake seen 'round the world.
"How important is it to send this message of unity, or at least greater unity?" Berman asked, noting that "so much was made of the fact they had a meeting at the White House where there was no handshake."
"Do you think it's important that the world see these two shaking hands now?" the CNN anchor asked.
Berman likely didn't anticipate Wittig's candid response.
"That handshake that never took place in Washington," Wittig replied, "that was totally overblown, and it didn't correspond to the friendliness of the meeting. It was a productive meeting in Washington. Both of them [Trump and Merkel] were satisfied."
Wittig urged Berman and others in the media not to "read too much into that." He then provided an optimistic outlook for the G-20 summit. Wittig said that Merkel will "go out of her way" to "forge compromise, to find common ground, including the interests of the United States."
"I think this is such an opportunity that the chancellor will not want to miss," Wittig said.
In addition to meeting with the German chancellor, Trump will also meet Friday for the first time with Russian President Vladimir Putin, months after multiple U.S. intelligence agencies concluded that the Kremlin meddled in the 2016 U.S. elections.
Trump has not acknowledged the consensus of the agencies but said Thursday that Russia "could be" responsible for the meddling.