Joining the flurry of Confederate monument removals after deadly violence in Charlottesville, Virginia, over the weekend, Democratic New York Gov. Andrew Cuomo wants Confederate names removed from two streets at an Army base in Brooklyn.
The streets in question at Fort Hamilton are named after Generals Robert E. Lee and Stonewall Jackson, both of whom served there decades before the Civil War, the New York Times reported.
I just asked the acting secretary of the @USArmy to remove confederate names from the streets of Fort Hamilton in Brooklyn.

— Andrew Cuomo (@Andrew Cuomo) 1502912487.0
A group of local elected officials earlier this month asked the Army to rename the streets, but the Army declined, the Times said, adding that Assistant Secretary of the Army Diane Randon said in a response letter that such an action would be "controversial and divisive."
But Cuomo asked Ryan McCarthy, acting secretary of the Army, to reconsider. "The events of Charlottesville and the tactics of white supremacists are a poison in our national discourse, and every effort must be made to combat them," Cuomo wrote in his letter, the Times said.
"Renaming these streets will send a clear message that in New York, we stand against intolerance and racism, whether it be insidious and hidden or obvious and intentional," Cuomo added, according to the paper.
An Army spokeswoman on Wednesday told the Times that Cuomo's letter was received and that Army officials are in the process of responding.
Many Twitter users didn't care for Cuomo's idea: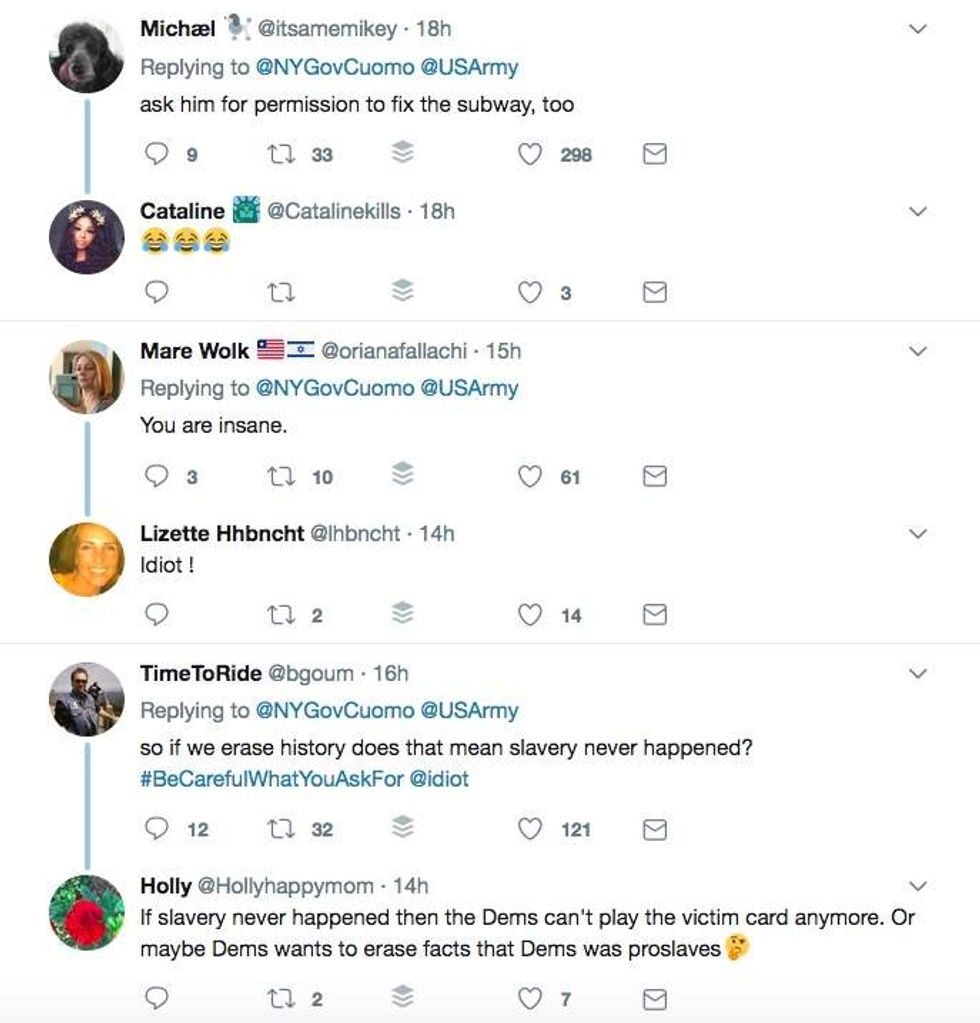 Image source: Twitter screenshot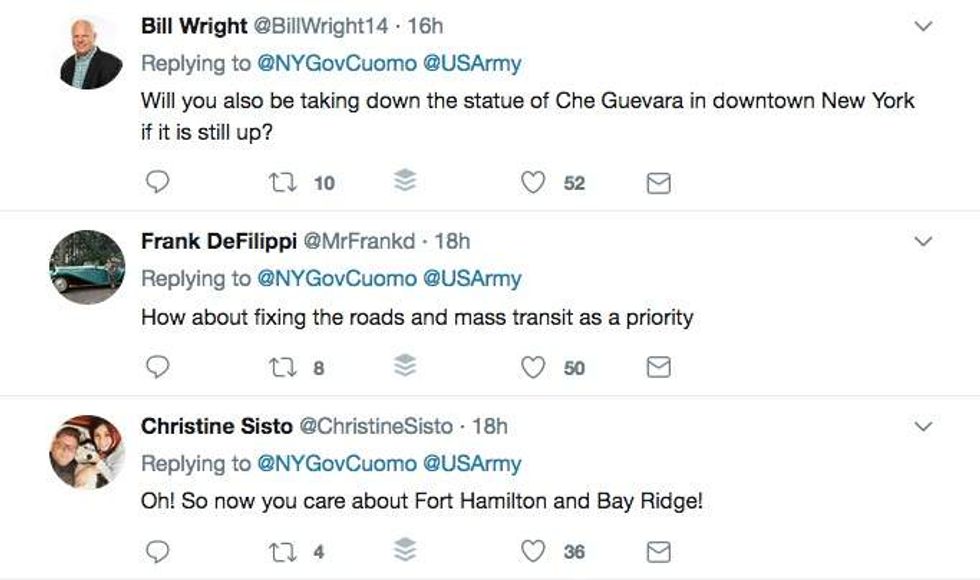 Image source: Twitter screenshot

Image source: Twitter screenshot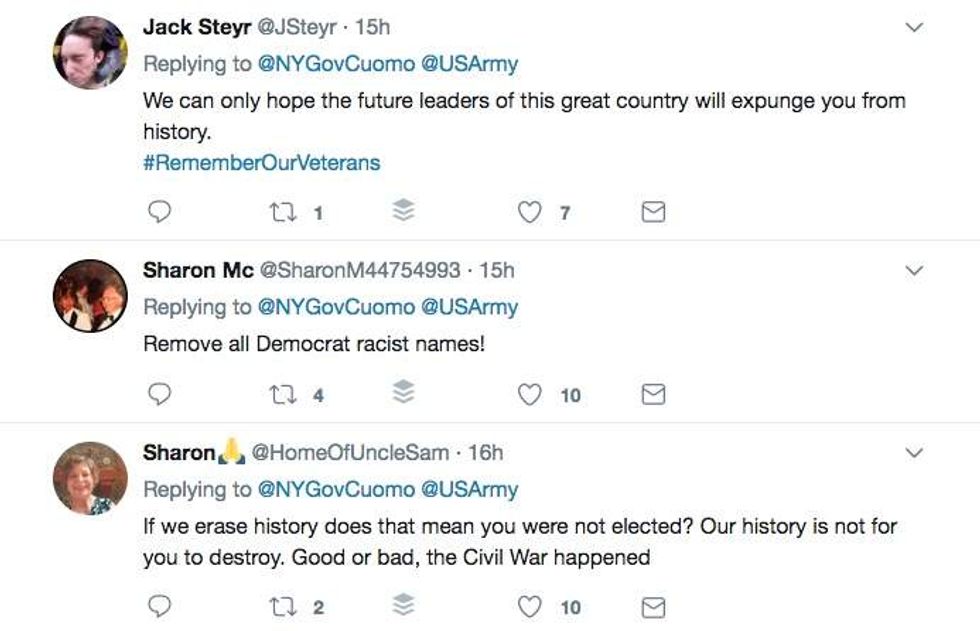 Image source: Twitter screenshot
Notably at West Point — the United States Military Academy in New York state — there is a "Lee Barracks," the Times said. And while Cuomo didn't mention this building, a spokeswoman for the governor indicated it was also under consideration, the paper added.
Also on Wednesday, the president of the Bronx Community College said the school would remove bronze busts of Lee and Jackson from its Hall of Fame for Great Americans, the Times added, which is an outdoor sculpture gallery on campus.
"Embracing difference includes creating space where all people feel respected, welcome and valued," school President Thomas A. Isekenegbe said in a statement, the paper said.
Since the events in Charlottesville — sparked by debate over a Lee statue there — other Confederate statues have come down. Protesters used a rope to topple one in Durham, North Carolina, on Monday. The city of Baltimore removed four Confederate statues overnight Tuesday. And in a related move, a Chicago pastor wants a statue of George Washington — and his name — removed from a park since the first U.S. president was a slave owner.
(H/T: Young Conservatives)