Scott Baio vehemently denied pushing a conspiracy theory Thursday after deleting a tweet purporting to show that the mother of a victim in the horrible Newtown shooting was an actor. He later apologized for the tweet.
"Me asking for thoughts on a meme does NOT mean I believe or approve of it," he said. "I asked 4 thoughts. That's it. Stop spinning untruths."
"Those that follow me clearly know I always posts links or [retweet] links w/ "Thoughts" caption or commentary," he added. "It does NOT mean I agree or accept."
Online conspiracy theorists have claimed that the Newtown murders were orchestrated by the government in order to provide them with an excuse to push anti-gun laws. One of the pieces of evidence they offer is that family members of the victims look similar to those of other shooting disasters.
Baio might have changed his mind after this post from the Soto family on the Facebook page for Victoria Leigh Soto, a teacher who was killed in the horrendous attack:
"Earlier today Scott Baio shared a picture encouraging conspiracy theories having to do with Sandy Hook and Charlottesville and Heather Heyers mother," the post read.
We are deeply disappointed that someone who has such a large audience would use that audience to target victims families. We tried to reach out to Scott on Twitter and he blocked us. He is saying that he was just asking for thoughts, but what he did was encourage hateful behavior and targeted harassment against our family.

When will enough be enough? We have been through hell and back dealing with hoaxers. From Megyn Kelly giving Alex Jones airtime to Scott sending out pictures to all his followers.
"We are real people at the other end of these conspiracy theories and it hurts us, deeply," the post concluded.
After being criticized for the tweet, Baio apologized for posting it in the first place.
Despite deleting the tweet, screenshots were still being shared of the missive online: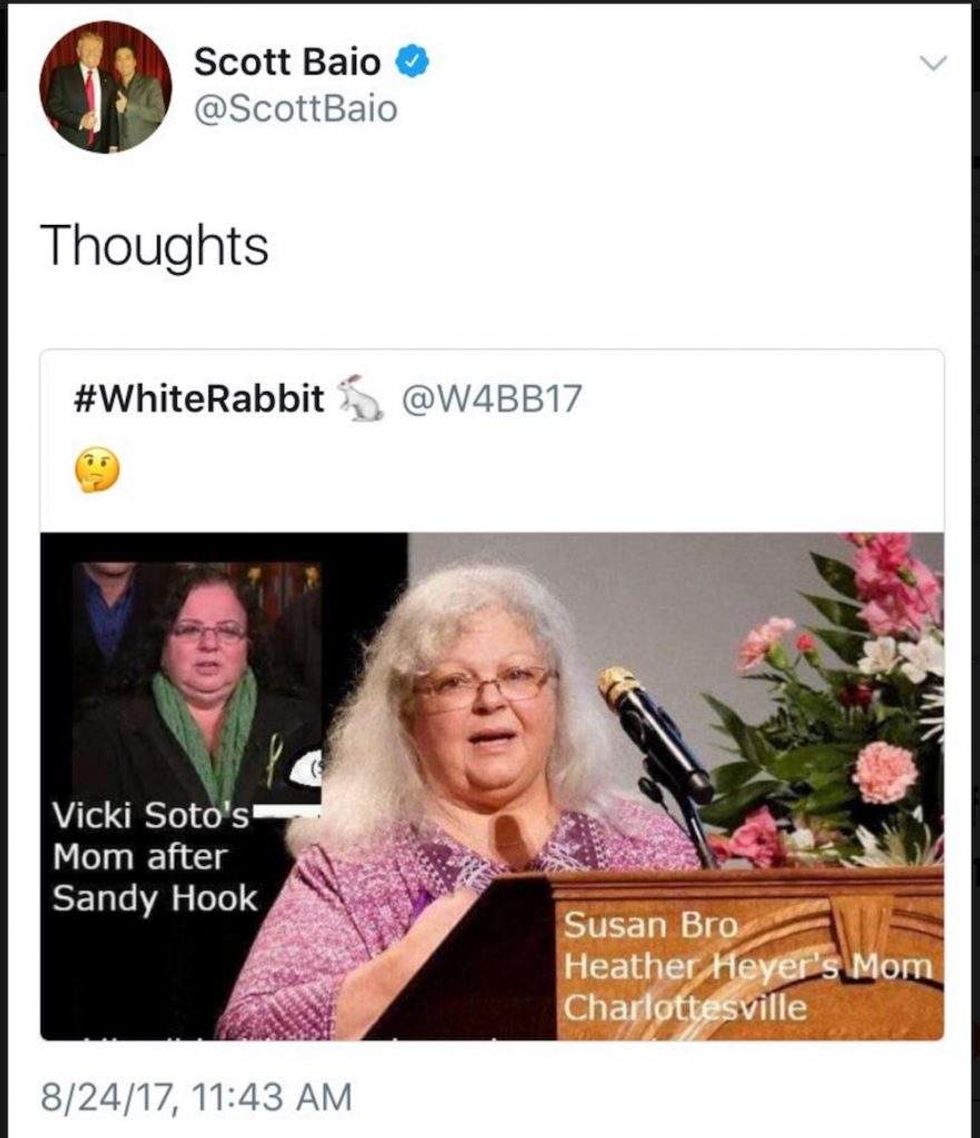 "In retrospect," he wrote, "I wish I had thought longer about retweeting that conspiracy photo. I shouldn't have sent it. It was wrong." He added a hashtag of his last name.