A fourth-grade teacher in Mesa, Arizona, crossed out the word "men" in the Declaration of Independence, replaced it with "humans," and had students recite the gender-neutral version in class, KGUN-TV reported.
And one mother is not pleased.
"I was hurt. I was mortified," Elizabeth Vaillencourt told the station regarding the alteration in a Salk Elementary School classroom. "I was disturbed at the fact that somebody is changing historical documents, and nobody has the right to change our historical documents. You teach what's written. You don't to rewrite it and teach it how you feel you believe."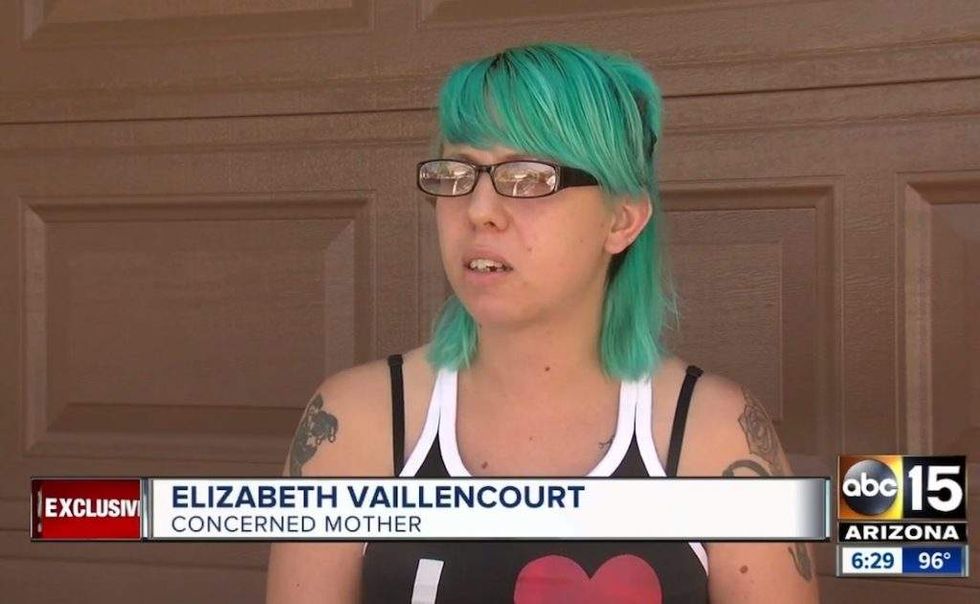 Image source: KGUN-TV video screenshot
Vaillencourt took her concerns to Facebook last week, calling the altered version of the Declaration of Independence hanging in the classroom "indoctrination."
"Each and every morning after the Pledge of Allegiance is said, the class recited this altered version of our Declaration of Independence," her post added. "This teacher also felt it was 'a teachable moment' when she shared with the class that she attended a protest of our President Donald J. Trump. When I confronted the teacher she in fact believed this behavior to be within her rights. We did get the sign removed from the classroom as well as my son. My son is a Boy Scout of America and felt uncomfortable enough about this to tell us. If he had not, and to my great shame, we would not have known. And this would be still occurring."
How did the school district respond?
When Vaillencourt approached school officials, she was told that her social media activity about the issue "hurt the teacher's feelings," KGUN reported.
This apparently isn't the only instance of teachers in the district voicing their personal opinions during school hours. The station said that a teacher in another school has told students to refrain from saying "bless you" after hearing someone sneeze.
In the end, Vaillencourt told KGUN that the superintendent's office contacted her Wednesday and said the teacher's actions were not in line with school policy.
A Mesa Public Schools spokeswoman added to the station in a statement that the recitation of the Declaration of Independence is included in a policy regarding school ceremonies and that teachers aren't supposed to share their political views with students:
It should be recited as written, and not modified in any way. School administration, when learning of the alteration to the text, provided feedback and guidance to the teacher to restore the document to its original format.

There is not a specific reference in policy to the discussion of political beliefs by a teacher in a classroom, however, in practice the district does not allow teachers to share their political views with students. When the teacher used a personal example of how individuals can have differing political views but still be friends, the principal reminded the teacher that personal examples are not appropriate in a classroom setting.
(H/T: EAGNews)