A New Jersey father allegedly put a chokehold on a 16-year-old coach from his son's peewee flag football team after getting "very upset" over his quarterback son being rotated out during a game, a league official told NJ.com.
What went down?
During a Saturday game for 6- to 8-year-olds at Westwood Middle School, Peter Iappelli approached the teen coach and extended his hand, league commissioner Fred Kritzer told the outlet.

"What looked like a handshake turned into a bear hug that turned into a chokehold," Kritzer told NJ.com Thursday.

Witnesses heard Iappelli, 50, yell expletives at the coach before parents intervened, Kritzer added to the outlet.

"At least one mother asked him what he was doing," Kritzer told NJ.com, adding that Iappelli "took off" as other parents spoke up.

Prior to the incident, the teen coach "even informed the parents of the rotation. That's when the guy got very upset," Kritzer said to the outlet.
What happened after the incident?
Kritzer told NJ.com Iappelli sent emails to him, the victim and the team.

"I'm very sorry for my behavior. I won't come to anymore practices or games," Iappelli wrote in the emails, Kritzer told the outlet.

Both Kritzer and Westwood Police Detective Warren Morrell said the incident left other children and parents shaken, NJ.com said.

Some reported the incident to police while others called the victim's father, who's a town official, the outlet added.
How did the father of the teen coach respond?
He came to police headquarters Monday to sign a complaint against Iappelli, Morrell told NJ.com.

"It's a sad thing, a tragic thing, for something like this to happen at a program run by volunteers," the victim's father told the outlet.
Was Iappelli charged?
He was charged with simple assault and disorderly conduct, NJ.com reported.

Iappelli surrendered to police Wednesday accompanied by his attorney, Brian Neary of Hackensack, and was served with a complaint and summons to appear in court, the outlet said.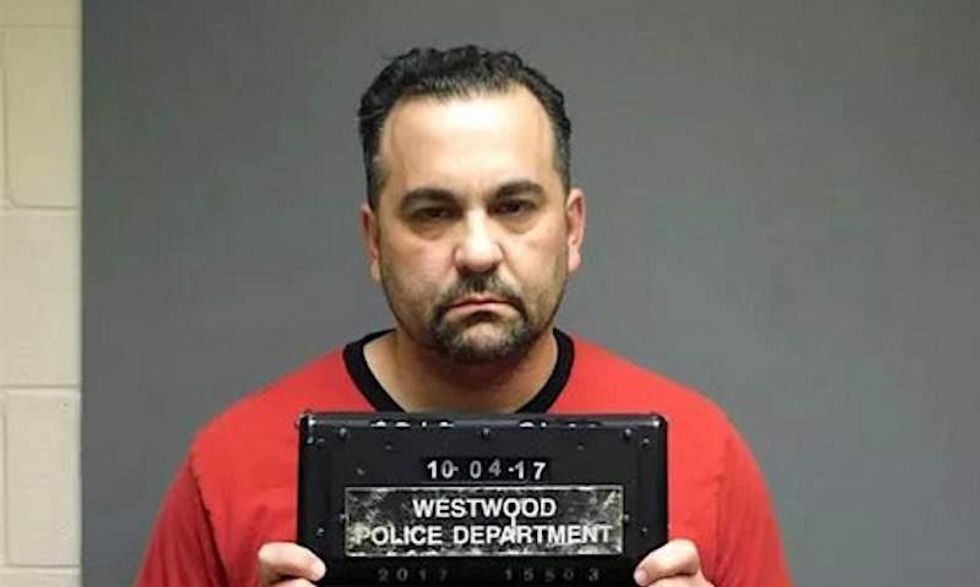 Peter Iappelli (Image source: Westwood, New Jersey, police)
The charges against Iappelli were forwarded to the Bergen County Prosecutor's Office because they are indictable offenses, Morrell told NJ.com.

Iappelli's arraignment is set for Oct. 20, the outlet added.
What does Iapelli do for a living?
He earns $171,136 annually as school business administrator in Closter where he's worked for 19 years, the outlet said, adding that he could not be reached for comment Thursday.

Closter Schools Superintendent Joanne Newberry did not respond to messages seeking Iappelli's employment status with the district, NJ.com said.
How did the football league respond?
Kritzer told NJ.com that Iappelli and his family have been banned from the North Jersey NFL Flag Football league for life.

"We have a code of conduct we adhere to," Kritzer told the outlet.