The differences between a high school football field in the middle of the southern California desert and a big-city NFL stadium are as profound and numerous as you can imagine.
But for the Sherman E. Burroughs High School football team in Ridgecrest — a military town about 100 miles east of Bakersfield, as the crow flies — none of those differences matter much.
Except one.
Amid the controversial trend of NFL players taking a knee in protest during the national anthem, the Burros players expressed a vastly different sentiment before Friday night's homecoming game.
As "God Bless the USA" played over the loudspeakers, each player walked onto the field carrying an American flag — to the cheers of those gathered in the stands.
Then they stood in a line as the national anthem played. Quite a different view than knees on the turf or raised fists.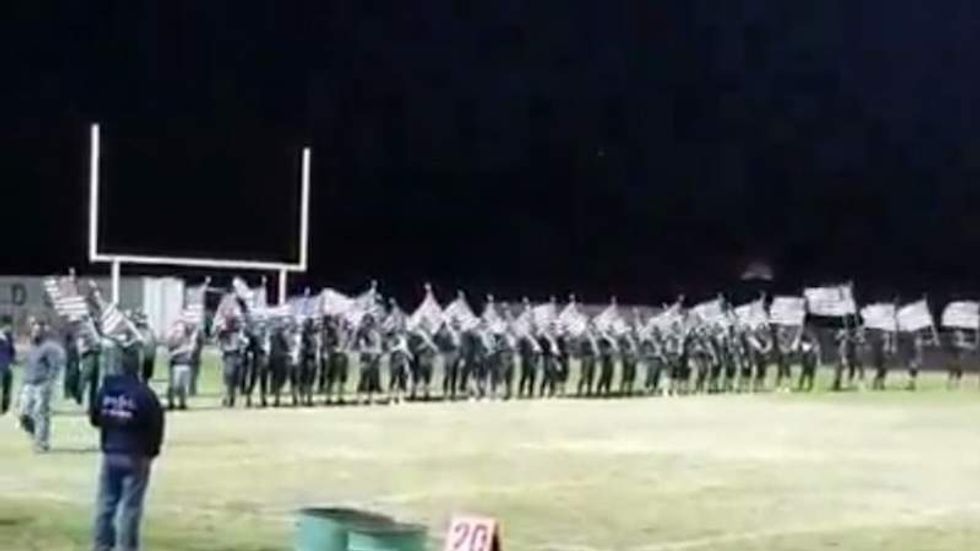 Image source: Facebook video screenshot
After the playing of "The Star-Spangled Banner," a pair of F-18s from a local squadron flew over the field, which the crowd loved as well.
The clip has garnered over 3 million views since it was posted Friday night on Facebook.
Justin Smith, a member of the U.S. military, was among the pleased commenters.
"Just watched this video from Iraq a few minutes ago and I couldn't be more proud of y'all," Smith wrote. "Great job boys, way to stand up for your country and show your appreciation for being an American. It makes it a lot easier for us overseas knowing we have support from guys like you. Shoutout to your head coach and coaching staff as well. I tip my cap to the parents, family and friends of these players. Makes me proud to call Ridgecrest home. Way to go guys."
Burroughs defeated Oak Hills, 20-17.