The U.S. Navy rescued two Honolulu women — and their two dogs — about 900 miles southeast of Japan on Wednesday after they'd been lost at sea for five months aboard a busted sailboat, the Navy said.
What happened?
Jennifer Appel and Tasha Fuiaba set sail from Hawaii to Tahiti in the spring.

Their boat's engine failed May 30 in bad weather, but the pair kept going, believing they could sail the vessel to land.

But after two months had passed — far longer than their planned trip was supposed to take — they began sending daily distress signals.

However, they weren't close enough to land or other ships for signal reception.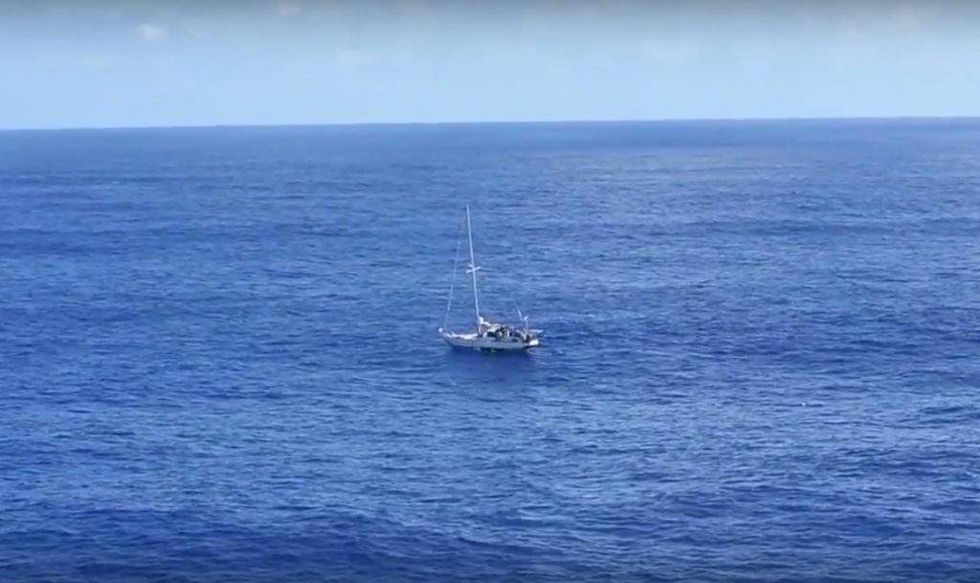 The women's sailboat is stranded as Navy rescuers approached it. (Image source: YouTube screenshot)
On Tuesday a Taiwanese fishing boat spotted them and contacted the U.S. Coast Guard in Guam, and the rescue was on.

The USS Ashland reached the boat early Wednesday morning — and Appel, Fuiaba and their dogs climbed aboard the Navy ship just after 1 p.m.
How did the rescued women react?
Appel was seen on video waving and blowing kisses to Navy rescuers as they approached the stranded boat, KHNL-TV reported.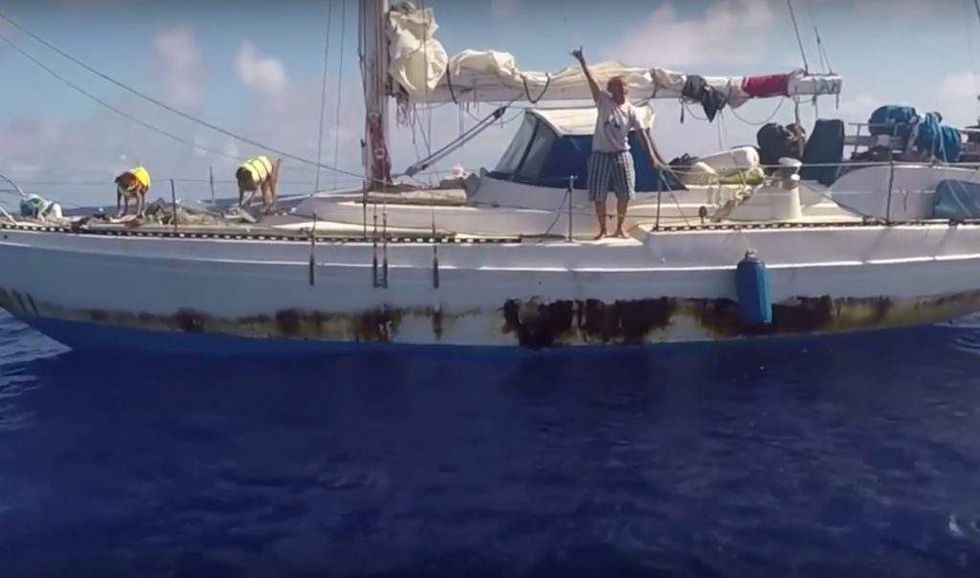 Image source: YouTube screenshot
"I'm grateful for their service to our country. They saved our lives," Appel said, the Navy reported. "The pride and smiles we had when we saw [U.S. Navy] on the horizon was pure relief."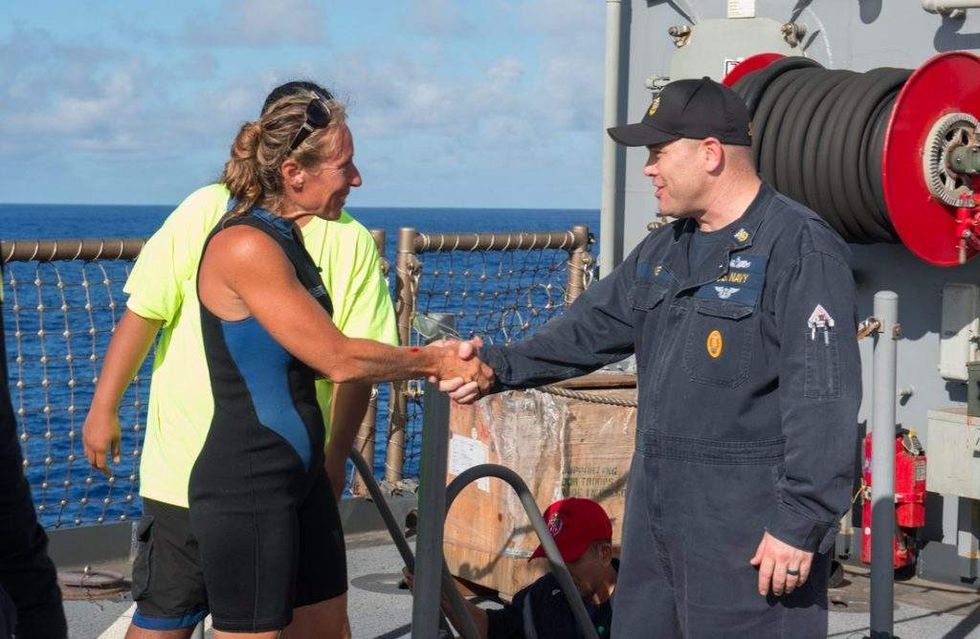 Command Master Chief Gary Wise welcomes aboard Jennifer Appel aboard the USS Ashland. (Image source: U.S. Navy photo by Mass Communication Specialist 3rd Class Jonathan Clay/Released)
"Thank God we were rescued," she added to the Honolulu Star-Advertiser. "I had tears in my eyes. It was incredibly emotional."

"There is a true humility to wondering if today is your last day. If tonight is your last night. If the storm that's approaching is going to bring down the rig," Appel told KHNL.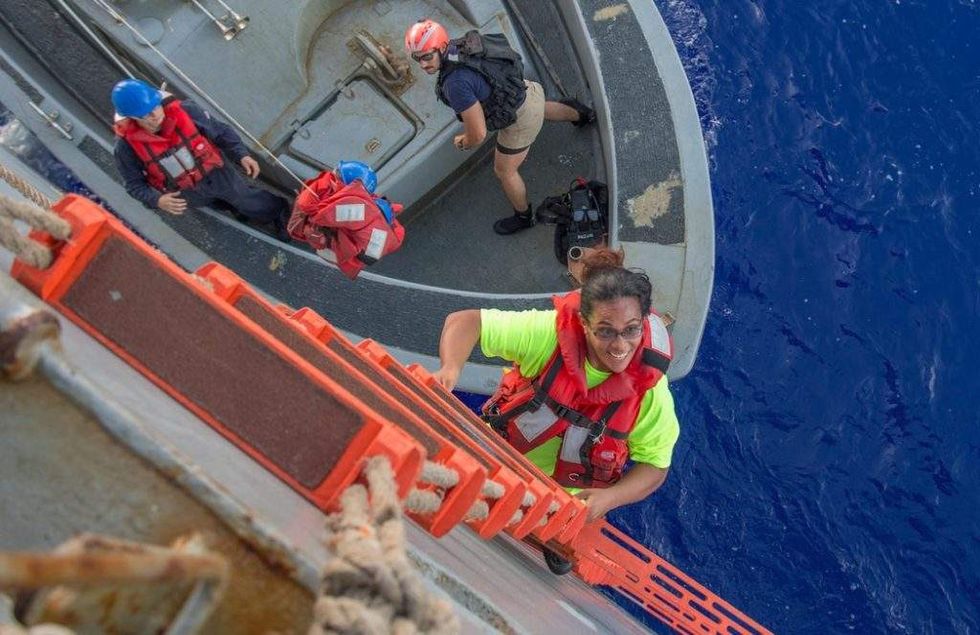 Tasha Fuiaba climbs the accommodation ladder to board the amphibious dock landing ship USS Ashland. (Image source: U.S. Navy photo by Mass Communication Specialist 3rd Class Jonathan Clay/Released)
"I had lived in Hawaii for 10 years and traveled around all the islands," Appel added to the Star-Advertiser, noting it took 2 1/2 years to plan the trip. "I wanted to go see the other 20,000 islands in the South Pacific. I had no idea what I got myself into."
How did they survive at sea that long?
Appel told the Navy she and Fuiaba had water purifiers on board as well as over a year's worth of food — mostly dry goods such as oatmeal, pasta and rice.

But obviously it was no picnic: "It was very depressing, and it was very hopeless," Appel told KHON-TV. "The only thing you can do — you use what you can and what you have. You have no other choice."

"You can't get any help at all because you're in the middle of nowhere, and if it falls apart around you, you're swimming, and you're shark bait," Fuiava added to the station.
Hang on — what's this about sharks?
The pair told KHON that sharks surrounded their sailboat at one point.

"We were slowly maneuvering through their living room," Appel told KHON. "They came by to slap their tails and tell us we needed to move along. They decided to use our vessel to teach their children how to hunt. They attacked at night."
Weren't others on land concerned about the women after all that time?
As a matter of fact, yes. Appel's mother told the Associated Press Thursday she never lost hope her daughter would be found.

Joyce Appel, 75, of Houston told the AP she called the Coast Guard about 10 days after Jennifer embarked from Honolulu.

"The Coast Guard in Hawaii did a search and rescue effort," the elder Appel told the outlet. "I waited and waited and waited to see when I would hear from her."

Finally, she got a call from her daughter early Thursday morning, the AP said.

"She said, 'Mom?' and I said, 'Jennifer!?' because I hadn't heard from in like five months," Joyce Appel told the outlet. "And she said 'yes mom,' and that was really exciting."

Turns out Jennifer Appel lost her phone overboard the first day she was at sea, the AP reported, and she hadn't heard from her daughter since.

"I had hope all along," Joyce Appel added to the outlet, noting that her daughter "is very resourceful and she's curious and as things break she tries to repair them; she doesn't sit and wait for the repairman to get there, so I knew the same thing would be true of the boat."

The elder Appel told the AP that the boat's water purifier failed at one point, and her daughter and Fuiaba were down to their last gallon of water when Jennifer fixed it.
What happens next?
Appel and Fuiaba and their dogs will remain aboard the Ashland until the ship's next port of call, the Navy said.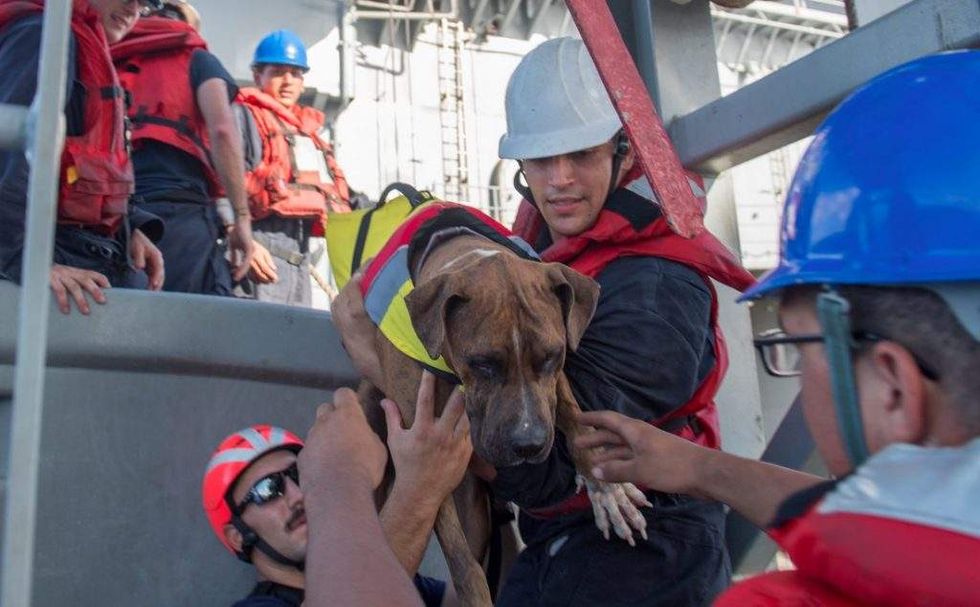 Sailors help Zeus — one of two dogs lost at sea with Jennifer Appel and Tasha Fuiava — aboard the USS Ashland. (Image source: U.S. Navy photo by Mass Communication Specialist 3rd Class Jonathan Clay/Released)
As for their boat, the Navy said it deemed it unseaworthy — and it's still out there in the Pacific.

However, they told KHNL they hope to recover and repair their boat and sail it back to Hawaii.