Roger Stone, a close confidant of President Donald Trump during his presidential campaign and prior, absolutely lost his cool on Twitter Friday night after CNN reported FBI special counsel Robert Mueller had secured the first indictment from his Trump-Russia investigation.
What did he say?
(Content warning: Some of the following tweets contain coarse language):
Image source: Twitter screenshot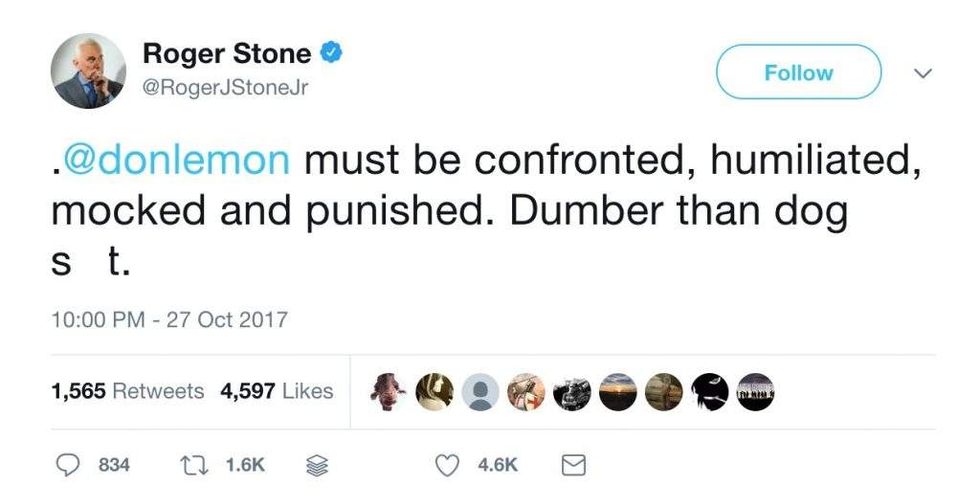 Image source: Twitter screenshot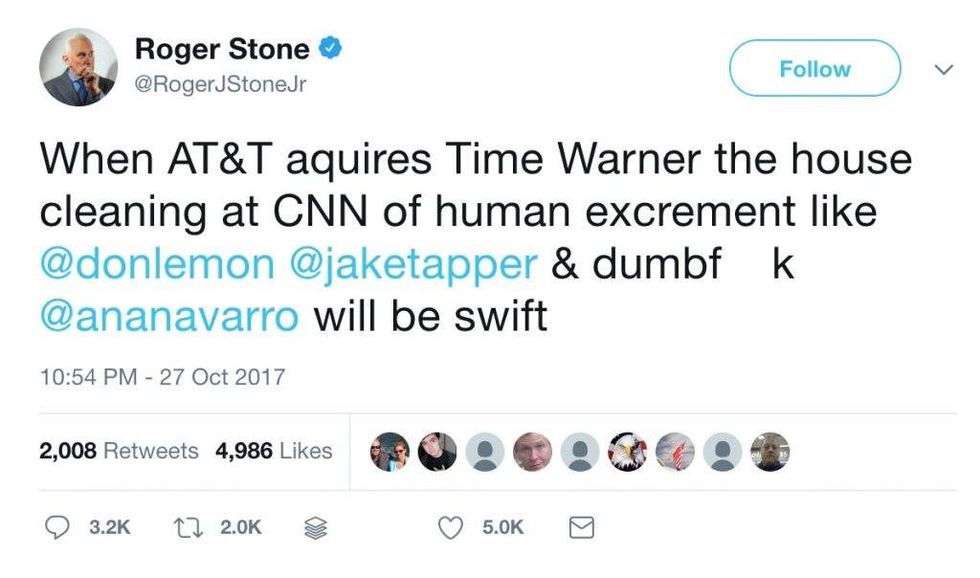 Image source: Twitter screenshot
Tapper and Lemon are both CNN anchors. Tapper is a fair, objective reporter who delivers hard facts, while Lemon often editorializes on his evening show, which is his job as he is not a reporter. Navarro is a CNN political commentator and Republican who is staunchly opposed to Trump and makes her opposition to the White House clear every day on social media.
It's not clear why the majority of Stone's ire was directed at Lemon.
What precipitated the meltdown?
CNN reported Friday evening that Mueller's investigation had yielded its first indictment. It wasn't clear who the indictment targets or what criminal charges it's related to. However, the report indicated that arrests may come as early as Monday.
Stone and other supporters and associates of Trump have made their opposition to Mueller's investigation clear since its inception. They believe Trump and his campaign committed no wrongdoing during last year's election and are being unfairly targeted. Trump's opponents, however, maintain Trump's campaign somehow "colluded" with Russian operatives to undermine the election.
——
Update — 6:00 p.m. EST: Twitter has now suspended Stone's Twitter account.
Looks like @RogerJStoneJr's Twitter account has been suspended https://t.co/jUauVjloRU

— Dan Merica (@Dan Merica) 1509225626.0
See the original story below.
——
Editor's note: This story has been updated.