In an analysis of campaign donation reporting from the Federal Election Commission, CNN found that most of the outside money to Senator-elect Doug Jones' victorious campaign came from just two states.
Who funded Doug Jones' victory in Alabama?
According to the reporting available, Jones received more outside individual donations from California and New York. Roy Moore received most outside individual money from Texas.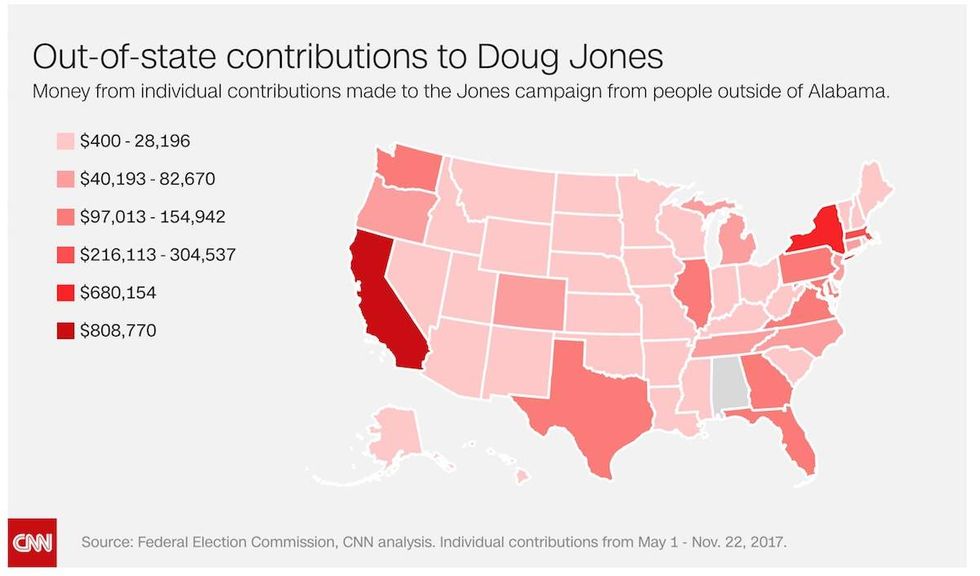 Jones received $808K from individual donors originating in California, and $680K from New York.
Only individual donations above $200 are reported and counted in this analysis.
On the other side of the aisle, Moore received most out-of-Alabama money from donors in the state of Texas, but much less at $236K. And ironically, California provided much of the outside money to Moore as well, but again, far less than that of Jones, at $164K.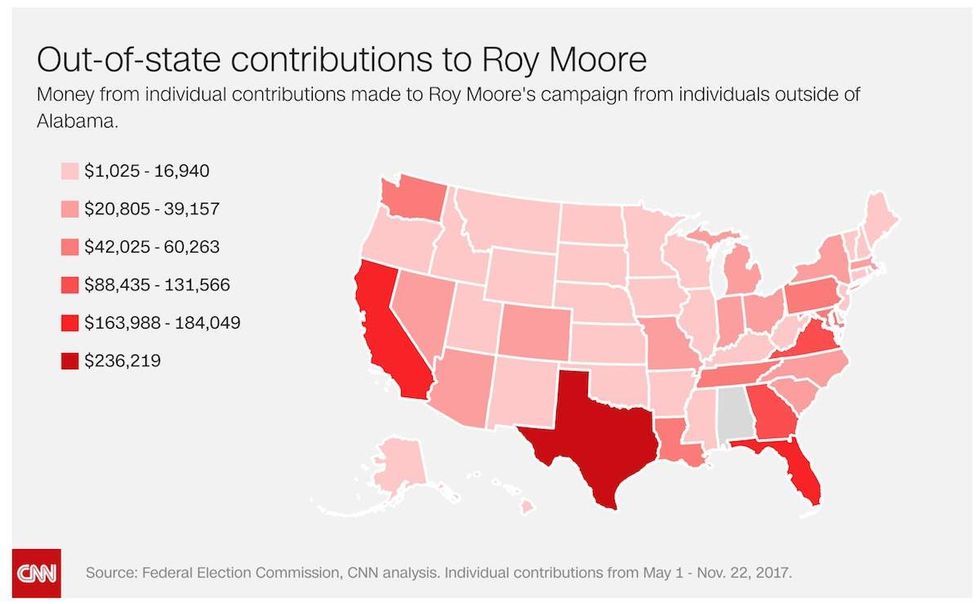 Who had more money overall?
Democrat Jones had twice as much money as Republican Moore. Open Secrets reported that Jones had over $11.5 million while Moore had $5.4 million in their campaign coffers as of Thursday's reporting.

Jones' upset defeat Tuesday is being blamed on Steve Bannon by the Republican establishment, while many Trump allies are blaming the GOP establishment's support of moderate Luther Strange in the primary election. Trump mirrored this narrative in a tweet after the election:
The reason I originally endorsed Luther Strange (and his numbers went up mightily), is that I said Roy Moore will n… https://t.co/DcgJPmLTXy

— Donald J. Trump (@Donald J. Trump) 1513164124.0
Jones said the president called him and graciously congratulated him after the election. Moore on the other hand, refused to call him, and has not yet conceded the election.