I'm not sure how old I was when I finally asked my mom if Santa Claus was real, but I do remember her response.
"As long as you believe, your wishes can come true," she told me.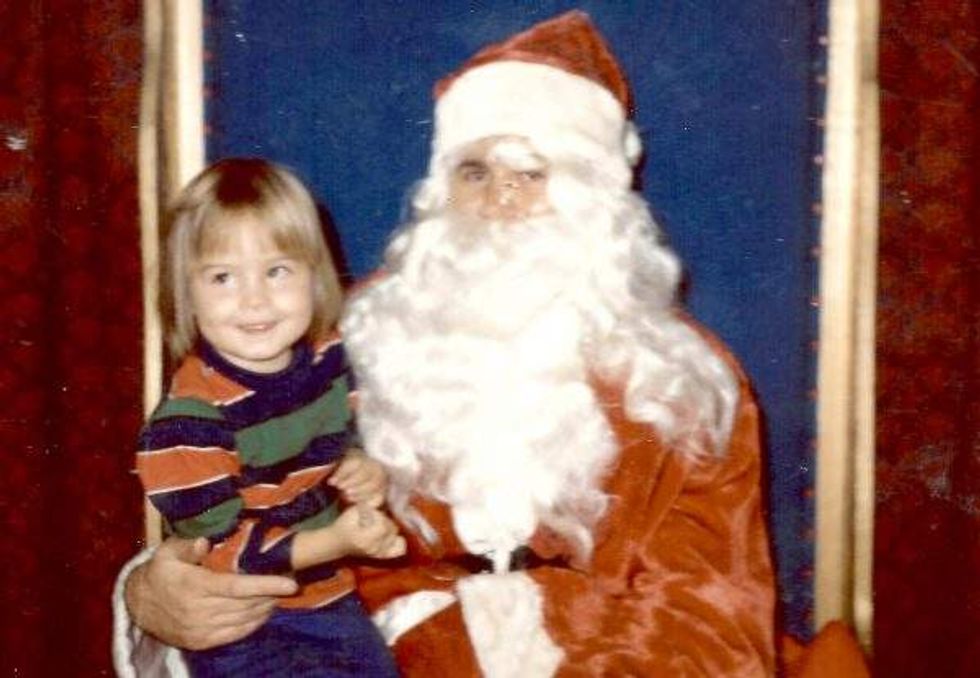 Jana Pruet sitting on Santa's lap on a trip to Amarillo at Christmas time. (Image source: Jana J. Pruet)
When I was a little girl, I can vividly remember the anticipation of the gifts at our family gatherings with aunts, uncles, and cousins. We all gathered at my grandparents modest home in Amarillo, Texas, where it seemed as if it snowed every Christmas Eve, and the night sky was lit up with more stars than I knew existed.
On Christmas Eve, our family opened gifts and my sisters, and I would go to bed early — and wake early — to find unwrapped presents waiting under the tree, along with a stocking filled with apples, oranges, and pecans.
Those were simple, yet magical times.
I'll never forget the smell of my precious Nanny's pies baking in the oven.
Chocolate was my favorite.
Tall golden brown peaks of meringue topped the creamy chocolate mousse that filled the flaky homemade crust.
Her small aluminum Christmas tree shined with multi-colored lights.
Christmas celebrations weren't fancy or elaborate, but they were perfect, to me.
My parents divorced when I was in the third grade, and many things changed, including Christmas.
We no longer loaded into the station wagon to make the 400-mile trip from our suburban home just south of Dallas to my grandparents' house in Amarillo.
My grandfather retired from the railroad that year, and he and my Nanny moved to the Dallas area to be near my mom, my two sisters, and me.
Nanny still baked her heavenly pies, and she always put up that aluminum Christmas tree, but now holidays for me were split between my parents.
There were many years that I know my mom struggled to buy us gifts. She would take a second job at the local five-and-dime store or a shop in the nearby mall so she could buy me and my sisters a few things that we'd been dreaming of all year long.
But I always believed on Christmas morning there would be gifts under the Christmas tree. And there were.
I didn't understand the struggles my mom faced during Christmas time, and somehow, she didn't let it show.
My mom never asked for anyone's help.
Some years, there weren't a lot of gifts, but there was always a lot of love.
Of course, now that I have three sons of my own, I understand better my mother's sacrifices for her three girls.
When I was a single mom raising my boys, I wanted nothing more than to create memories that would last a lifetime.
I baked cookies and made pecan pie.
I took them to Christmas Eve candlelight service at church, and after we got home, we would open our gifts.
My older kids became my late-night elves, staying up after their little brother nodded off to sleep to put together his new toy or an inexpensive bicycle that I'd gotten from Walmart.
There were many times when I wasn't sure how I would even buy one gift for each of my boys, but somehow I always believed I'd find a way. And I did.
I'll never forget the way they would wake up before dawn and race down the hall to the living room to find their gifts from Santa.
Their smiles and their eyes would light up brighter than all the stars I remember seeing in that wide-open Amarillo sky.
Finally, when each of my boys asked me about Santa, I told them always to believe because if you stop, your wishes won't come true.
Being a mom made me understand the real meaning of what my mom was saying to me some 40 years ago.
She wasn't telling me to keep believing in the fat man who wore a red suit or that gifts would magically appear under the tree on Christmas morning.
Her message was preeminent.
Now, I'm married to the man of dreams who makes every day feel like Christmas.
And my boys are all grown. The oldest two are married to beautiful women who have made our family more complete.
Someday, I hope to have a grandchild (or two). Then my boys can share this message with their own.
Believe in your dreams. Believe in yourself.
Believe, and your wishes will come true.
Merry Christmas!