Democrats Doug Jones of Alabama and Tina Smith of Minnesota on Wednesday became the newest members of the U.S. Senate, narrowing the Republicans' majority to 51-49.
Vice President Mike Pence administered the oaths of office to the senators at about noon in the Old Senate Chambers on Capitol Hill in Washington, D.C.
About Jones:
Longtime friend and former Vice President Joe Biden escorted Jones to the ceremony. Jones' wife and two sons also attended.
Jones told reporters it felt "great" to be a senator and that he was "very honored, and humbled to be here," CBS News reported.
Jones, 63, is the first Alabama Democrat elected to the Senate in 25 years, beating out Republican Roy Moore in the race to fill the seat vacated by Jeff Sessions, who became attorney general in President Donald Trump's administration.
In an interview with Al.com during the campaign, Jones made clear his absolute support for abortion, saying he's a "firm believer that a woman should have [the] freedom to choose what happens to her own body."
About Smith: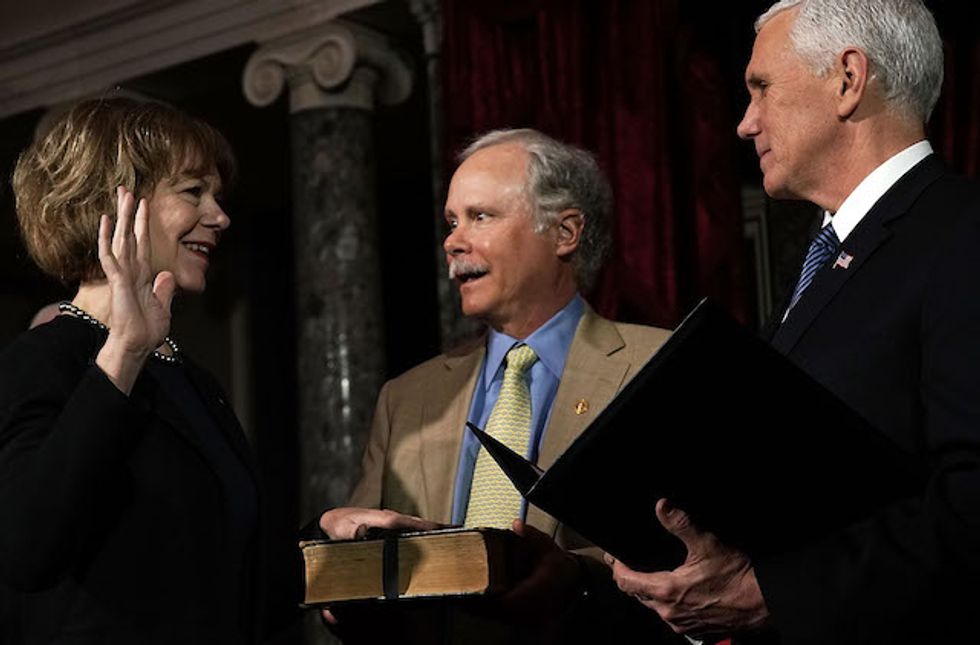 Sen. Tina Smith (D-Minn.) and her husband Archie Smith attend a mock swearing-in ceremony with Vice President Mike Pence at the Old Senate Chamber of the Capitol. (Alex Wong/Getty Images)
Smith's family joined her for the ceremony, along with Minnesotan and former Vice President Walter Mondale.
Smith, the former lieutenant governor of Minnesota, was appointed to fill the seat vacated by disgraced former Sen. Al Franken, who resigned following numerous sexual harassment allegations.
Smith, who once served as vice president of public policy for Planned Parenthood, supports pro-choice policies.
Minnesota Citizens for Life President Leo LaLonde called Smith an "abortion industry insider" and the state's pro-life majority "will have no representation in the Senate," according to LifeSiteNews.
The 59-year-old tweeted prior to her swearing-in, saying she's "ready to get to work."
Today, I'll be sworn in to the United States Senate. I'm looking forward to continuing to be a fierce advocate for… https://t.co/fOx5S9DakZ

— Senator Tina Smith (@Senator Tina Smith) 1514996467.0
Smith will serve through November and said she plans to run for re-election to finish the final two years of Franken's term, the AP reported.