Joe Biden is throwing down yet again.
Before the 2016 election, Biden — then vice president — called out then-Republican presidential nominee Donald Trump over sexual assault allegations and suggested he'd beat up Trump if they were in high school together.
"I could take him behind the gym," Biden said.
And now the Democrat is talking trash with a member of his own party — in this case Howard Dean, former presidential candidate and former Democratic National Committee chair.
In a "PBS News Hour" interview Thursday, host Judy Woodruff asked Biden if age is a factor in the 2020 presidential election.
"Sure … It's a totally legitimate factor," Biden — who's 75 and would turn 78 shortly after the 2020 election — replied.
But Woodruff dug a little deeper: "Howard Dean said this morning ... the old people in the party need to, quote, get the hell out of the way."
"Well, tell Howard I can take him physically, OK?" Biden fired back with a chuckle.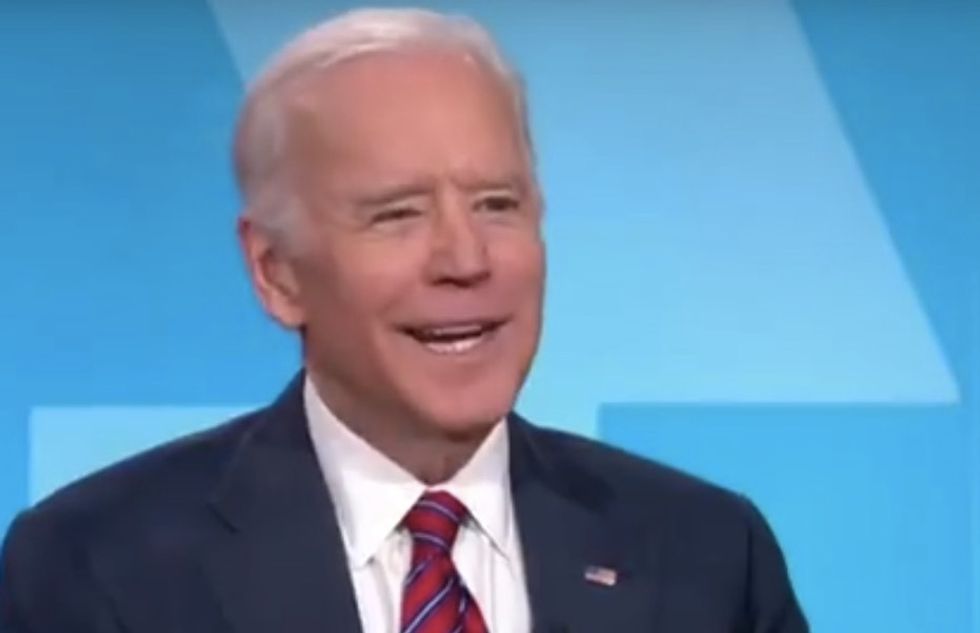 Image source: YouTube screenshot
Biden added: "Look, it would be a totally legitimate thing for people to say, 'Let's look at Biden. He would be the oldest guy to ever be president. See what kind of shape he's in. Mentally, physically and the rest.' And it may be that I've developed some problem, and I'm not capable of doing that."
Biden — who was floated as a candidate in the 2016 election but declined to run — wasn't definitive about his 2020 plans.
"I'm not saying I won't run, but I don't have any concrete plan to run," he also told Woodruff, the Washington Free Beacon said.
(H/T: American Mirror)