Lorrie Crouch had just pulled into the parking lot of Columbus Regional Hospital in Indiana on New Year's Day and was helping get her sick 88-year-old mother into a wheelchair.
That's when Crouch said a man came out of nowhere and jumped into her minivan and tried to drive off.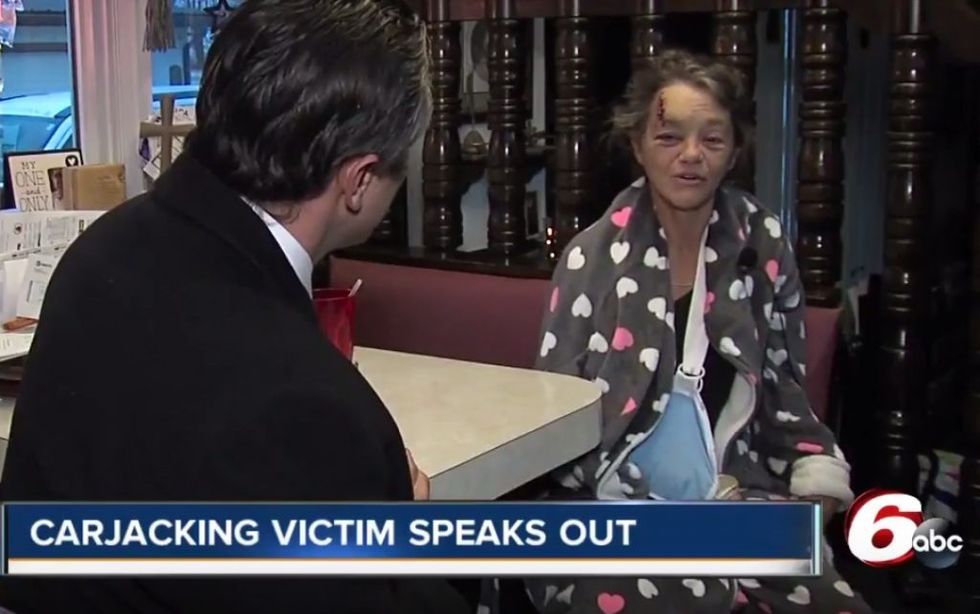 Image source: YouTube screenshot
"I said, 'What the hell are you doing?'" Crouch recalled to WXIN-TV.
But that was far from the only way the 56-year-old reacted.
"I got back in the truck, on my knees, trying to stop him," Crouch told WRTV-TV.
But after the carjacker threw Crouch's vehicle in reverse, he hit Crouch's mother sitting in the wheelchair. And that was the last straw.
"When he hit my mother, that was it," she told WRTV through tears, adding that she "was cussing. I wasn't very religious, I'll admit that. That was my stuff, and that was my mother he hit, and when I seen that I just — I went right after him."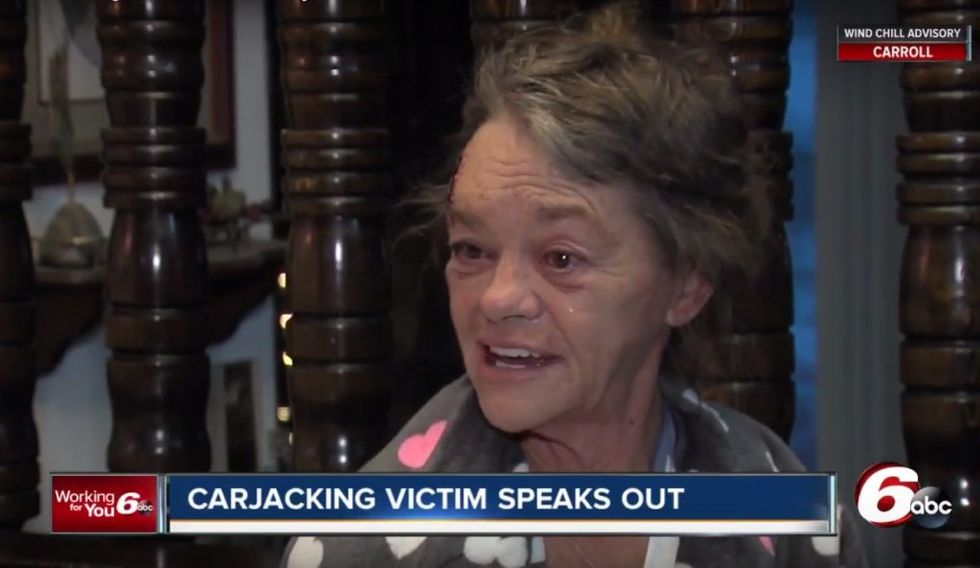 Image source: YouTube screenshot
Crouch — in the passenger side of the vehicle — hit the carjacker in the face and grabbed the steering wheel, the station added.
"He slapped me and I slapped him back," she told WXIN. "Then he slapped me again, and I slapped him back. … I was trying to get a hold of him."
"I was trying to pull him out," she noted to WRTV. "I was just shocked, devastated. I couldn't believe this was happening. Here I was bringing my mother to the hospital to get fixed — and that's my stuff."
It gets worse.
Crouch fell out of the vehicle, hitting her head on the concrete ground, WXIN reported, adding that her injuries were serious enough to warrant an airlift to an Indianapolis hospital.
"I have a broken toe, fractured foot, fractured wrist, my shoulder blade cracked, and I have knots all over my head," she told WXIN. "I also have five [forehead] stitches."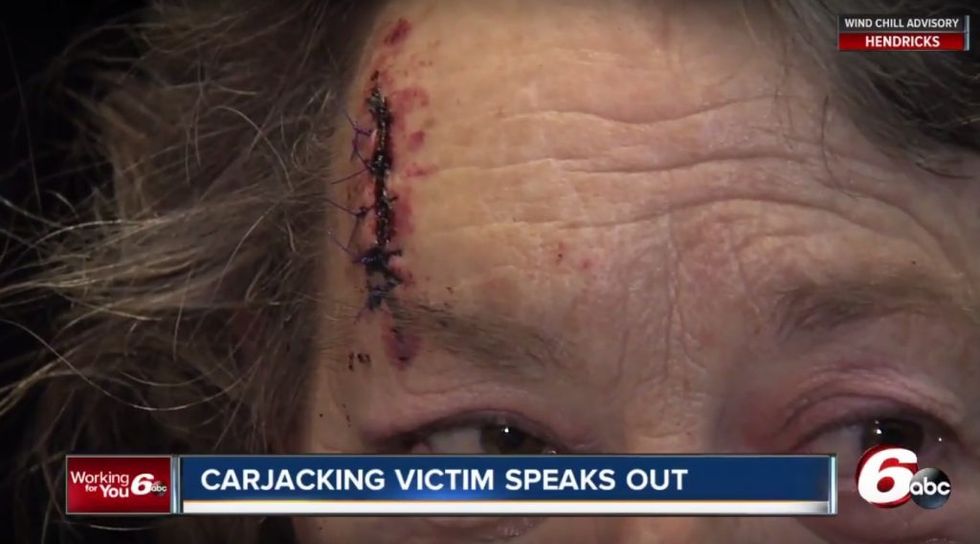 Image source: YouTube screenshot
But because of Crouch's actions, the carjacker crashed the vehicle, WRTV reported.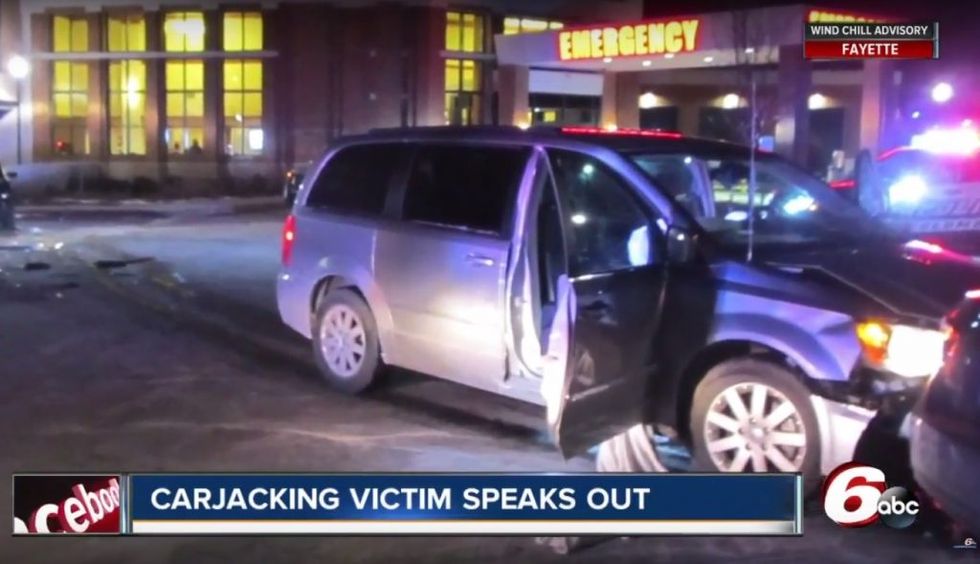 Image source: YouTube screenshot
And Crouch's 17-year-old grandson — there to help get his great grandmother into the Columbus hospital — saw the carjacker run off, WXIN said.
"Somebody had to do something," Clayton Harris told WXIN. "I ran after him."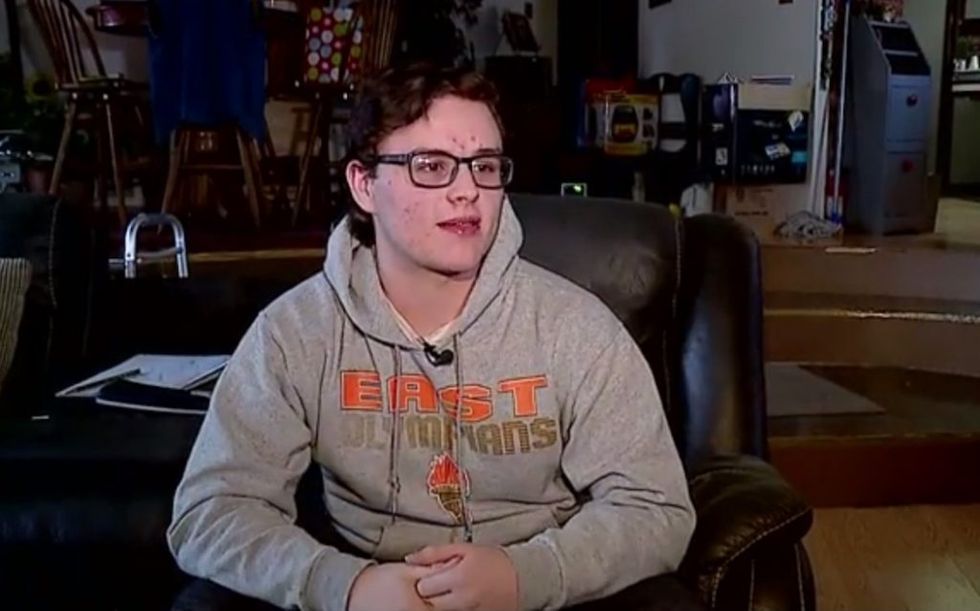 Crouch's grandson Clayton Harris (Image source: WXIN-TV video screenshot)
Harris — who plays football and wrestles — pinned the carjacker until authorities arrived, WXIN reported.
"I hope that he gets everything that is coming to him," Harris told WXIN. "Justice for sure, but at the same time, I hope he gets help. No sane person does that."
Kenneth Wentworth, 27, is charged with robbery, leaving the scene of a crash involving injury, auto theft, and battery, WRTV reported.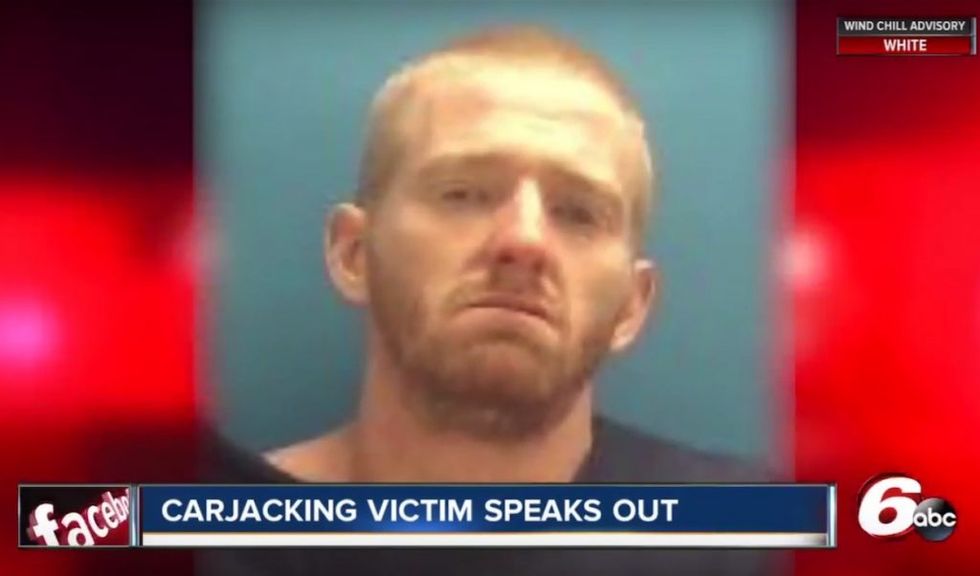 Kenneth Wentworth (Image source: YouTube screenshot)
When Crouch woke up in the hospital, doctors told her that her grandson stepped in and put an exclamation point on the battle she waged against the carjacker.
"They said, 'Your grandson took him down for ya,'" she recalled to WTRV through more tears. "I said, 'He's my hero.'"
Crouch's mother sustained cuts to her left leg and hand and was treated at Columbus Regional Hospital, the Republic reported
The plucky Crouch explained to WRTV that she simply isn't wired to take things lying down: "I ain't the kind of person to just stand back and let him take something that we worked hard for without some kind of fight."