A husband and wife were asleep inside their Spanaway, Washington, home after 2 a.m. Monday when they heard noises and footsteps outside and saw an exterior motion light turn on, police told KIRO-TV.
When the husband went inside the room where his children — an infant and toddler — were sleeping, he came face-to-face with a frightening sight, the station said: A man crouching in the window well.
"My wife and I are still kind of in shock," the husband and father, who didn't want his name released, told KIRO. "I opened a curtain and there was a threat immediately in my face."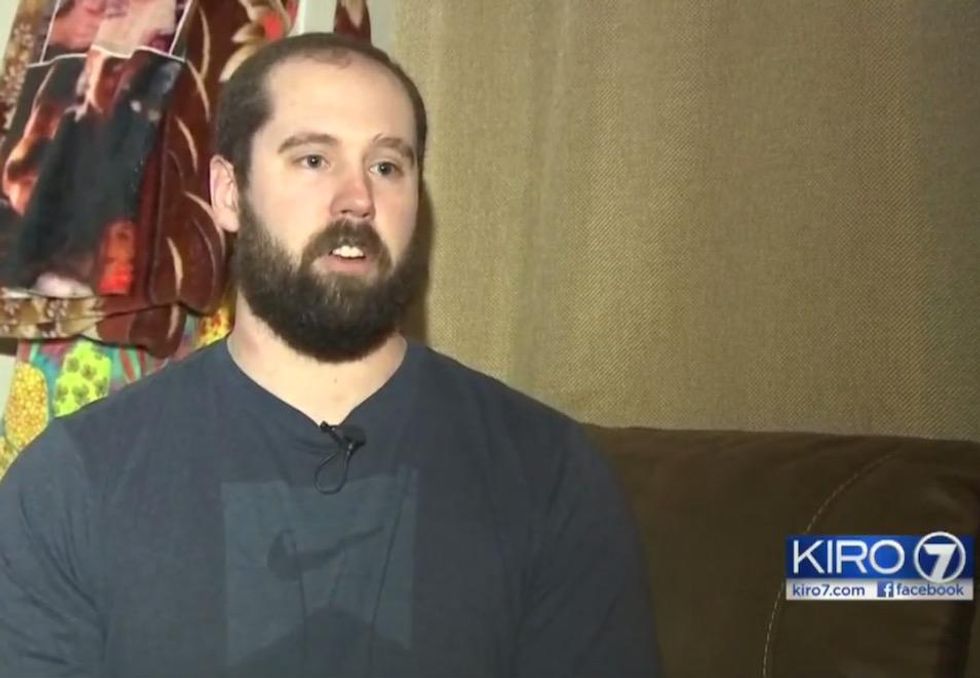 Image source: KIRO-TV video screenshot
In fact, the suspect was crouched down with his face just inches from the glass, detectives told the station.
After yelling at him to stop, the homeowner — who told deputies he feared for his family's safety — fired four shots at the suspect, hitting him twice, KIRO reported.
"That's just the primal instinct as a man to try to protect my family and my wife," the homeowner told the station. "I'm willing to put my life out there to make sure my wife and my sons are protected from that threat."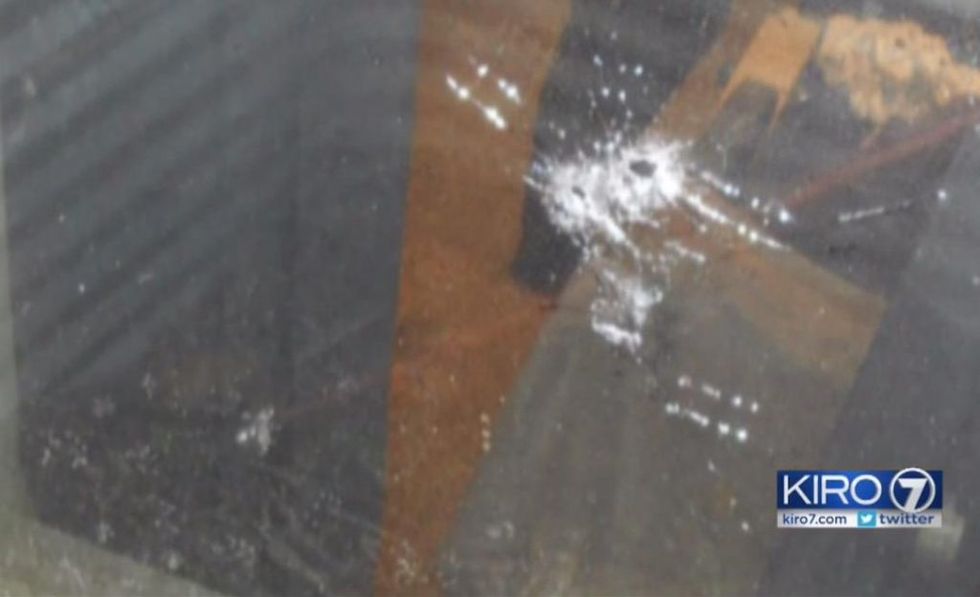 Image source: KIRO-TV video screenshot
What happened to the suspect?
When deputies arrived, the intruder was laying in the grass suffering from two gunshots, KIRO said, adding that the 24-year-old is expected to be charged once he's released from the hospital.
Do authorities know the suspect?
They sure do. Pierce County investigators immediately recognized the suspect who'd just been released from jail after serving nearly a month for car prowling, KIRO said.
What's more, investigators told the station the suspect was caught on surveillance video a block away trying to break into another home prior to his painful encounter with the gun-toting dad.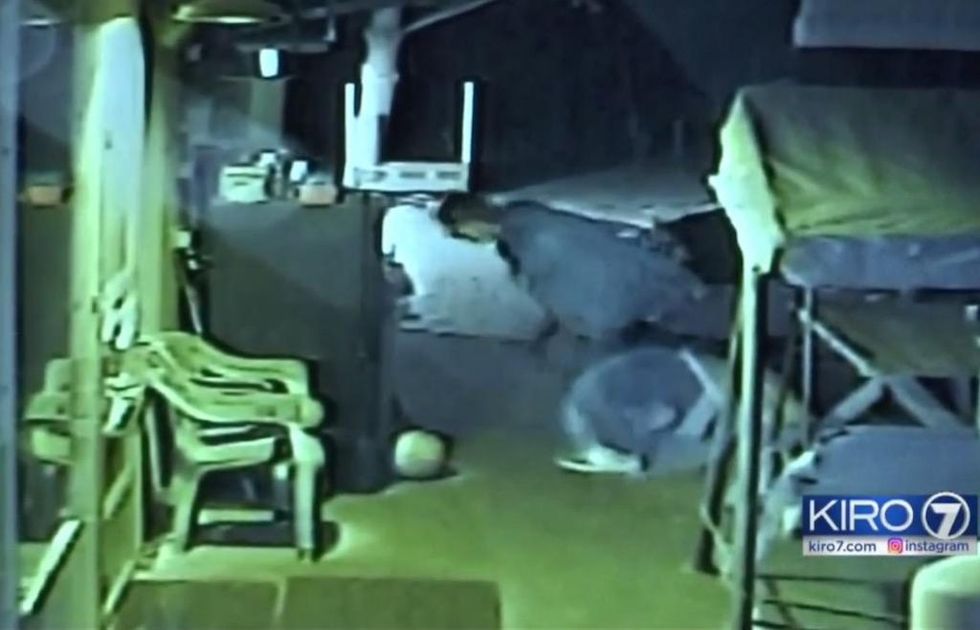 Image source: KIRO-TV video screenshot
"The caller reported hearing the sound of his riding lawn mower start up then saw a man running away down a long gravel driveway," detectives told KIRO.
What did the homeowner of the other incident have to say?
Dale Collins showed the station surveillance video of the incident at his home, which seems to show the same man trying to break into two cars. The man was seen walking into the camera frame covered in a blanket, which he left in a shed, KIRO said.
A screen also was torn off a bathroom window, the station reported, adding that Collins said it appears the suspect tried to break in.
"I mean if he wants to walk around fine," Collins told KIRO, "but when you try to get into a house, you're intentionally trying to hurt somebody."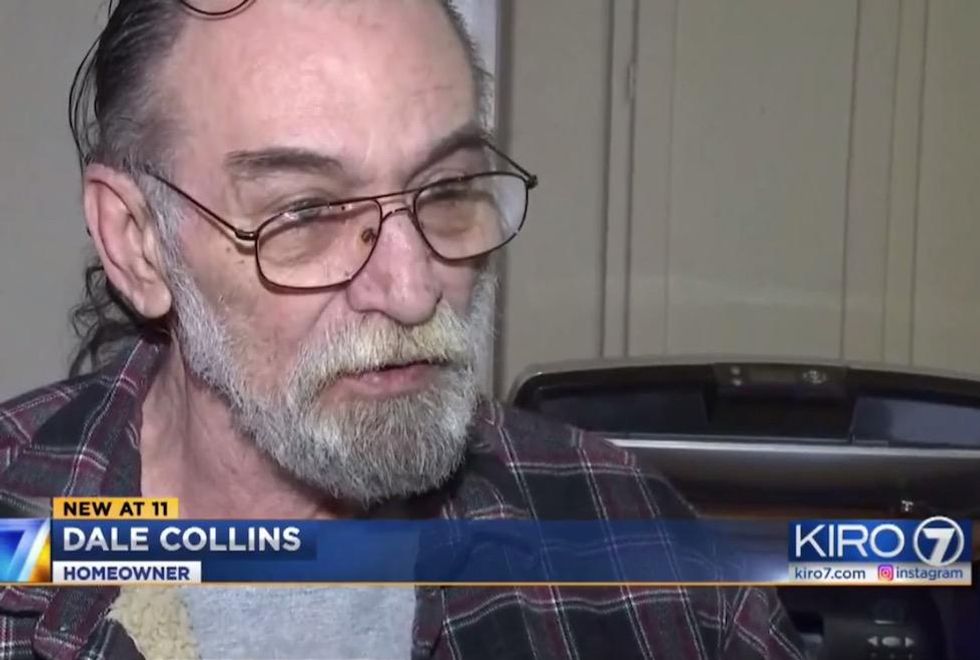 Image source: KIRO-TV video screenshot
What else did the homeowner who shot the suspect have to say?
The dad who shot the suspect told KIRO that he hopes sharing what happened to his family will help others take steps to protect their loved ones.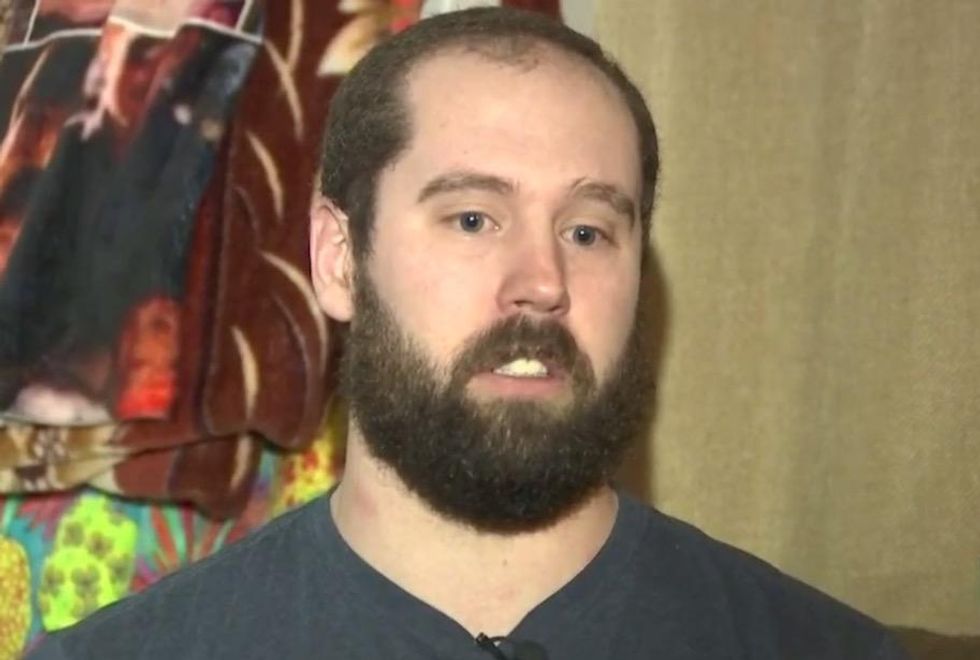 Image source: KIRO-TV video screenshot
"It's OK to have a weapon in your home and protect yourself and your family," he told the station. "If I know that I can sway someone's thoughts to help them protect their family better and they live, then my job here is successful."