"Real Time" host Bill Maher mockingly called the Huffington Post, BuzzFeed, and Salon "morally superior" while blasting them and other sites for publishing "fake news" about non-controversies that get hyped as newsworthy for the sake of clicks and traffic.
During his "New Rules" segment Friday, Maher noted a recent item about actress Jennifer Lawrence posing for an outside photo wearing a skimpy dress alongside men who were more substantially clothed — and that the image had "Twitter calling out gender inequality."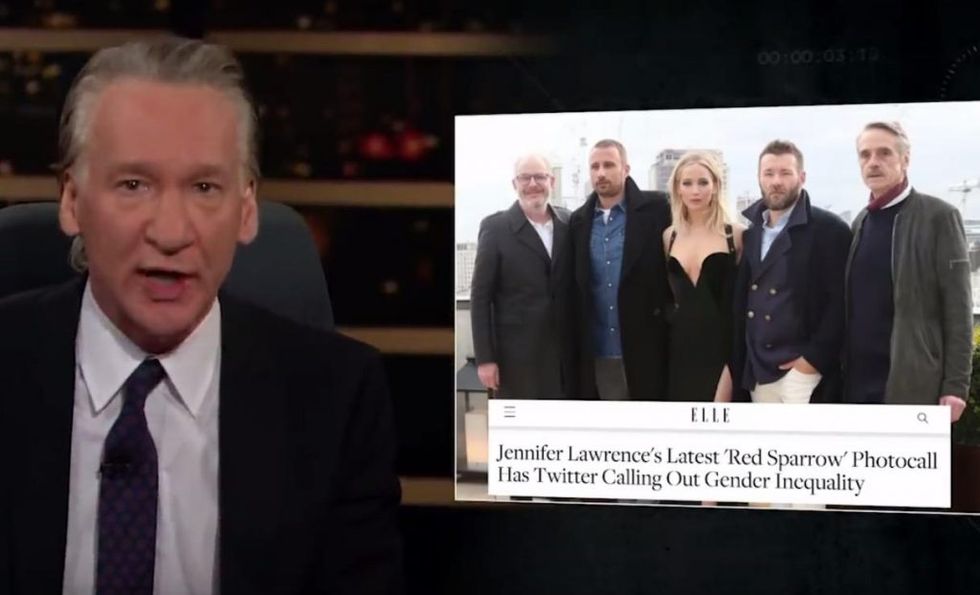 Image source: YouTube screenshot
Maher then tore into the New York Times, the Washington Post, the New York Post, Fox News, the BBC, Vanity Fair, the Chicago Tribune, the Guardian, National Review, and Elle for running stories on the apparent controversy.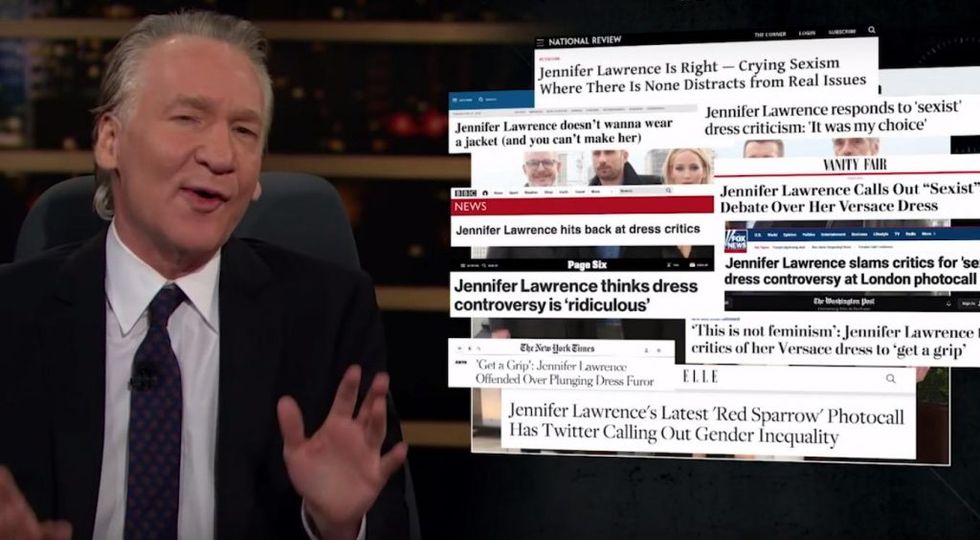 Image source: YouTube screenshot
"Now all these esteemed news organizations aren't saying they think it's a big deal, because they're serious journalists. They'd rather be writing about Syria and the oceans dying," he said sarcastically. "But, 'Oh, the humanity, Jennifer Lawrence didn't have a coat. Wrap her up! Wrap her up!'"
Maher broke it down further: "This is not an outlier. This is a constant and prominent part of today's journalism. Creating some bulls**t nonissue that a few trolls will predictably go apes**t over and then reporting on those unrepresentative tweets like all of America is talking about nothing else."
What did Maher say about Trump supporters?
The host also targeted "fans" of President Donald Trump, saying it's "no wonder fake news resonates so much" with them "because so much of it is fake. Just nonsense made to keep you perpetually offended with an endless stream of controversies that aren't controversial and outrages that aren't outrageous."
What did he say about the Huffington Post, BuzzFeed, and Salon?
Maher then specifically named the Huffington Post, BuzzFeed, and Salon as examples of news sites that "make their money by how many clicks they get" and mocked them as "morally superior."
"Yes, the people who see themselves as morally superior are actually ignoring their sacred job of informing citizens of what's important and instead sowing division for their own selfish ends," he noted.
Here's the segment. (Content warning: Rough language):