A Southern California college professor was caught on video telling a couple to "go back to your home country" — and the viral clip hasn't exactly been a fun view for officials at Golden West College in Huntington Beach.
The school placed the professor and counselor identified in video on leave for the next two weeks while the Coast Community College District decides how to proceed, the Los Angeles Times reported.
A clip of the encounter was posted on Facebook last week by Tony Kao, who indicated he and his wife and daughter were on "our normal afternoon walk" in Long Beach when they "encountered a bigot and a racist" who "passed us completely unprovoked and said to us very nonchalantly, 'Go back to your country!'"
The first video starts as the woman is speaking to the couple, but she turns and walks away down a sidewalk after noticing she's being recorded on video.
"I want you to tell everybody why you told us to go back to our country," Kao tells the woman as he follows her.
"You need to go back to your home country," the woman responds as she continues walking away.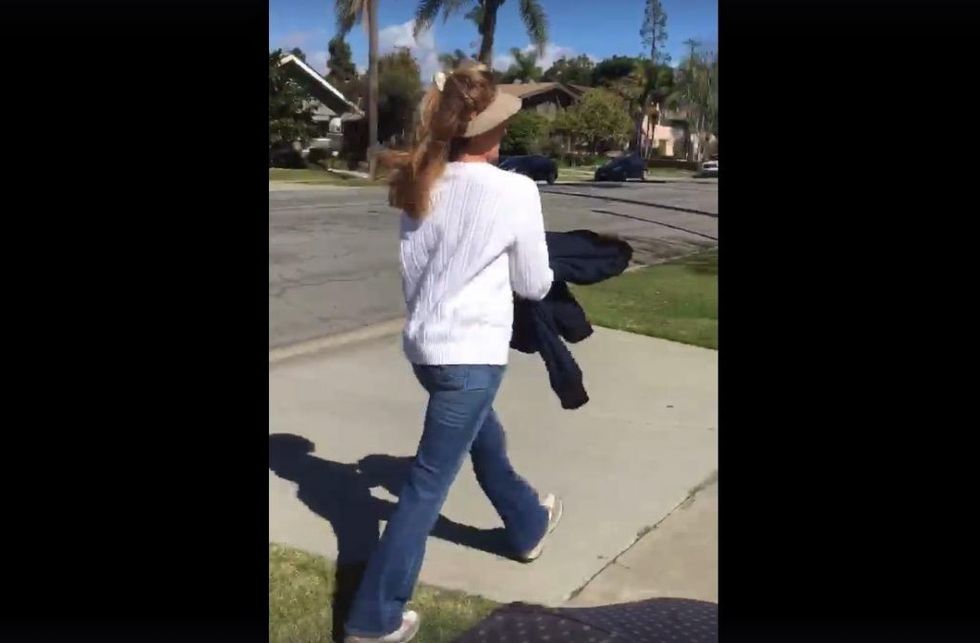 Image source: Facebook video screenshot
"And what does that mean?" Kao answers.
In a second clip he tells the woman that he and his wife were born and raised in the United States.
She then yells back at Kao that "you're making my culture extinct!"
What did the woman in the clip say afterward?
The woman in the clip, Tarin Olson, said in an email to the Daily Pilot that she was "not in a good place emotionally after receiving so many disgusting emails …. for something that wasn't even racist and was then skewed by a guy named Tony who filmed me without my permission," the Times reported.
Kao could not be reached for comment this week, the Times added.
Olson told KCBS-TV her students know she's not a racist.
"I feel my perspective will be twisted if discussing the skewed video which cut out part of the incident. … If you would like to have a full normal interview about the displacement of European-Americans then I gladly am available to enlighten the public," she told the station in a statement.
Olson scored a 4.3 out of 5 on RateMyProfessor.com, the Times said, adding that Coast Community College District spokeswoman Letitia Clark said Olson has been employed at Golden West College since 1991.
What else did Golden West College have to say about the incident?
But Clark noted the school's displeasure over what Olson said on the video.
"We're very aware the community has deep concerns, and we're not going to let this die," Clark told the Times. "We're looking at past interactions with students and staff to see if it relates to the comments made on the video."
Golden West officials issued the following statement on Facebook and Twitter, the paper said: "It has recently come to our attention that there was a video posted on Facebook of a GWC faculty member making comments that the college does not condone or support. Golden West College believes in an inclusive and welcoming environment for all students."
Since the incident took place, school officials are examining their internal policies to choose the best action, Clark told the Times.
What did Kao say after his clip went viral?
Kao noted on Facebook that his intention of sharing his initial post was to "express our sadness of experiencing racism first-hand with our baby who was exposed to this at such a young age in public and broad daylight" and "express our surprise that this type of racism can exist in Long Beach of all places in this age and time and to bring awareness it can happen anywhere" and to "encourage those that also face similar experiences to speak up and speak out."
He added that his family has "NO intention of seeking out or besmirching the offender's personal life or career. It is our hope the offender is aware and apologetic for what she has said to us, but all we can do is hope." Tao also urged others to "not use my post to foster more feeling[s] of anger or hatred because frankly there's already enough of those feelings in this world."