The parents of a 7-year-old white girl are furious over their daughter's portrayal of a racist character in a Georgia elementary school play — and said they had no idea what her role entailed until they watched her onstage.
Video showed Anastasia Bertram holding a sign reading "Please go home!" on one side and "Cursed is the man who integrates" on the other during the March 2 play about school desegregation at Burnett Elementary School, WSB-TV reported.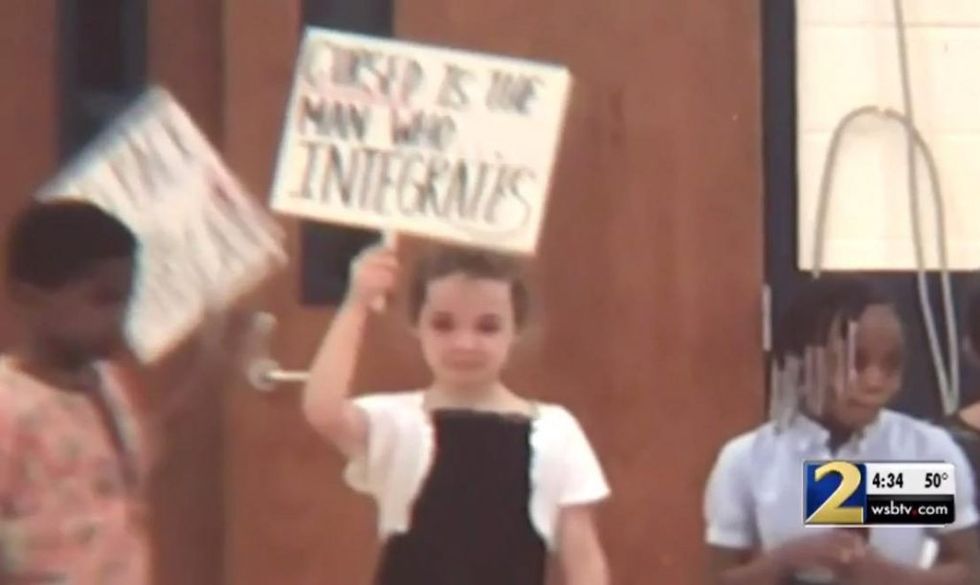 Image source: WSB-TV video screenshot
Anastasia also recited the following line to black students onstage with her: "Go away! You don't belong here!"
"She's 7, and you put her onstage and made her think what she was doing was OK?" her mother, Amber, told the station in an interview. "That's not OK."
Anastasia's teacher told her parents she volunteered for the part after another student struggled to learn the lines and follow directions, WSB reported, but the Bertrams said they had no idea until she was onstage and were never asked to give parental consent.
"Under no circumstances is it OK in a play ... for you to have my child (one of the only white children in the school I might add) hold a sign telling black children to go away because they are black," Amber Betram wrote to Anastasia's teacher, the station said. "My husband and I are extremely upset, shocked and embarrassed by this incident."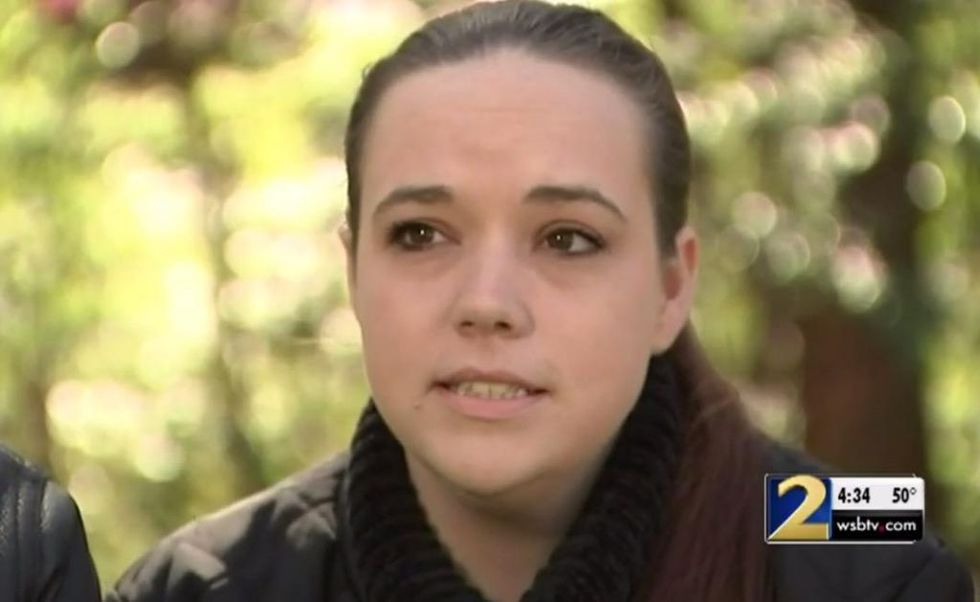 Amber Bertram (Image source: WSB-TV video screenshot)
The Bertrams subsequently pulled both of their children out of the school, WSB reported.
One caveat to consider
While Anastasia was the only white student onstage, it should be noted that a black student seemed to portray an anti-desegregation character next to Anastasia, marching with her and holding a sign that appeared to read, "Go back to Africa!"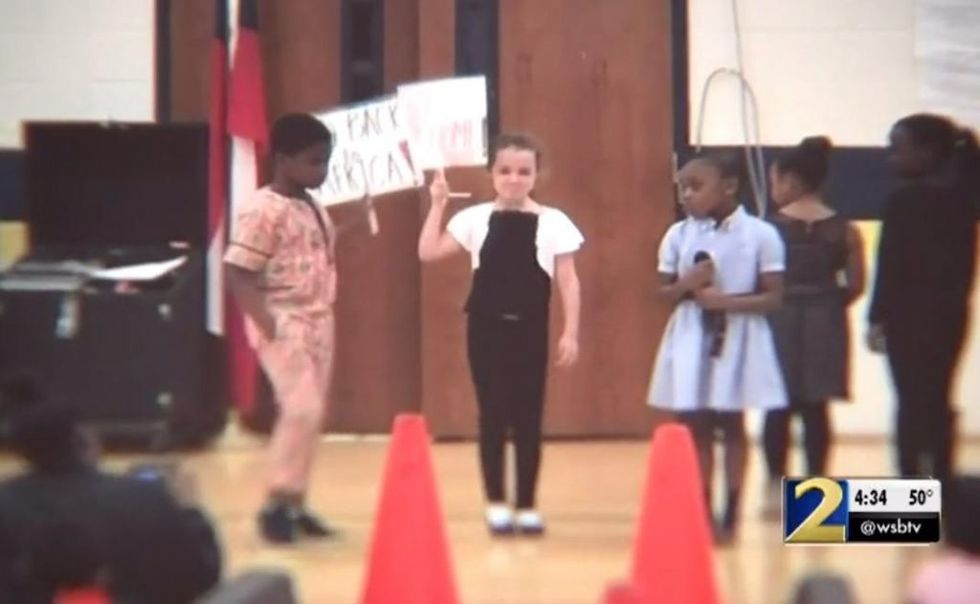 Image source: WSB-TV video screenshot
How did school officials respond?
"It was never my intention to isolate or make any racial group feel bad," Anastasia's teacher wrote back, the Betrams told the station. "I apologize for this, thanks for bringing this to my attention."
While WSB was interviewing the couple on camera, Douglas County School District Superintendent Trent North left Amber Bertram a voice-mail message: "I am calling to apologize. I was unaware of the treatment of your daughter."
But the gesture left Amber Bertram skeptical.
"Only because he was informed we were talking with you and that this was gonna go on the air and he didn't want it on the air," she told the station. North later confirmed to WSB that he was launching an investigation.
"They were portraying one moment in history, one small two-second moment in history," district spokesperson Portia Lake told WSB. "It may not be appropriate but it happened."
(H/T: Washington Times)