Facebook apologized Wednesday after rejecting a Catholic college ad on Good Friday showing Jesus on the cross, Fox News reported.
A spokesman from Ohio's Franciscan University of Steubenville said Facebook rejected the graduate program's ad depicting the crucifixion because the image "can't contain shocking, sensational or excessively violent content."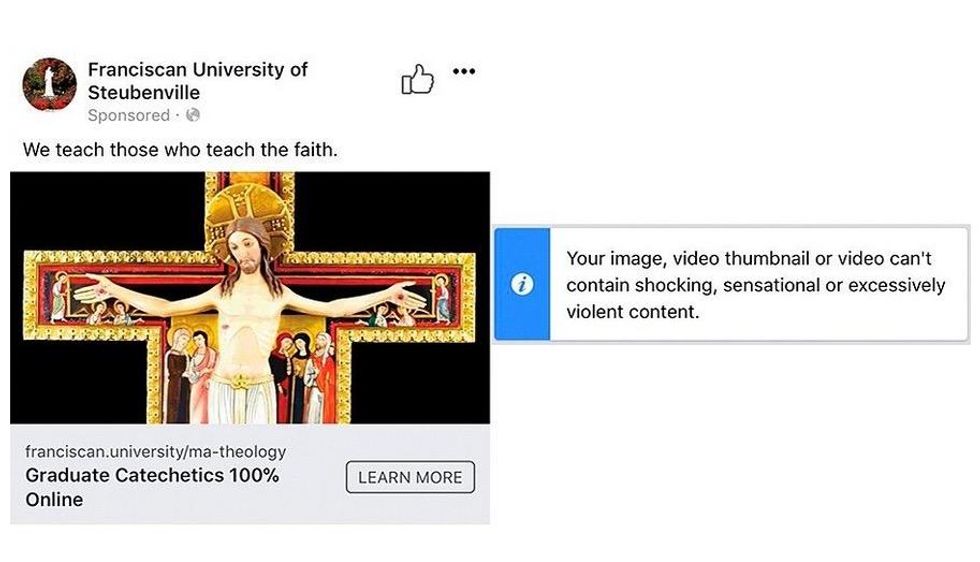 Image source: Franciscan University of Steubenville
Tom Crowe, the college's web communications director, told Fox News the image shows the San Damiano Cross — a significant piece of iconography for the Franciscan order, as it's believed God spoke to St. Francis through this cross. The San Damiano Cross also is prominently displayed throughout the Steubenville campus, Fox News said.
"Facebook approved other ads with the exact same image, which again leads me to believe it wasn't an algorithm but was a low-level staffer who skims many, many ads and just had something personal against this one," Crowe told the cable network. "I'll reiterate that I'm not claiming systemic religious bigotry at Facebook, but in this case it seems something like that happened in a one-off situation."
What was Facebook's explanation?
Facebook called the ad rejection a mistake and told Fox News it was approved Monday.
"Our team processes millions of ads each week, and sometimes we make mistakes," a Facebook spokesperson told Fox News. "This image does not violate our ad policies. We apologize for the error and have already let the advertiser know we approved their ad."
What deeper meaning surfaced following the ad's rejection?
Crowe wrote about the incident in a university blog post titled, "He was rejected," the network reported, drawing out the deeper meaning of human beings rejecting the idea of Christ suffering for our sins:
... It was the most sensational action in history: man executed his God.

It was shocking, yes: God deigned to take on flesh and was "obedient unto death, even death on a cross." (Philippians 2:8)

And it was certainly excessively violent: a man scourged to within an inch of his life, nailed naked to a cross and left to die, all the hate of all the sin in the world poured out its wrath upon his humanity.

"but we preach Christ crucified, a stumbling block to Jews, an absurdity to Gentiles. But to those who are called, both Jew and Gentile, Christ the power of God and the wisdom of God." (1 Corinthians 1:23-24)

As Father Mike Schmitz points out in today's #ShareJesus message, it was not the nails that held Jesus to the cross: he was God, he could have descended from the Cross at any moment. No, it was love that kept him there. Love for you and for me, that we might not be eternally condemned for our sins but might have life eternal with him and his Father in heaven.

This is sensational, this is shocking. This is only possible because of the excessive violence that he endured for us.
In the aftermath, Crowe told Fox News he hopes the dust-up will compel others to consider Jesus more seriously.
"I hope people take another look at the cross and see what God did for us," he told the network. "Whether it's a return to faith or an investigation of this weird thing called Christianity."