The refrain from parents of teenagers is a common one: "Get up! Time for school!"
Problem is many teens don't want to wake up. They tend to stay up late — and they love to sleep late. And then the school day comes calling — and usually way too early for them.
But a prominent California high school is trying to do something about that rock butting up against a hard place: It will be starting its day later next fall, KPIX-TV reported.
And on some days, much later.
Palo Alto High School — one of the San Francisco Bay Area's best rated schools, the station said — will start at 8:30 a.m. instead of 8:15 a.m.
But arguably the best part for students dying for just a little more shut-eye?
On alternate days, school will begin at 10 a.m., KPIX said.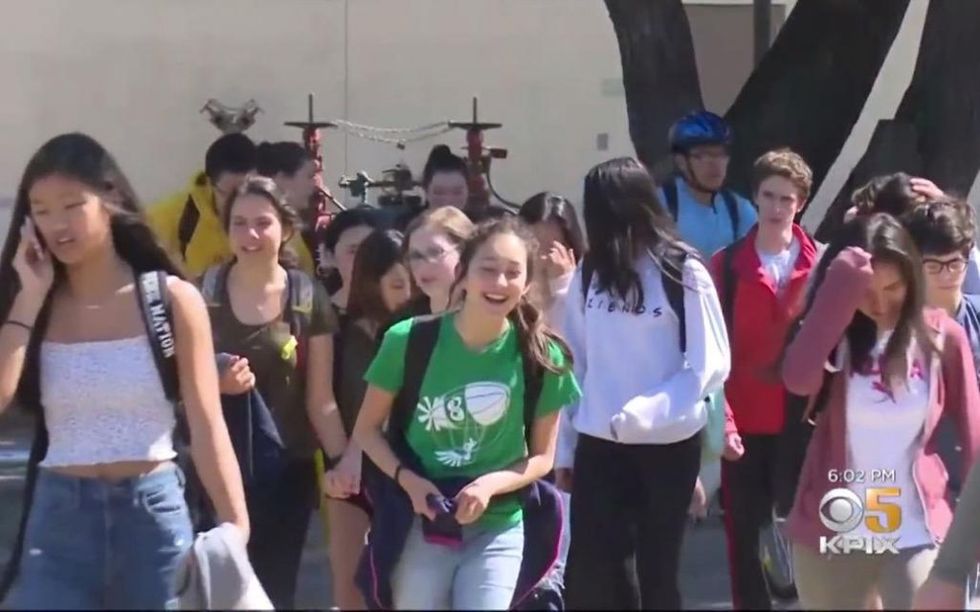 Image source: KPIX-TV video screenshot
'It's quite stressful'
And it's all geared toward making students lives' at ultra-competitive Paly High less taxing on mind, body and spirit, the station said.
"It's quite stressful because we have finals coming up," sophomore David Ely told KPIX. "A lot of people have AP testing going on. We're trying to finish off the year strong, stay motivated."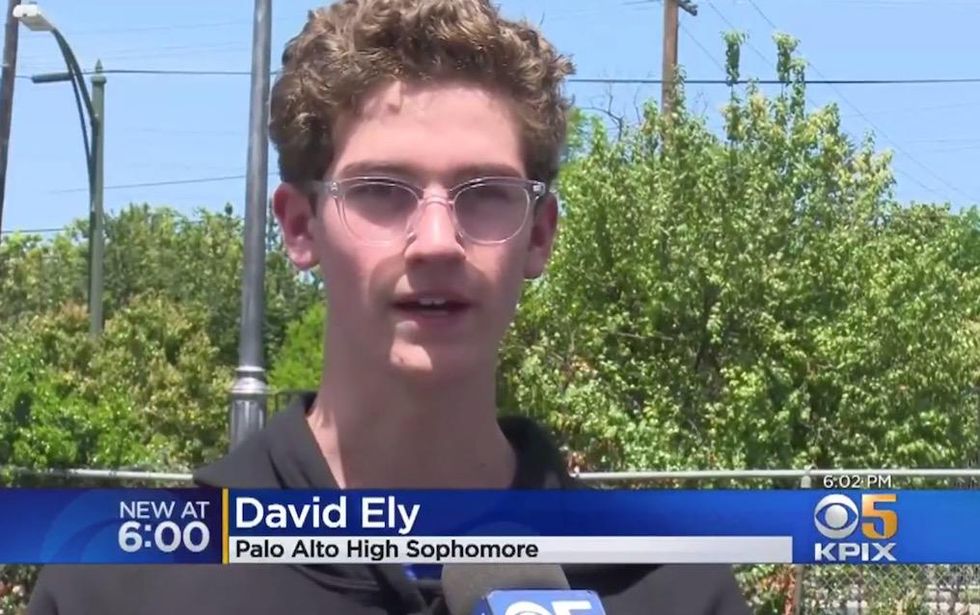 Image source: KPIX-TV video screenshot
School officials also hope the later starts will give students more time to sleep and catch up on school work, the station said.
"It would help me out," junior Peter Martin added to KPIX. "I sometimes doze off in class after late nights."
The alternating schedule will give students three classes on one day and four on another, the station reported, which could help curtail so-called "test stacking" — when students get multiple tests on the same day.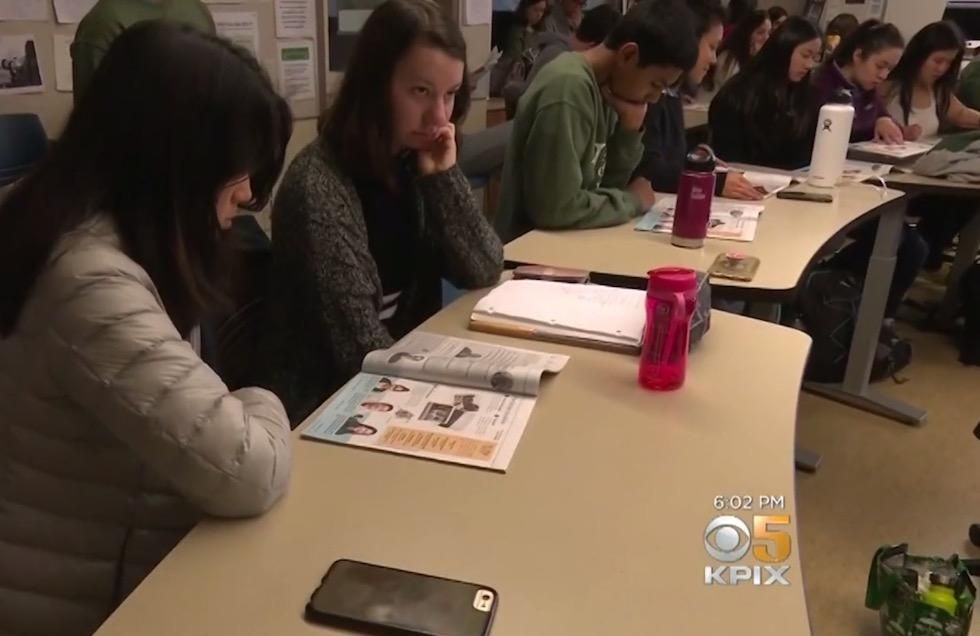 Image source: KPIX-TV video screenshot
In addition, students struggling on subjects can come in early on their late days to meet with teachers, KPIX said.
One adult isn't thrilled (but not for the reason you're probably thinking)
Dan Jozefov had two sons go through Palo Alto High School and said the later schedule will impact after-school sports and place a heavier burden on parents who drop off more than one student, the station said.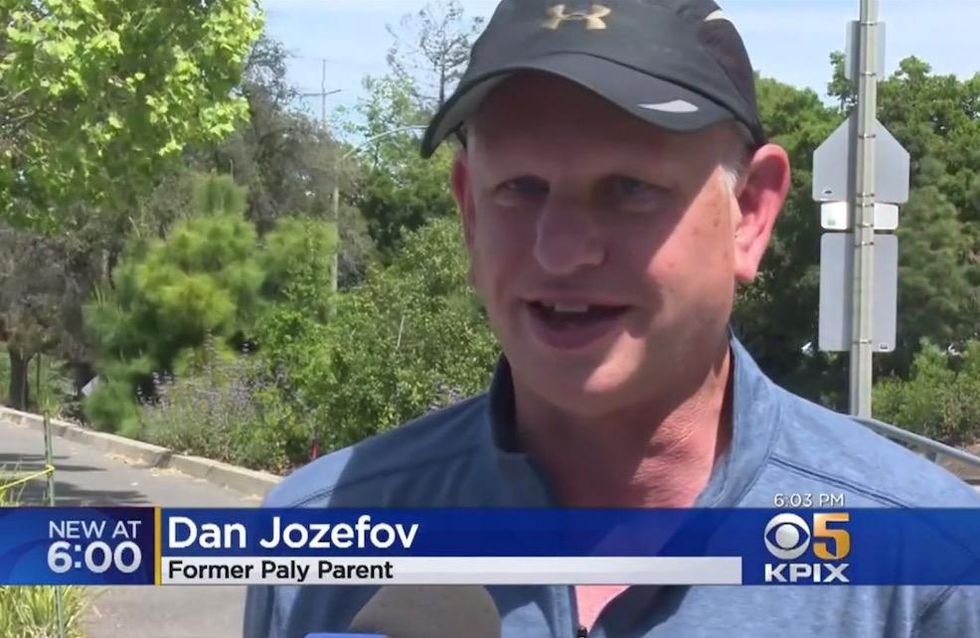 Image source: KPIX-TV video screenshot
"It will be more difficult if you have two," Jozefov added to KPIX. "One starts at 8 the other at 10. It makes for an extra trip, an extra round trip."

Experts have studied teenagers and their sleeping patterns
A few years ago, pediatricians found that early school start times can negatively affect high school students in the forms of obesity, high-blood pressure and depression — as well as lower grades and lower scores on standardized tests.
The study also found that only 13 percent of high school students get the optimal 8.5 to 9.5 hours of sleep each night.
The doctors recommended that middle and high schools start no earlier than 8:30 a.m. — however only 15 percent of high schools start at 8:30 a.m. or later, and 40 percent start earlier than 8 a.m., the 2014 study said.

'Sleep pods'
And with the same goal in mind, some New Mexico high schools last year were trying out "sleep pods" to give sleep-deprived students the chance to take 20-minute naps between classes.