Rep. Kevin Cramer (R-N.D.), the GOP nominee for the North Dakota Senate race, has pulled out to a 4-point lead over incumbent Sen. Heidi Heitkamp (D), a new poll shows.
The poll comes as the race for the Senate seat heats up and Heitkamp moves closer to President Donald Trump in an effort to appeal to a strongly Republican North Dakota.
What did the poll show?
The Mason-Dixon poll, which was released Monday, shows Cramer leads Heitkamp by 4 points, 48 percent to 44 percent, which is within the margin of error. Eight percent of respondents said they remain undecided, and of those, a majority said they are learning toward Cramer.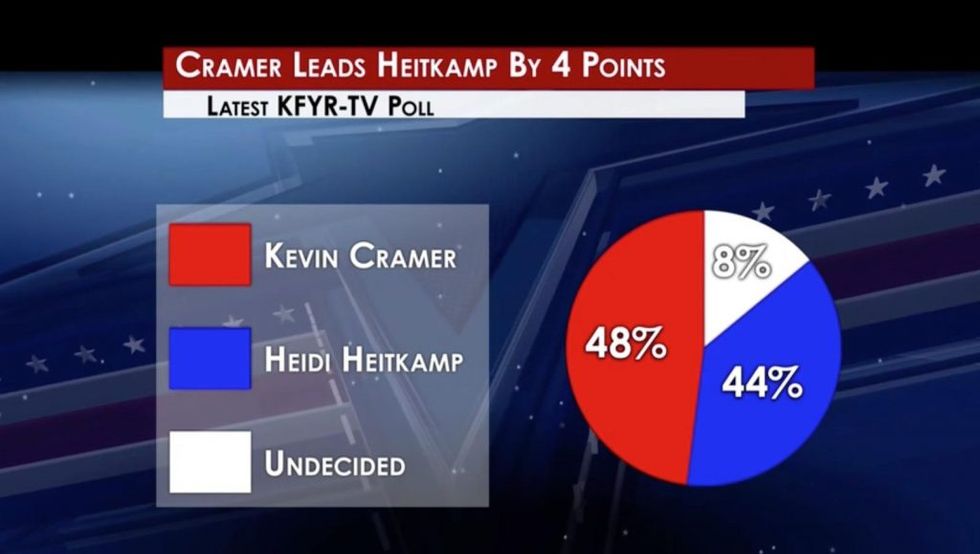 Image source: KFYR-TV screenshot
Cramer, who is solidly in Trump's corner, has made serious in-roads with North Dakota voters. The previous major poll, a Gravis survey from February, showed Heitkamp with a 3-point lead over Cramer.
Otherwise, the poll revealed what political experts already know: the race is going to be extremely tight.
Overall, voters in western North Dakota heavily favor Cramer, while those in the east favor Heitkamp. In addition, the poll shows that Cramer enjoys slightly better support among older voters, while voters under age 50 support each candidate almost evenly. Independent voters slightly favor Heitkamp.
What is contributing to Cramer's lead?
There are likely two key factors leading to Cramer's success. First, he's a Trump-aligned Republican in a state that Trump carried by more than 30 points in 2016. Meanwhile, Heitkamp endorsed Hillary Clinton, whom she has now disavowed.
Second, in a small state like North Dakota, Cramer is the congressman at-large, meaning he's elected statewide. This gives him increased name recognition and a better understanding of the entire state compared to typical congressmen.
Cramer, who has seemingly been at odds with the Trump White House in recent months, secured the president's endorsement last week.
Congratulations to @KevinCramer on his huge win in North Dakota. We need Kevin in the Senate, and I strongly endors… https://t.co/qdIpcCXMd6

— Donald J. Trump (@Donald J. Trump)1528923020.0
Trump is also scheduled to hold a campaign rally for Cramer in Fargo on June 27.
A spokesman for the Cramer campaign told TheBlaze:
The poll results are significant considering Sen. Heitkamp has been desperately trying to align with President Trump and portray herself as a conservative Democrat. Clearly, the voters of North Dakota aren't buying her act. No matter how much she postures and how much money she spends on TV ads, voters remember her party-line criticisms of the President from just a year ago. They remember her votes to fund sanctuary cities, to allow late-term abortions, and against the President's tax cut and jobs bill.

The poll also shows the strong and growing support for Kevin Cramer and the recognition that he is the one true conservative in this race and the one they can count on to reflect North Dakota values.