Vice President Mike Pence got an earful from about 1,000 protesters in Philadelphia Tuesday evening as he campaigned for Scott Wagner, the Republican Pennsylvania gubernatorial nominee, at a private fundraiser, KYW-TV reported.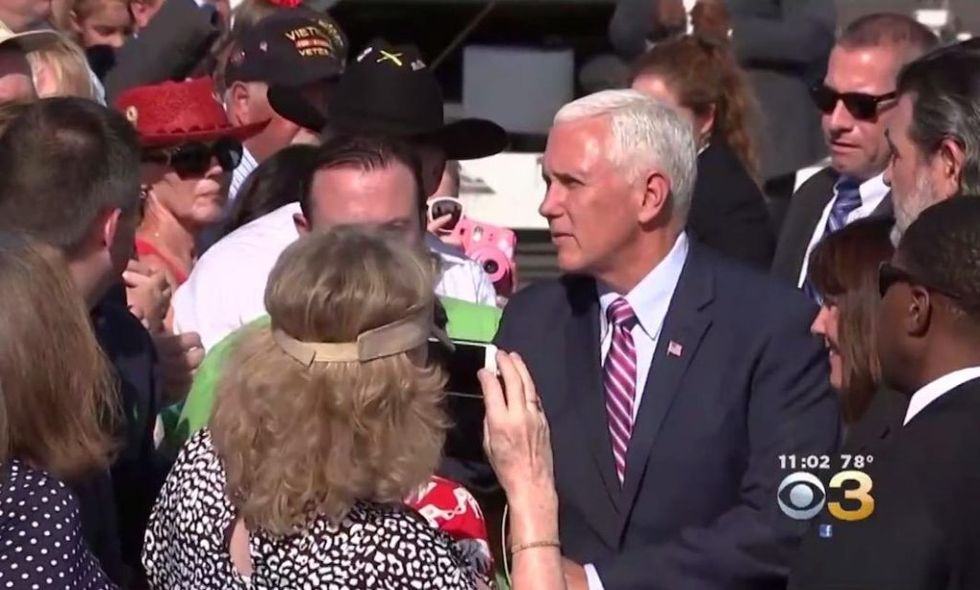 Image source: KYW-TV video screenshot
What happened?
The angry, vocal crowd blasted Pence and President Donald Trump over the decision to prosecute all illegal border crossers, which has forced the separation of children from their parents per federal law and longstanding Department of Homeland Security policy.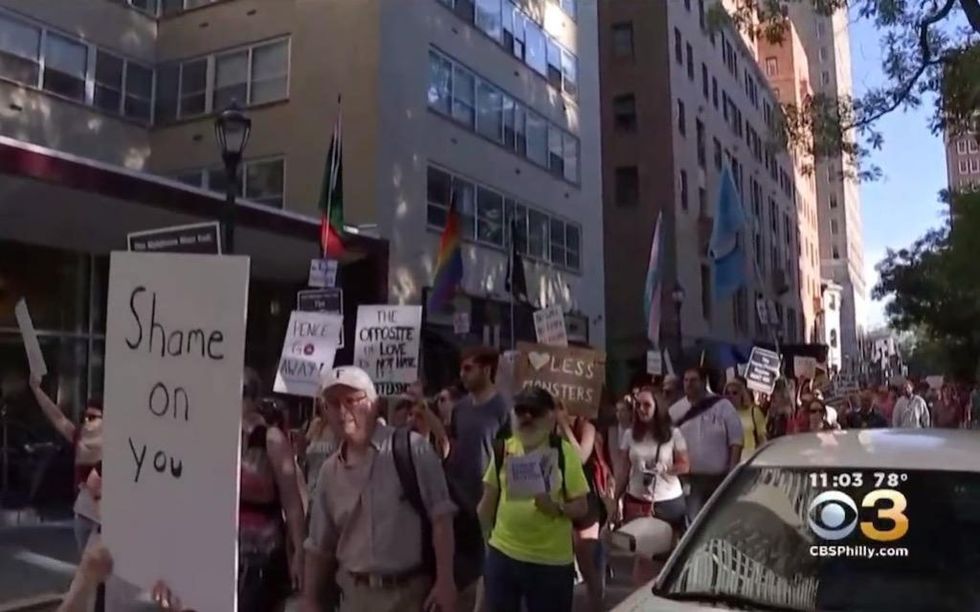 Image source: KYW-TV video screenshot
The protesters chanted, marched and arranged children's shoes on the ground to spell the word "no," representing children separated from their families, across the street from the Rittenhouse Hotel where Pence spoke for about an hour at the event benefiting the Republican Governors Association, KYW said.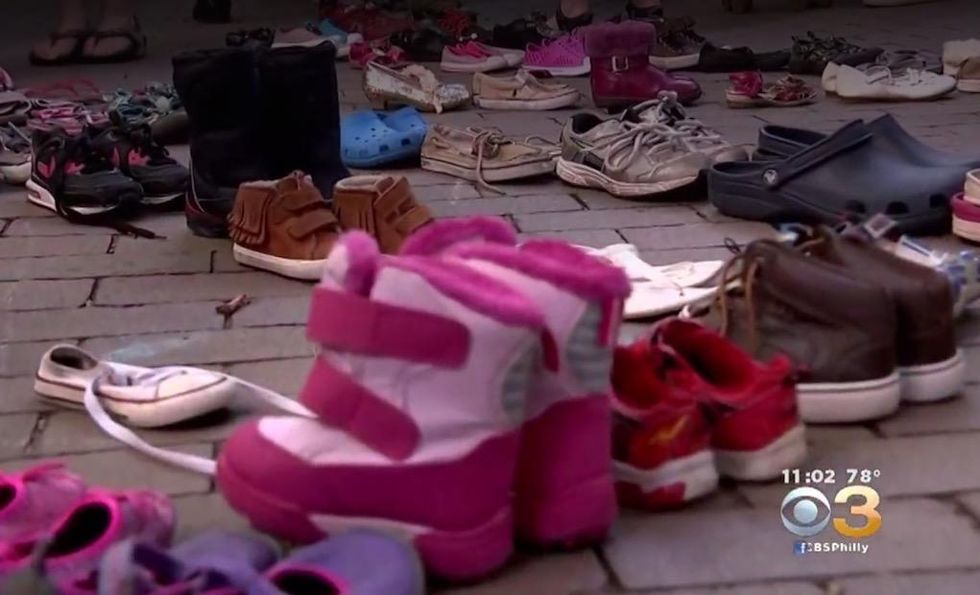 Image source: KYW-TV video screenshot
"I think it's an awful, awful thing ... there's just absolutely no reason for it ... it can't be justified in any way possibly," Carolyn Cohen told the station.
"It's awful to see and hear these stories of young people who have no protections and are kept in detainment centers," Cristin Stephens added to KYW.
Pence also got an "official welcome" featuring a middle finger from Democratic state Rep. Brian Sims of Philadelphia, PennLive said. Sims, a self-proclaimed LGBTQ activist, told Pence in his tweet that Philadelphians "believe in the power of all people: Black, Brown, Queer, Trans, Atheist, & Immigrant. So...get bent, then get out!"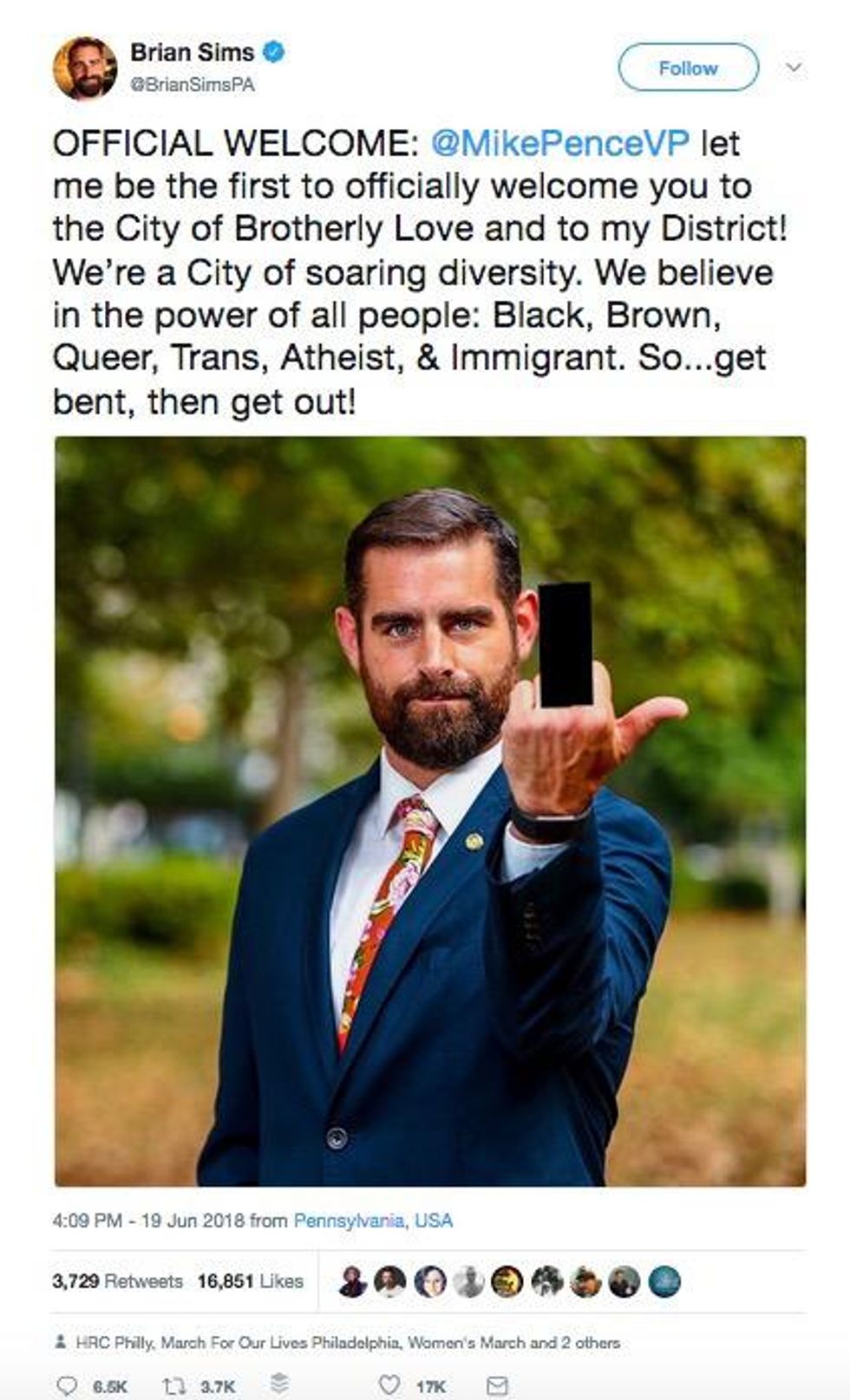 Image source: Twitter, redacted
Planned Parenthood PA got into the act as well, as the abortion provider used a rather ironic hashtag — "#KeepFamiliesTogether" — in its tweet supporting the protesters:
🚨Hundreds are gathering in Philly to give Mike Pence a welcome he won't forget! "Say it loud say it clear, immigra… https://t.co/oRPfSlFQfc

— Planned Parenthood PA Advocates (@Planned Parenthood PA Advocates) 1529444140.0
What did Pence and Wagner have to say?
Pence was happy to be in the City of Brotherly Love campaigning for Wagner:
Proud to be in Philadelphia today campaigning for @realScottWagner- the next great governor of the Commonwealth of… https://t.co/mSVNXHWi2R

— Mike Pence (@Mike Pence) 1529459868.0
Wagner, as you'd expect, was pleased as well:
Thank you for your support tonight, @mike_pence! I look forward to working with you and @realDonaldTrump to make su… https://t.co/2HftXO1zoc

— Scott R. Wagner (@Scott R. Wagner) 1529460538.0
On the issue of illegal immigrant children being separated from their families, Wagner's campaign on Wednesday morning told TheBlaze that Wagner "does not believe children should be separated from their parents at the border and is pleased that leaders in Congress like Ted Cruz are stepping up to address the issue. He supports those efforts and hopes the situation is resolved as quickly as possible."
What happened after Pence departed?
Demonstrations continued around Rittenhouse Square after Pence departed, the station said, adding that protesters wouldn't move out of the way of a Secret Service agent who was trying to leave in his car.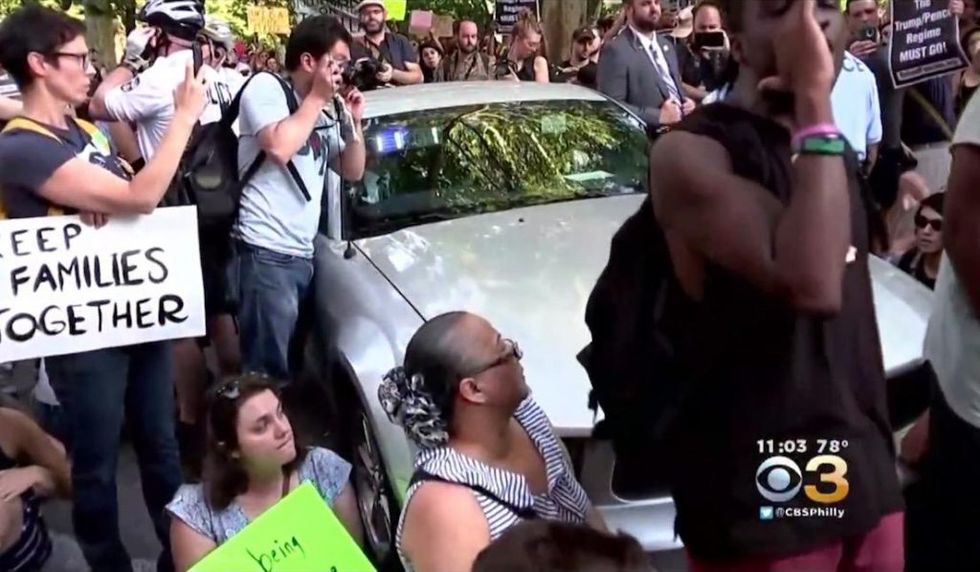 Image source: KYW-TV video screenshot
There was a minor scuffle between authorities and protesters, KYW reported.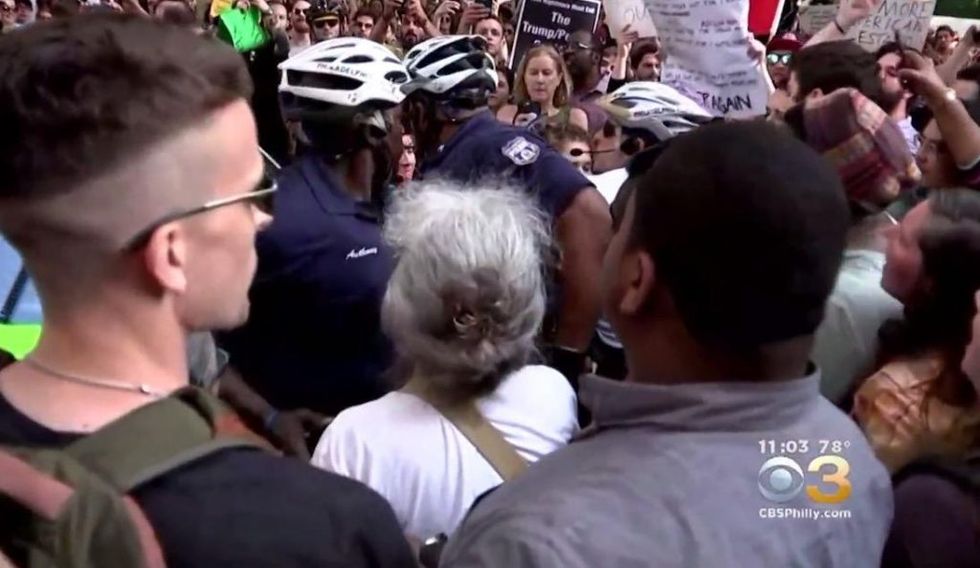 Image source: KYW-TV video screenshot
One man was issued a written citation, the station said, adding that there were no arrests.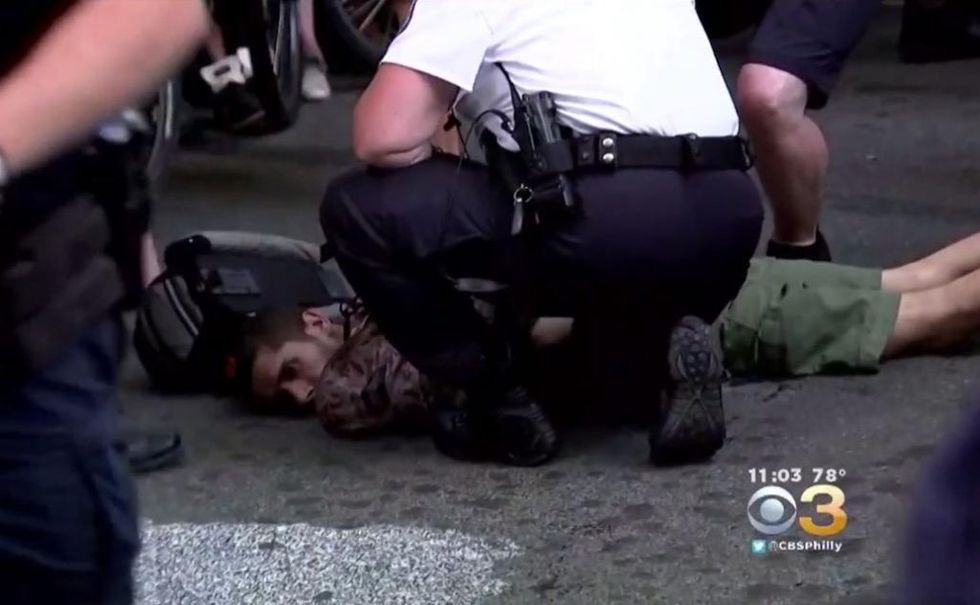 Image source: KYW-TV video screenshot
Wagner is running against incumbent Democratic Gov. Tom Wolf, who — according to a Franklin & Marshall College poll — led Wagner 48 percent to 29 percent last week. But Wagner's campaign called the poll's numbers "inaccurate and misleading" while trotting out survey findings of its own that showed Wagner trailing Wolf by just 7 points.