A member of the Democratic Socialists of America who disrupted Homeland Security Secretary Kirstjen Nielsen's restaurant dinner Tuesday evening works for the Justice Department, the Washington Examiner reported.
Allison Hrabar is a paralegal specialist at the federal agency, the paper said, adding that she said her activism wasn't part of her official work and that she was exercising her First Amendment rights on her own time.
The dozen or so Democratic Socialists chanted their displeasure at Nielsen at MXDC Cocina Mexicana in Washington, D.C., over illegal immigrant children being separated from their parents at the U.S.-Mexico border.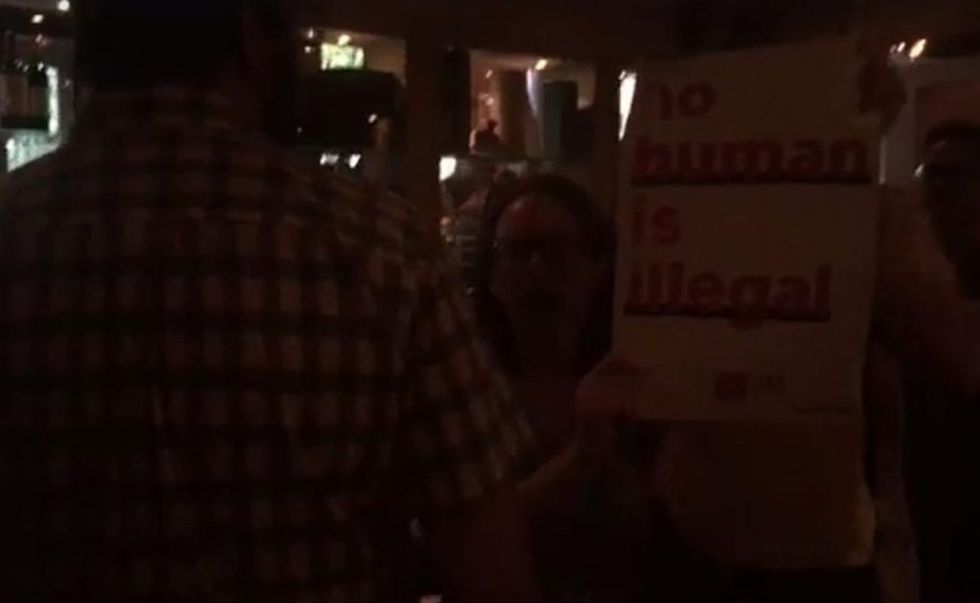 Image source: Facebook video screenshot
'It feels really good'
"It feels really good to confront people who are actually responsible, which is what we have a unique opportunity to do in D.C.," Hrabar told the Examiner.
Nielsen has become a focal point in the controversy over the administration of President Donald Trump to prosecute all illegal border crossers, which has forced the separation of children from their parents per federal law and longstanding DHS policy.
Trump signed an executive order Wednesday ending separation of children from their parents.
"How dare you spend your evening here eating dinner as you're complicit in the separation and deportation of over 10,000 children separated from their parents?" one protester hollered at the outset of the demonstration. "How can you enjoy a Mexican dinner as you're deporting and imprisoning tens of thousands of people who come here seeking asylum in the United States? We call on you to end family separation and abolish ICE!"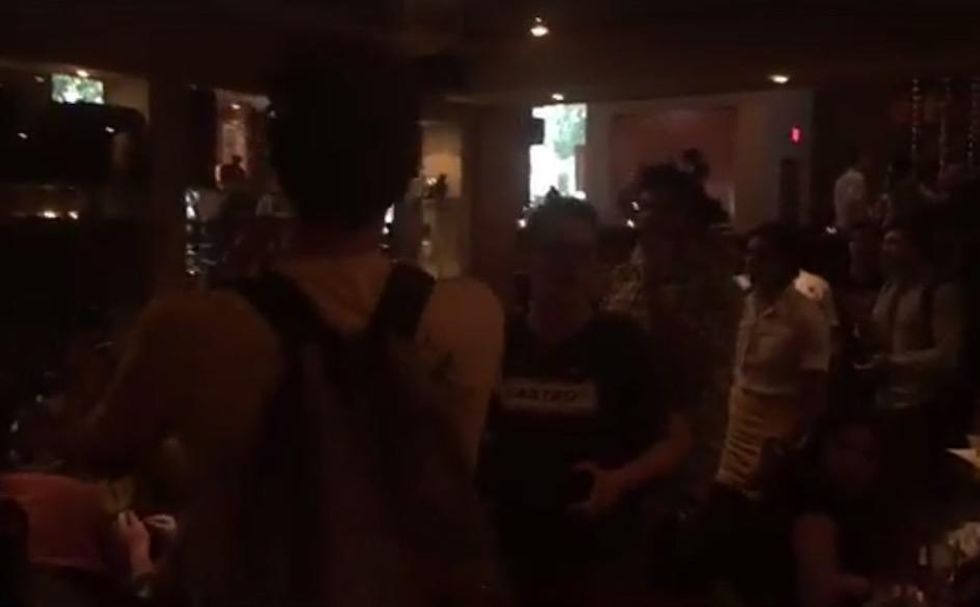 Image source: Facebook video screenshot
Nielsen didn't acknowledge the protesters, but they nevertheless hurled the following at her:
"End Texas concentration camps!"

"What's your salary, Kirstjen? How much do you make locking up children?"

"Kirstjen Nielsen, you're a villain, locking up immigrant children!"

"If kids don't eat in peace, you don't eat in peace!"

"Do you hear the babies crying?"

"In a Mexican restaurant of all places! The f***ing gall!"

"No human being is illegal!"
A handful of other diners clapped along with the protesters, who remained inside the restaurant for 10 to 15 minutes until Nielsen paid her check and left with her Secret Service detail, Politico said.
Here's the clip. (Content warning: At least one F-bomb is dropped):
What else did Hrabar say?
Hrabar told the Examiner that "if you see these people in public, you should remind them that they shouldn't have peace. We aren't the only ones who can do this. Anyone who sees Kirstjen Nielsen at dinner, anyone who sees anyone who works at DHS and ICE at dinner can confront them like this, and that's what we hope this will inspire people to do."
She added to the paper that the Democratic Socialists of America protest got people curious.
"A lot of people have been reaching out, either asking how we recognized her or sending us places that they heard other people like to go. Downtown D.C. is crawling with bureaucrats," Hrabar told the Examiner. "I'm sure this will continue to happen in Metro Center, if I happen to be nearby. But these people don't just live in D.C."
What did the Justice Department have to say?
A Justice Department official, when asked about Hrabar's involvement in the Nielsen protest, told the Daily Caller she can't comment on personnel issues.
Hrabar has worked at the Justice Department since July 2016 and was a student at Pennsylvania's elite Swarthmore College, the outlet added.
(H/T: Washington Times)