Women dressed in red cloaks and white bonnets greeted Vice President Mike Pence on Monday outside a Philadelphia fundraiser for Republican U.S. Rep. Lou Barletta's campaign to take the U.S. Senate seat held by Pennsylvania Democrat Bob Casey.
The costumes from the dystopian Hulu series, "The Handmaid's Tale" — in which women are stripped of their rights under a right-wing regime — were a visual protest against President Donald Trump's administration planned for Pence's arrival in town.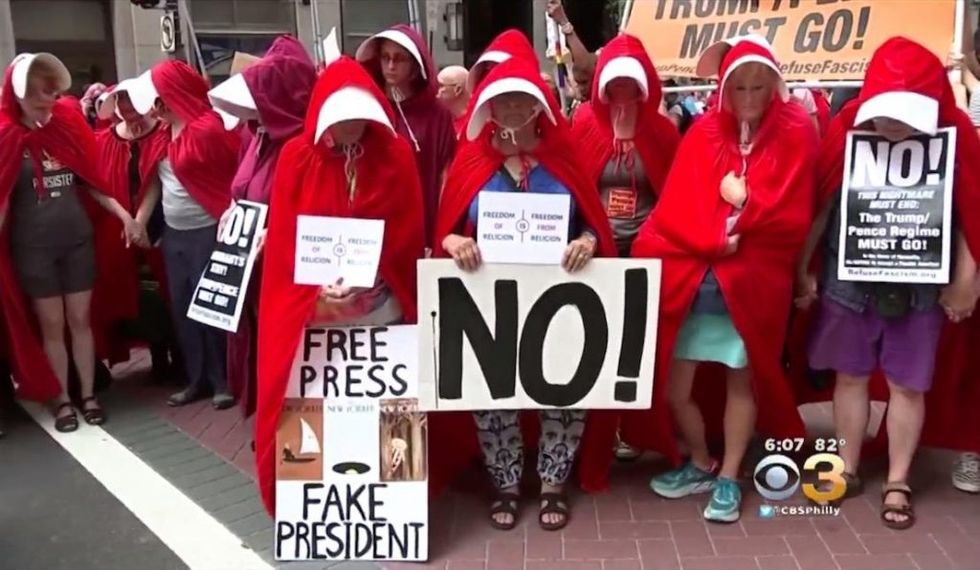 Image source: KYW-TV video screenshot
With that, duly dressed members of "The Handmaid's Tale Brigade" stood silently side by side in front of the Union League building where Pence and Barletta gathered with supporters, Philly Voice reported.
Others protesters held signs reading "Sorry to bother you but we need to fight fascism now" and "Colluders!! Welcome to the Soviet Union League," the paper said.
"I'm thinking about the video of Donald Trump joking that his vice president wants to hang all the gay people," Spencer Koelle — who held a cardboard sign that read "I'm one of the queers that Pence wants to hang" — told Philly Voice.
Among the chants heard were "Shame!" along with "Hey Hey, Ho Ho, Trump and Pence have got to go!" and "Lock him up!" the paper noted, adding that the Handmaid's Tale Brigade members ended their protest by throwing their bonnets and cloaks into a pile in the intersection.
"This is the beginning steps of fascism, when it can still be stopped," organizer Sam Goldman of the local RefuseFascism chapter told Philly Voice. "We don't want to wake up when it's too late. It's up to us to drive out this regime. People need to plant themselves in the streets in mass, sustained non-violent resistance. We're going to be humanity's saviors."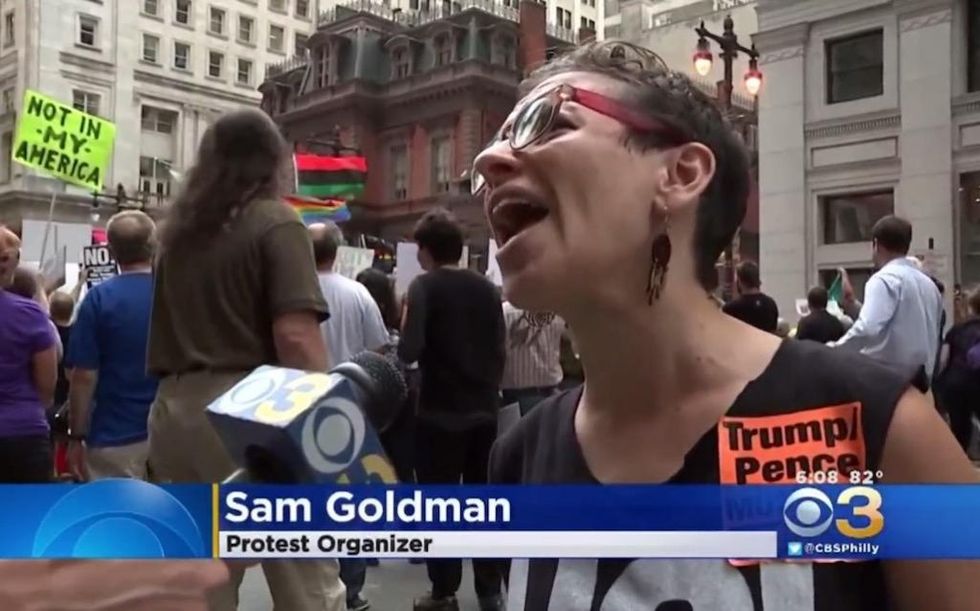 Image source: KYW-TV video screenshot
Barletta press secretary David Jackson told TheBlaze that "adult women unemployment is reaching all-time lows, and 123 Republican women have filed to run for Congress — three times as many as last cycle. These are facts that should be celebrated. Liberals are beside themselves that our policies are creating more opportunity for everyone, and Congressman Barletta is committed to improving opportunities for women, and all Americans, to succeed."
Here's a video report on the protest:
What happened before the fundraiser for Barletta?
Prior to the private fundraiser, Pence was at the Sheraton Hotel in town as part of the America First Tour to talk about tax cuts for businesses and employees, KYW-TV reported.
"More than 6 million Americans have already received pay raises, bonuses, or bigger benefits," the vice president said.
Pence also spoke in support of Barletta at the event, the station said.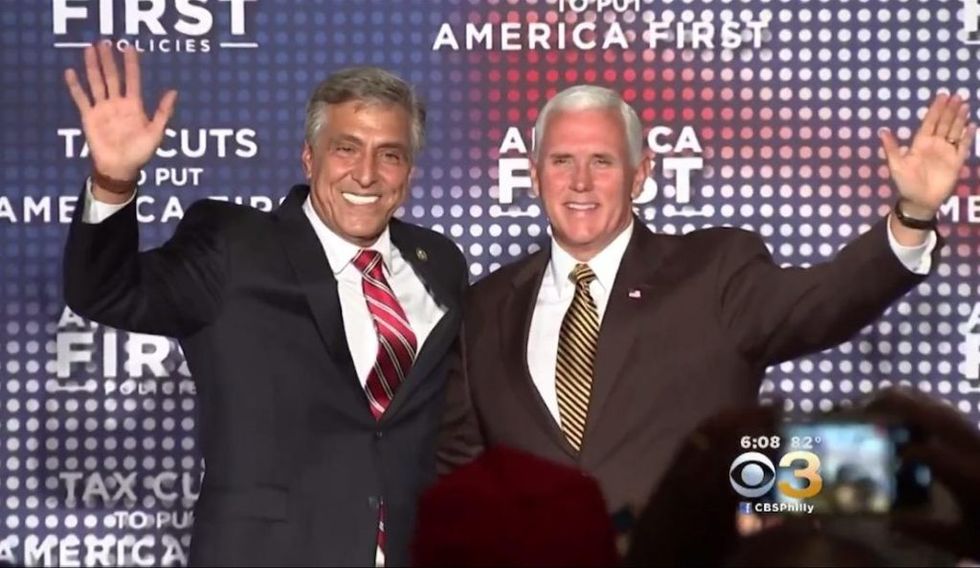 Image source: KYW-TV video screenshot
And Barletta repeated his support for Trump. "I think it's pretty clear because of my relationship with the president, obviously, I'm a strong supporter," Barletta told KYW.
Trump supporter Patricia Kline added to KYW that the president has opened up opportunities to women in the White House.
"The president has a lot of women on his staff," she told the station. "I don't think that people aren't giving him credit for what he's doing."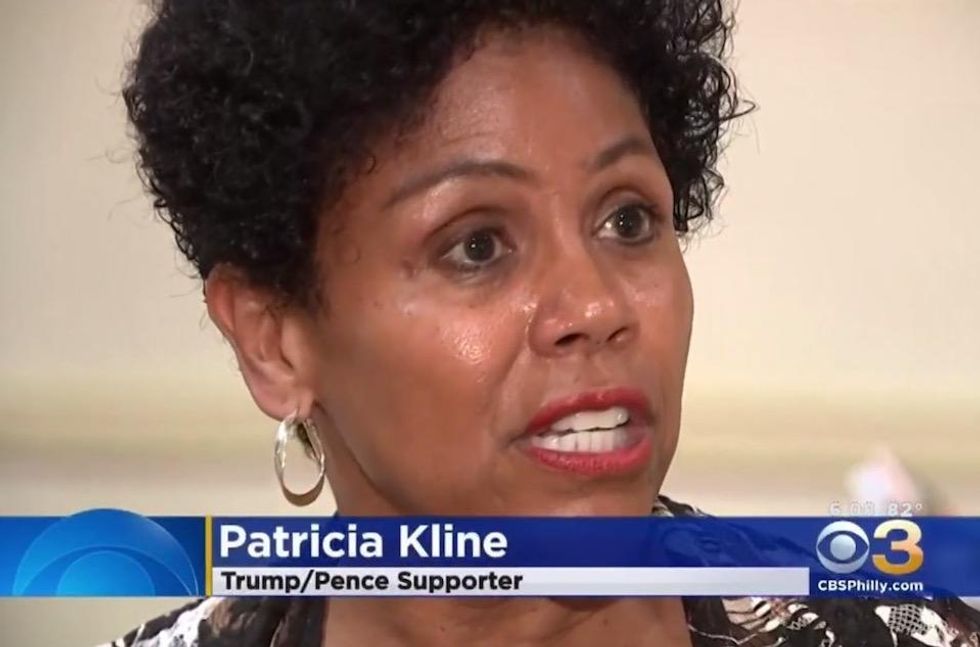 Image source: KYW-TV video screenshot
On Monday night Trump repeated his support for Barletta in a tweet:
Lou Barletta was one of my first supporters. He is tough on Crime and Borders. Will be a great Senator from Pennsyl… https://t.co/DJ58XBq7Dl

— Donald J. Trump (@Donald J. Trump)1532396646.0
What's at stake in the Barletta-Casey contest?
With the GOP holding a slim majority in the Senate — and midterm elections historically tilting toward the party out of power in the White House — Trump and the Republican Party are looking for every opening they can find to hold on to Senate seats and perhaps to flip others.
Casey is one of 10 Democratic senators vying for re-election in states that Trump won in the 2016 presidential election — which The Associated Press said puts a "target" on Casey's back for Republicans.
Barletta was an early supporter of Trump and endorsed his presidential bid in March 2016 — before Trump took Pennsylvania's primary election.