The activist group RefuseFascism has issued a call for 100 women to dress in costumes from "The Handmaid's Tale" and join a protest against Vice President Mike Pence in conjunction with his Monday fundraiser for Republican Senate nominee Lou Barletta in Philadelphia.
The Hulu series about a totalitarian right-wing regime has become a touchstone of sorts for those who believe Pence and President Donald Trump are out to oppress women and strip them of their rights.
Pence is slated to host the fundraiser at the Union League of Philadelphia for Barletta, who's looking to unseat Democratic incumbent U.S. Sen. Bob Casey in November.
A rowdy protest also greeted Pence in June when he arrived in Philadelphia to campaign for Scott Wagner, the Republican nominee for Pennsylvania governor.
How did Barletta's campaign respond to 'The Handmaid's Tale' aspect of the protest?
Barletta's press secretary David Jackson on Friday told TheBlaze that "adult women unemployment is reaching all time lows, and 123 Republican women have filed to run for Congress — three times as many as last cycle. These are facts that should be celebrated. Liberals are beside themselves that our policies are creating more opportunity for everyone, and Congressman Barletta is committed to improving opportunities for women, and all Americans, to succeed."
What else did RefuseFascism have to say?
RefuseFascism called Pence a "vicious theocrat" on the group's site, adding that "we need to be collectively saying through word and deed we refuse to accept a fascist America. This nightmare must end! The Trump/Pence Regime Must Go!"
As for "The Handmaid's Tale" connection, RefuseFascism said Pence "is a key figure in ushering in a theocratic society right out of the Handmaids Tale. A Christian Fascist, he has made it his life mission to terrorize women and the LGBTQ community and people of color."
"It is only fitting that Pence be greeted with 100 women dressed as handmaids.  A visual representation of Pence's end game of women totally stripped of their rights and humanity," the site continued. "We are calling all women to join in mass refusal to this fascist regime! 100 volunteers needed!"
In addition, the group called Pence "one of the most dangerous reactionary figures in modern history," having "instituted the most anti-women, anti-science, and anti-LGBTQ policies while Governor."
Protesters also are set to push back against the recent nomination of Judge Brett Kavanaugh to the Supreme Court, who — if confirmed — may help usher in the overturn of Roe v. Wade.
"Nothing short of removing this whole illegitimate regime from power will stop this nightmare," Samantha Goldman, a Refuse Fascism Philly organizer, told PhillyVoice in a statement. "If we allow this regime to get away with caging and torturing children, they know there is nothing they can't get away with. We must not allow them to pack the Supreme Court and wipe out women's right to abortion, LGBTQ rights, and more and worse. This is a shock we cannot normalize. This is a regime that must be driven from power. Together, we must be the ones that do it."

RefuseFascism on Friday didn't immediately reply to TheBlaze's question regarding how many women have volunteered to dress in costumes from "The Handmaid's Tale" so far — and if fewer than 100 volunteer, is there a threshold number for not featuring women in "The Handmaid's Tale" costumes.
What else is reportedly happening with Barletta?
Barletta is "shaking up his Senate campaign operation after two months of sluggish fundraising and rumors of disorganization," Politico reported, citing a source close to the Barletta campaign.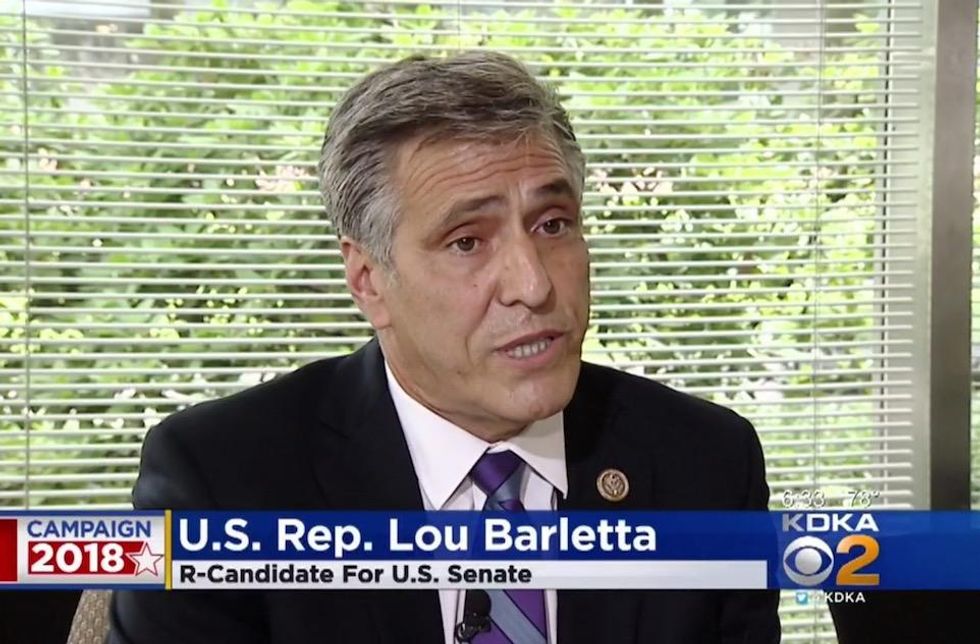 Image source: KDKA-TV video screenshot
The outlet said the campaign is bringing aboard Vincent Galko — who headed Barletta's upset win over former Rep. Peter Kanjorski in 2010 — as a general consultant. In addition, Matt Beynon will be joining as communications director, Politico's source said, adding that Barletta's top aide Jon Anzur has assumed the role of campaign manager.
The Barletta campaign on Friday didn't immediately respond to TheBlaze's request for comment on the reported shakeup in the campaign.
This story has been updated.