Americans for Prosperity-Pennsylvania — the Keystone State arm of the political advocacy group founded by the Koch Brothers — is supporting Republican Pennsylvania gubernatorial nominee Scott Wagner, the Philadelphia Business Journal reported.
The group will canvass, make phone calls, and run advertisements to help Wagner unseat incumbent Democratic Gov. Tom Wolf and his "failed policy record," the paper said.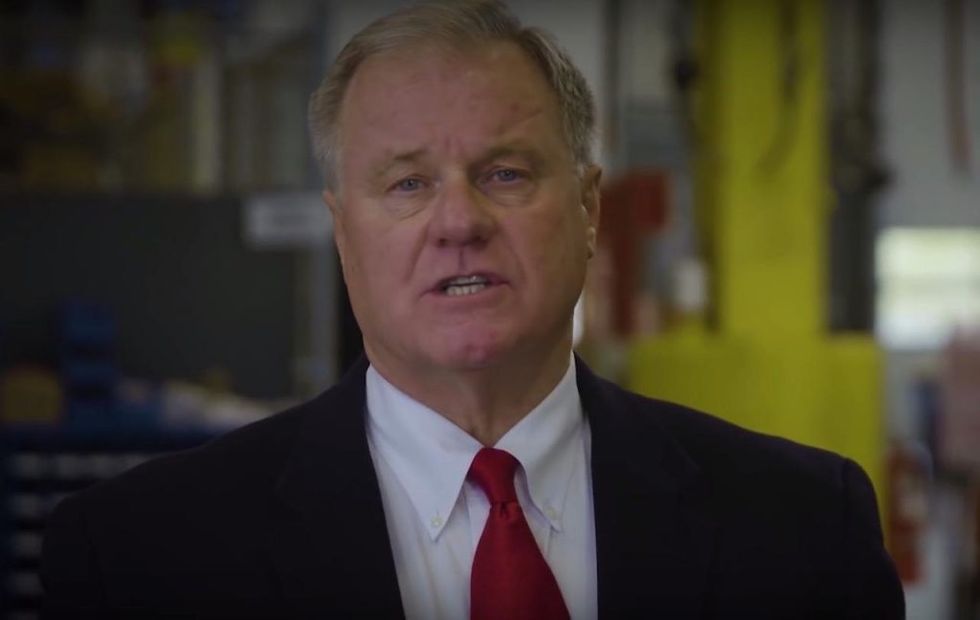 Scott Wagner (Image source: YouTube screenshot)
"Our activists fight to break barriers to opportunity that let our Pennsylvania communities thrive — but Wolf's policies stand in the way," Beth Anne Mumford, AFP-Pennsylvania state director, told the Philadelphia Business Journal. "Our grassroots teams are energized and ready to mobilize across the state to have conversations with their neighbors on why Wolf is wrong for Pennsylvania and why he must be fired."
AFP-PA said Wolf's tenure has left Pennsylvanians with "bigger government, higher taxes, and runaway spending" without a push for economic growth, the paper said, citing a news release.
What about Lou Barletta?
But the paper said the Koch-backed group didn't enter the campaign fray of another notable Pennsylvania GOP politician looking for a bigger stage: U.S. Rep. Lou Barletta, the state's Republican nominee for U.S. Senate.
The reason is characterized as "part a broader cold war between [President Donald] Trump and the Kochs about the direction of the GOP," the Philadelphia Business Journal said.
Indeed, relations between the camps have been frosty of late:
The Koch network said last month it would be more selective about candidate support — and then promptly said it wasn't backing North Dakota Republican candidate for Senate, Rep. Kevin Cramer, in a vulnerable seat held by a Democrat. The reason was inconsistency in his record on financial issues.
Trump blasted back at the Kochs, saying he didn't need their support or money: "The globalist Koch Brothers, who have become a total joke in real Republican circles, are against Strong Borders and Powerful Trade," the president tweeted.
Following suit, the Republican National Committee told major donors to stay away from Koch-affiliated organizations.
Barletta was a Trump supporter early in his White House run, and the president has returned the favor, stumping for Barletta's Senate bid against incumbent Democratic Sen. Bob Casey at a rally earlier this month.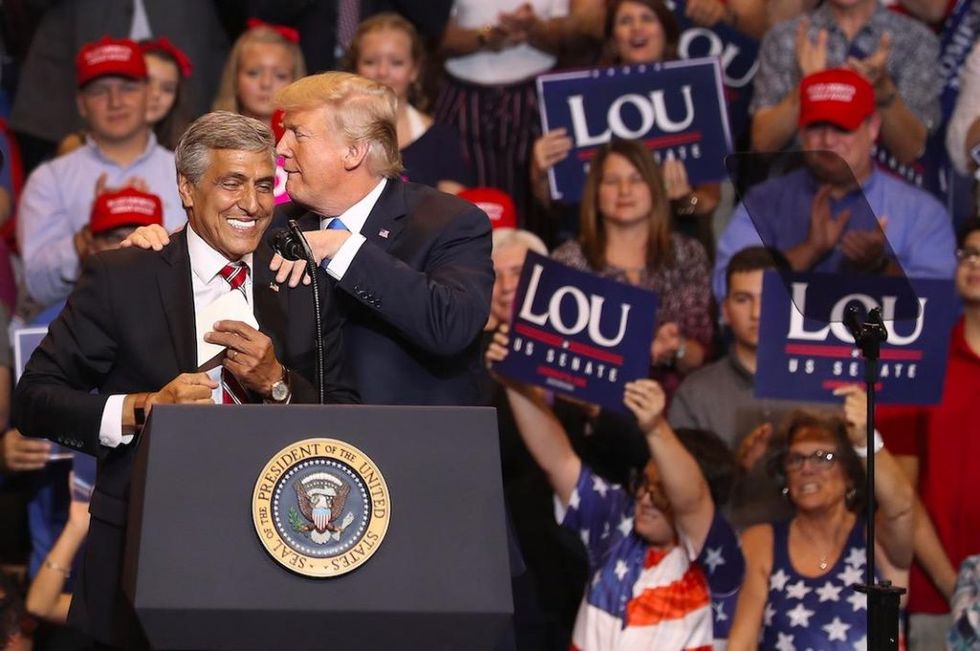 WILKES BARRE, PA - AUGUST 2: Senate candidate Lou Barletta gets a shoulder squeeze from President Donald J. Trump at the Mohegan Sun Arena at Casey Plaza in Wilkes Barre, Pennsylvania. Barletta is taking on Sen. Bob Casey for the position. (Photo by Rick Loomis/Getty Images)
Vice President Mike Pence also campaigned for Barletta in Philadelphia. Notably, AFP-Pennsylvania in May criticized Barletta — through mailers and online ads — for supporting the Omnibus spending bill.
What did AFP say about not backing Barletta?
AFP's Mumford on Friday told TheBlaze: "We haven't made any announcement on the Senate race yet, but we have spent the summer making tens of thousands of calls and door knocks urging folks to call Senator Casey and ask him to support Judge Kavanaugh's confirmation to the U.S. Supreme Court and work to make tax reform permanent."
She added that the group "will work with anyone to break down barriers to opportunity and restrain the size of government so that individuals, communities, and businesses in the Commonwealth have the maximal chance to thrive."
The Barletta campaign on Friday didn't immediately reply to TheBlaze's request for comment on the matter.
What did Wagner have to say about AFP support?
"Scott is pleased to have the support of an organization committed to promoting business friendly policies and fostering economic growth — something that, despite his MIT degree, Tom Wolf knows nothing about," Wagner campaign spokesman Andrew Romeo told the Philadelphia Business Journal. "While Tom Wolf is bought and paid for by the public sector unions that continuously hold our economy and our education system back from the reforms that we desperately need, Scott will continue to work with everyone who shares his vision of protecting paychecks for hardworking Pennsylvanians."
What did Wolf have to say?
Wolf's campaign told the paper that AFP throwing its hat into the campaign ring signals that Wagner is "beholden to special interest groups."
"There's no greater proof that Scott Wagner is beholden to special interests than an endorsement from the Koch brothers," Beth Melena, Wolf's campaign communications director, told the Philadelphia Business Journal. "These big oil and gas barons are trying to buy the election for Scott Wagner so he can continue to give handouts to billionaires like the Kochs by blocking a severance tax and refusing to make big corporations pay their fair share."