Don't let the name "kissing bug" fool you. These insects can transmit a parasite to humans that leads to Chagas  disease and potentially deadly consequences.
The Chagas disease causes chronic heart disease in about one-third of patients infected with the disease, the American Heart Association said in a news release earlier this week.
"This statement aims to increase global awareness among physicians who manage patients with Chagas' disease outside of traditionally endemic environments," said Maria Carmo Pereira Nunes, co-chair of the committee that produced the statement.
Kissing bugs are blood-sucking insects that can carry the Trypanosoma cruzi parasite, according to Texas A&M University Agriculture and Life Sciences. The infection caused by the parasite leads to Chagas disease.
The Centers for Disease Control and Prevention reported that an estimated 300,000 Americans are infected with the disease. Most of the cases in the U.S. were acquired in countries where the disease is endemic, according to a 2017 CDC report released last month.
How is the disease transmitted?
Humans can become infected with the parasite after the insect bites them and then defecates near the bite site.
It can also "be passed through contaminated food or drink, from pregnant mothers to their babies, and through blood transfusions and organ transplants," the AHA said in the release.
What are the symptoms?
Chagas disease manifests in two phases: the acute phase, which can last for weeks, and the chronic phase, which can be more difficult to diagnose since many people show no symptoms.
The most common symptoms are similar to other illnesses, and include fever, fatigue, rash, vomiting, diarrhea, headache, and loss of appetite.
Chronic Chagas disease can cause an enlarged heart, heart failure, abnormal heart rhythm, and cardiac arrest if left untreated. It can also cause intestinal problems.
Can pets get the disease?
Yes. Dogs, cats, and other small animals can become infected with the parasite if bitten by the insect, according to the Center for Food Security and Public Health.
Typically, dogs are the only animals that show signs of the disease. Symptoms include sluggishness, unkempt hair, and sometimes there are signs of heart failure.
Why is called the 'kissing bug'?
The insect got its name because it often climbs onto people at night and leaves bite marks near their mouth.
What else?
There are 11 species of kissing bugs living in 28 states, according to Texas A&M Agriculture and Life Sciences.
As many as 8 million people in Mexico, Central America, and South America are believed to be infected with Chagas disease, the CDC report said.
If you think you may have bitten by the kissing bug or may be infected with Chagas, the CDC recommends seeing your health care provider.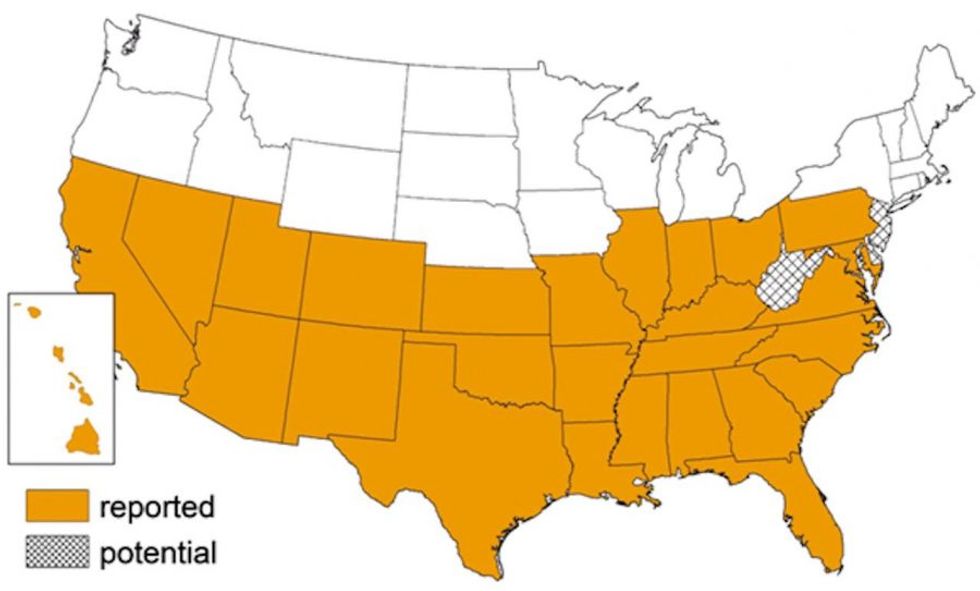 Kissing bugs can be found in 28 states across America. (Image source: Centers for Disease Control)