Chicago police officers who point their guns during arrests or street stops will have to radio dispatchers about their actions starting next July, the Chicago Tribune reported.
The mandate is part of a deal between Mayor Rahm Emanuel's administration and Illinois Attorney General Lisa Madigan's office, the paper said.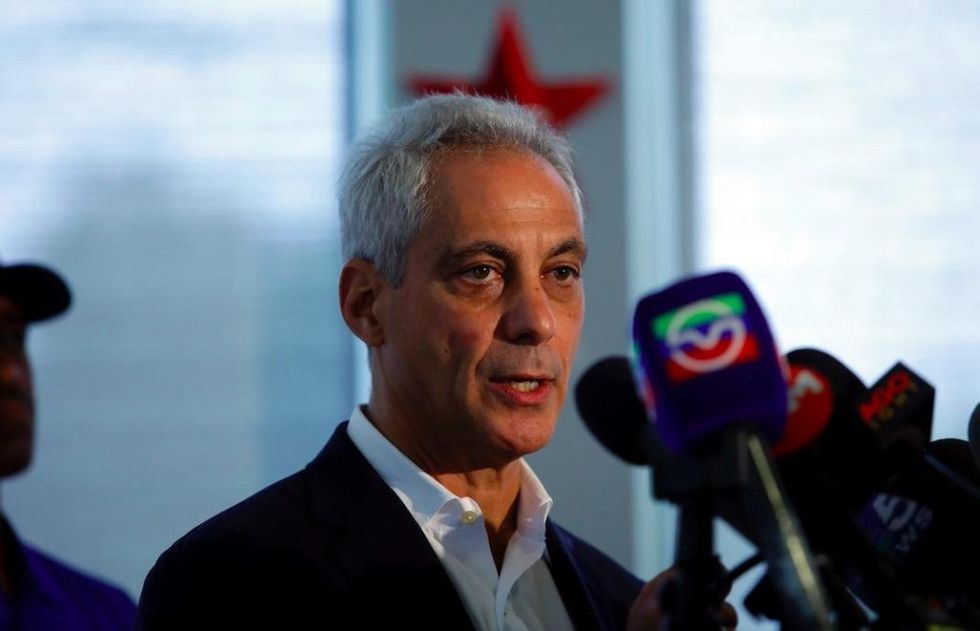 Chicago Mayor Rahm Emanuel speaks about Chicago's weekend of gun violence during a news conference Aug. 6 at the Chicago Police Department 6th District station in Chicago. Chicago experienced one of its most violent weekends of the year, after more then 70 people were shot, with 12 fatalities. (Photo by Joshua Lott/Getty Images)
Officers won't be required to complete use of force reports — which are filled out when Tasers are used and guns are fired — but supervisors will review gun-pointing incidents, and they'll be recorded in city data, the Tribune said. Also, the department also will have to develop training on the appropriate times to point weapons.
The issue of cops pointing their guns stems from a 2014 incident in which a Chicago officer was caught on video shooting black teenager Laquan McDonald 16 times, the paper said. McDonald was carrying a knife, the Tribune said.
Officer Jason Van Dyke was charged with murder; his lawyers are expected to argue self-defense, the paper reported.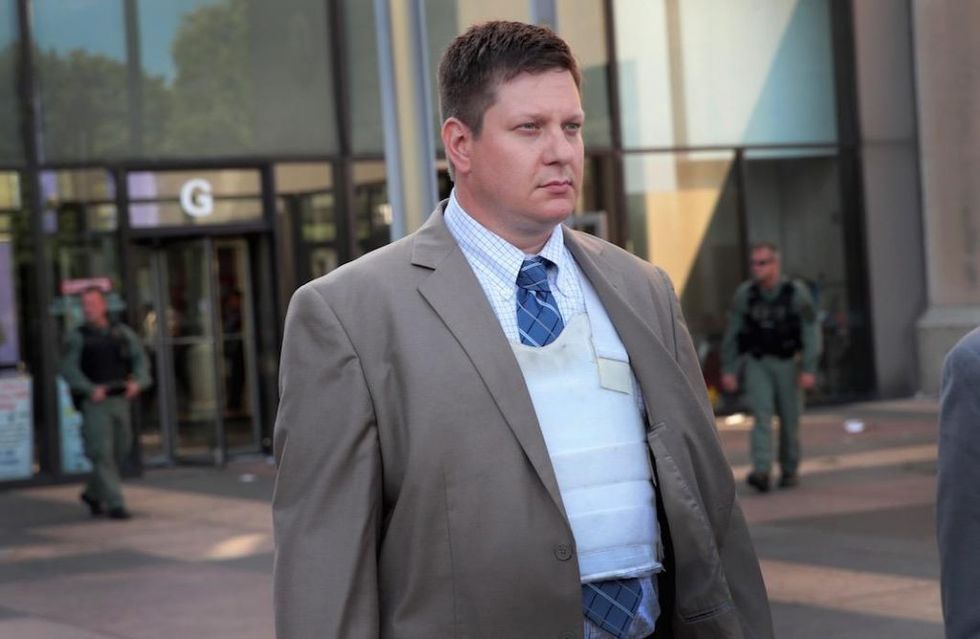 Jason Van Dyke leaves the Leighton Criminal Courts Building following the first day of jury selection in his murder trial on Wednesday in Chicago. (Photo by Scott Olson/Getty Images)
While police officials argued that officers being forced to report each time they point their guns could lead to them hesitating in dangerous situations, Madigan said the measure is necessary to make certain police are using their guns appropriately, the Tribune reported.
Madigan said it's a "very serious situation" when officers point their guns at people, the paper added, noting she said the measure won't prevent cops from "defending themselves."
A University of Chicago law professor involved in the litigation between Emanuel and Madigan told the paper that keeping track of police gun-pointing is necessary.
"If it's serious enough to point a gun at a person, which is an incredibly serious use of force, it's important enough to document why you did it," Craig Futterman noted to the Tribune.
But Police Superintendent Eddie Johnson told the paper that the more time cops take to fill out reports represents less time on patrol in areas of the city that badly need an increased police presence.