A former classmate of Christine Blasey Ford deleted her social media accounts after a long-winded Facebook post on Wednesday that claimed she was certain that the sexual assault allegations against Supreme Court nominee Brett Kavanaugh "did happen."
"Christine Blasey Ford was a year or so behind me, I remember her," wrote Cristina King Miranda wrote Wednesday morning on Facebook. "This incident did happen."
She wrote on Twitter that "Kavanaugh should stop lying, own up to it and apologize."
Hours later, Miranda walked back her claims in an interview with NPR.
"That it happened or not, I have no idea," Miranda told NPR on Wednesday. "I can't say that it did or didn't."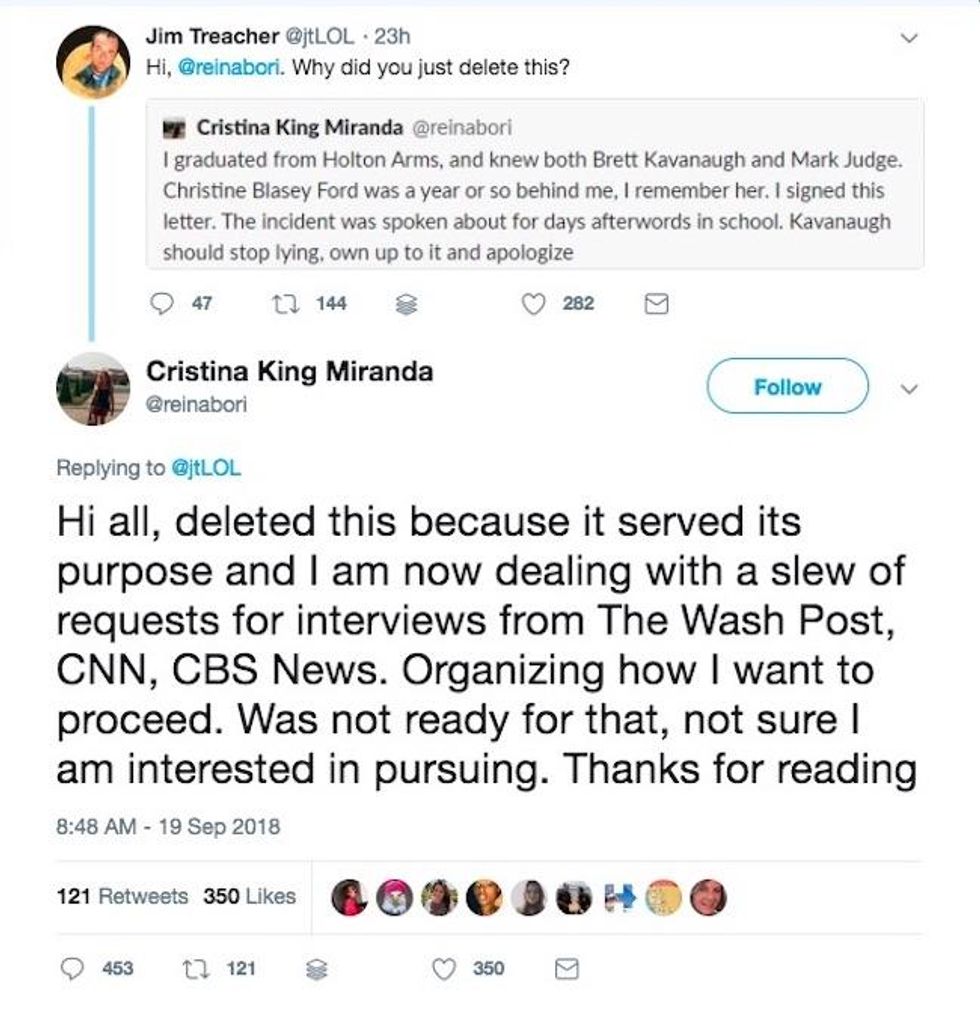 Cristina King Miranda wrote on Twitter that Brett Kavanaugh should stop lying and apologize to his sexual assault accuser. (Image source: Video screenshot)
Kavanaugh has adamantly denied the accusations, as has his friend Mark Judge, who was named as a witness in Ford's letter about her allegations to Sen. Dianne Feinstein (D-Calif.).
What's the background?
Ford, 51, wrote the letter to Feinstein in July but it wasn't until last week that Feinstein made the letter known.
Ford alleged that Kavanaugh attacked her at a house party in 1982 when she was 15 and he was 17.
Ford said she doesn't recall how she got to the party or how she got home, but she said she remembers that Kavanaugh groped her on a bed and tried to remove her clothes.
The letter went to say that Kavanaugh, who was allegedly drunk at the time, placed his hand over her mouth when she tried to scream and that she was afraid he might inadvertently kill her.
Ford said the incident ended when Judge jumped on the bed and they all tumbled off.
She has not accepted Sen. Chuck Grassley's invitation to testify before the Senate Judiciary Committee but has insisted that the FBI investigate her accusations.
What did Miranda's social media post say?
In Miranda's original post, which was shared on Twitter in a screenshot, King wrote that she attended the same high school as Blasey Ford and that she knew both Kavanaugh and Judge.
"Christina Blasey Ford was about a year or so behind me, I remember her. This incident did happen. Many of us heard about it in school and Christine's recollection should be more than enough for us to truly, deeply know that the accusation is true," she wrote. "We are all in some way from that time, at least me, Christine, and I applaud her and her dignity. The drinking ensconced in the puritanism and hypocrisy of that elite, privileged, mostly white, Catholic, Washington society, was completely out of control."
She went on to say that she remembered hosting parties at her home in which she had to call the police.
"We were teenagers and did really stupid. abusive, dangerous things. Nobody here has the moral authority over anyone else no matter what elite school or college or brilliant career and beautiful family he or she may now have," she continued.
"If Kavanaugh truly has the integrity mentioned by those who support him, then he should be just as courageous as Christine and stop trying to dodge the accusations, admit his actions from so long ago, speak from the heart, and apologize."
Why did she delete her social media accounts?
Miranda deleted her post that backed Ford's allegations against Kavanaugh and followed it with another post that said she was "dealing with a slew of requests for interviews" from several news outlets.
"Hi all, deleted this because it served its purpose and I am now dealing with a slew of requests for interviews from The Wash Post, CNN, CBS News. Organizing how I want to proceed. Was not ready for that, not sure I am interested in pursuing. Thanks for reading," she wrote.

Cristina King Miranda's tweet before she deactivated her account. (Image source: Video screenshot)
Thursday morning, Miranda wrote on Twitter that she would not accept any other interviews from the media.
"To all media, I will not be doing anymore interviews. No more circus. To clarify my post: I do not have first hand knowledge of the incident that Dr. Christine Blasey Ford mentions, and I stand by my support for Christine. That's it. I don't have more to say on the subject," Miranda wrote.
Shortly after the last post, she deactivated her social media accounts.