The Arizona prosecutor who questioned Christine Blasey Ford in front of the Senate Judiciary Committee on Thursday told Republican senators after the hearing that she wouldn't have prosecuted Supreme Court nominee Brett Kavanaugh based on evidence she heard, the Washington Post reported, citing an individual familiar with the prosecutor's comments.
Rachel Mitchell was chosen by the GOP to question Ford, who has claimed Kavanaugh sexual assaulted her when they were teenagers in 1982.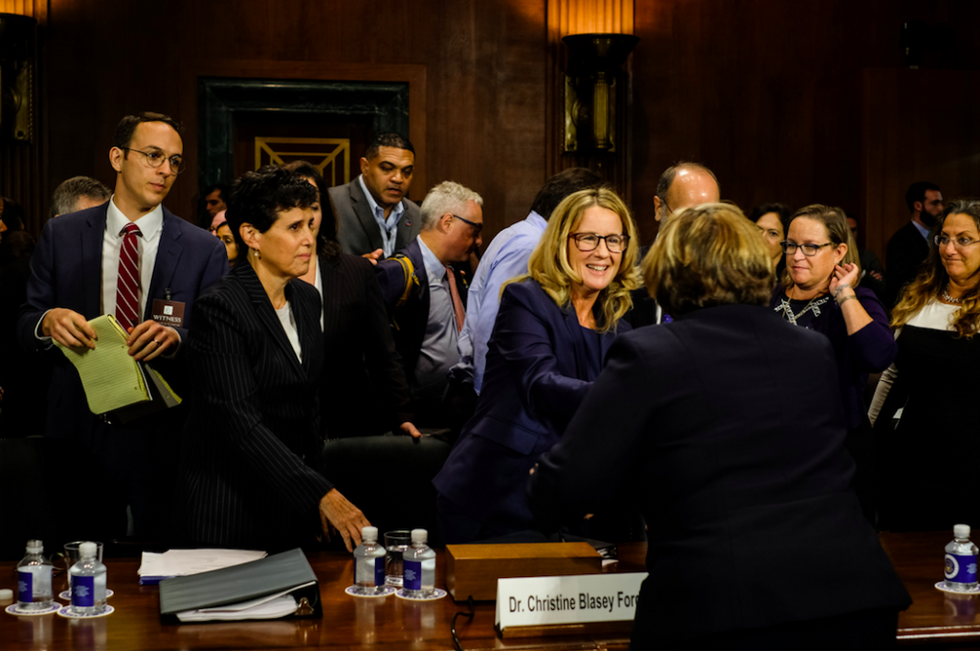 Christine Blasey Ford shakes hands with Rachel Mitchell, chief of the Special Victims Division of the Maricopa County attorney's office in Arizona, who questioned Ford at a hearing Thursday of the U.S. Senate Judiciary Committee at the Dirksen Senate Office Building on Capitol Hill in Washington, D.C. Ford, a professor at Palo Alto University and a research psychologist at the Stanford University School of Medicine, has accused Supreme Court nominee Brett Kavanaugh of sexually assaulting her during a party in 1982 when they were high school students in suburban Maryland. (Photo by Gabriella Demczuk-Pool/Getty Images)
The office of Republican Sen. John Cornyn (Texas) on Friday sent a news release referring to Mitchell's conclusion, USA Today said.
Cornyn, the Senate majority whip, told Fox News Friday morning he believed Mitchell "did a good job getting the basic facts out" in questioning Ford.
"I spent 13 years as a judge back in Texas, and I recognize the need to have somebody who does this for a living day after day carefully question somebody who has claimed to be a victim of sexual assault," Cornyn said, adding he doesn't regret using Mitchell.
Here's a clip of Cornyn's comments. After discussing votes needed to get Kavanaugh out of committee and before the Senate for a final vote, he talks about Mitchell's performance just after the 2-minute mark:
'An unmitigated disaster'
Not everyone agreed with Cornyn regarding Mitchell, however.
Fox News legal analyst Andrew Napolitano reportedly said Ford "is extremely credible, and Rachel Mitchell is not laying a glove on her."
"[Ford] is extremely credible and Rachel Mitchell is not laying a glove on her... the president cannot be happy wit… https://t.co/6xBz4tb4OK

— Philip Rucker (@Philip Rucker) 1538067204.0
"The president cannot be happy with this," Napolitano, a Trump supporter, reportedly added.
Steve Schmidt, a senior adviser for John McCain's 2008 presidential campaign, is no Trump supporter and agreed with the Mitchell assessment:
Every GOP campaign strategist and Hill staffer wishes they had the button to open the trap door under Rachel Mitche… https://t.co/yf4PNab0H7

— Steve Schmidt (@Steve Schmidt) 1538064997.0
And a Republican strategist close to the White House told Business Insider that Mitchell "was an unmitigated disaster" and "didn't even attempt to poke holes in the many inconsistencies in Ford's story."