Pennsylvania Republican gubernatorial candidate Scott Wagner called for the confirmation of embattled Supreme Court nominee Brett Kavanaugh in a Facebook video statement, adding that he was "shocked and disgusted" by the way Kavanaugh's "politically immoral" detractors have behaved.
"I was shocked and disgusted by the way Judge Kavanaugh and his family had been treated," Wagner said.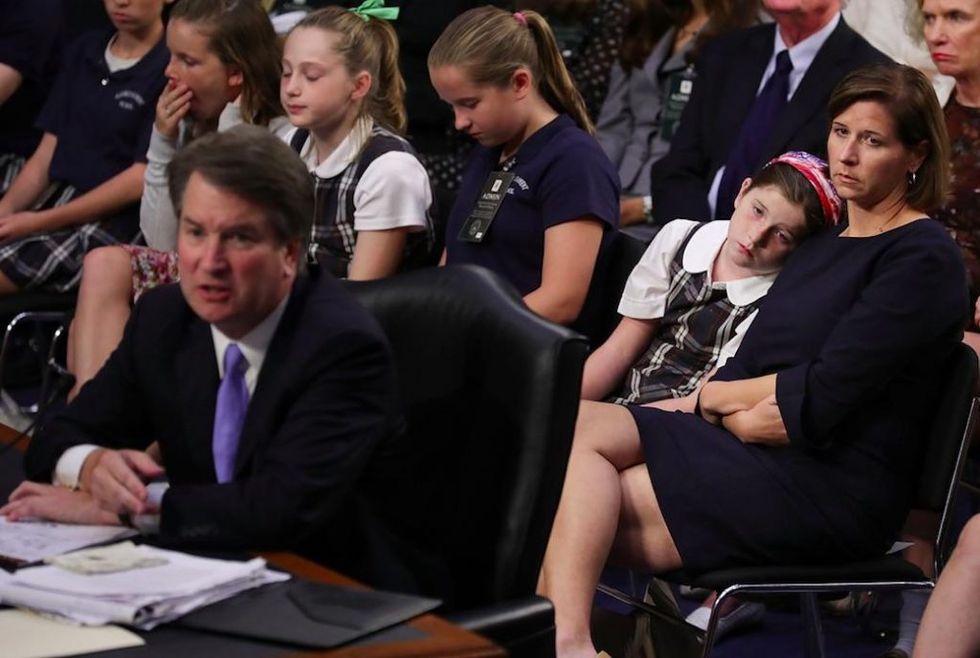 Supreme Court nominee Judge Brett Kavanaugh's family, (from right) wife Ashley Kavanaugh and daughters Lisa and Margaret Kavanaugh, attend the third day of his confirmation hearing on Sept. 6 before the Senate Judiciary Committee on Capitol Hill in Washington, D.C. (Photo by Chip Somodevilla/Getty Images)
Wagner added that Kavanaugh's opponents have used "scorched earth tactics" in an attempt to benefit politically in the wake of sexual assault allegations brought against him on the eve of his confirmation.
Friday's minute-long clip was a response to a query by Planned Parenthood's political arm, PennLive reported.
'Enough is enough'
Wagner also added President Donald Trump to his message, noting that "it has become crystal clear to all Americans that there are those whose only wish is the destruction of a duly elected president."
While Wagner didn't mention by name Kavanaugh's accuser, Christine Blasey Ford — who gave testimony to the Senate Judiciary Committee on Thursday — he did say we "also witnessed the agony of a woman, clearly troubled by her experience."
Further the GOP nominee added, "We cannot allow legitimate women's issues to be weaponized by the politically immoral." He also called for a "return to manners, a return to respect, and a return to the politics of decency."
"Enough is enough," Wagner concluded. "It is time to confirm Judge Brett Kavanaugh to the United States Supreme Court where he belongs."
Here's the clip:
How did Wolf respond?
Democratic Gov. Tom Wolf — who's facing Wagner in November's midterm election — said in a tweet posted to his official Twitter account Friday that "Ford's testimony was credible. We should not confirm Judge Kavanaugh to a lifetime appointment until the FBI can investigate," PennLive said, adding that Wolf was replying to Planned Parenthood's request for comment.
Wolf also said he stood with Republican governors in Maryland, Massachusetts, Ohio, and Vermont "in calling on Senate Republicans to delay the vote," the outlet added.
What else did Wagner say?
Wagner's spokesman Andrew Romeo told TheBlaze that the GOP candidate "believes that Dr. Ford clearly experienced something terrible and he admires her courage for coming forward."
But Wagner also "feels there is no evidence to show Judge Kavanaugh was the perpetrator of the crime that occurred. Scott would have voted to confirm Judge Kavanaugh on Friday morning without an FBI investigation, but he feels the investigation will only further illustrate that there is no reason for Judge Kavanaugh not to be on the Supreme Court," Romeo added to TheBlaze.