Alex Trebek was behind the microphone — but this was no game show.
No, the iconic host of "Jeopardy!" was moderating the sole debate Monday between Democratic Pennsylvania Gov. Tom Wolf and his opponent, Republican Scott Wagner.
But to some observers, Trebek stole the show — and in the worst possible way.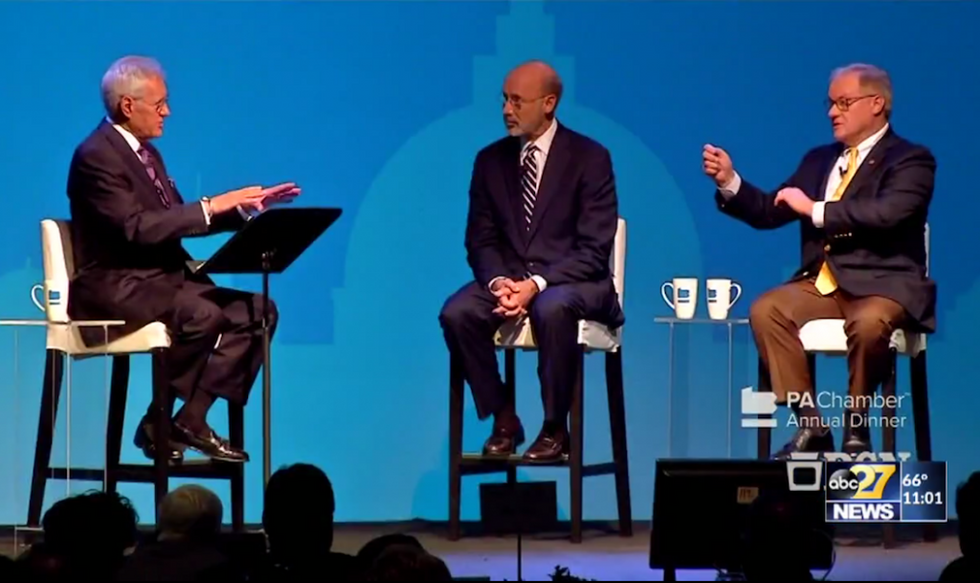 From left: Alex Trebek, Gov. Tom Wolf, former Pennsylvania state Sen. Scott Wagner (Image source: WHTM-TV video screenshot)
The York Daily Record said Trebek hogged too much debate time "on his own musings," adding that Twitter users jeered the TV legend "for showing how much he knew about the state."
Wagner's campaign agreed, noting in a Tuesday news release that Trebek's moderation performance was just plain bad and that "the 2018 Republican nominee is calling for two additional debates so the candidates have the ability to address the issues that went undiscussed due to Trebek's blatant incompetence as a moderator."
"The people of Pennsylvania deserve to know that they have a choice when they go to the polls on November 6th, and last night's debate did not profile enough of the serious problems that are facing Pennsylvania," Wagner said in a statement. "When Mr. Trebek stepped back and allowed Governor Wolf and me to have a substantive discussion of the issues, I felt it was very informative. That being said, a single 45-minute debate where the moderator spoke just as much as both candidates limited our chances to present our views on a number of topics. As a self-proclaimed champion of democracy I urge Governor Wolf to join me in two additional debates so the voters can gain a better understanding where the both of us intend to take Pennsylvania during the next four years."
Given that Wolf agreed to only one debate after Wagner floated the notion of holding debates in every Pennsylvania county — 67 total — it appears another showdown in front of the cameras is unlikely.
"People are listening to both sides. They're drawing their conclusions. They're understanding the contrast. I think people are listening," Wolf told Wagner as they squared off in Hershey, WHTM-TV reported. "They don't like what they're hearing from you, but they are listening."
What did the debate cover?
Wagner and Wolf differed on the death penalty.
"We're gonna get tough in this state," Wagner said, the station reported. "Our law enforcement people that are on the front lines every single day are not being backed up by this governor."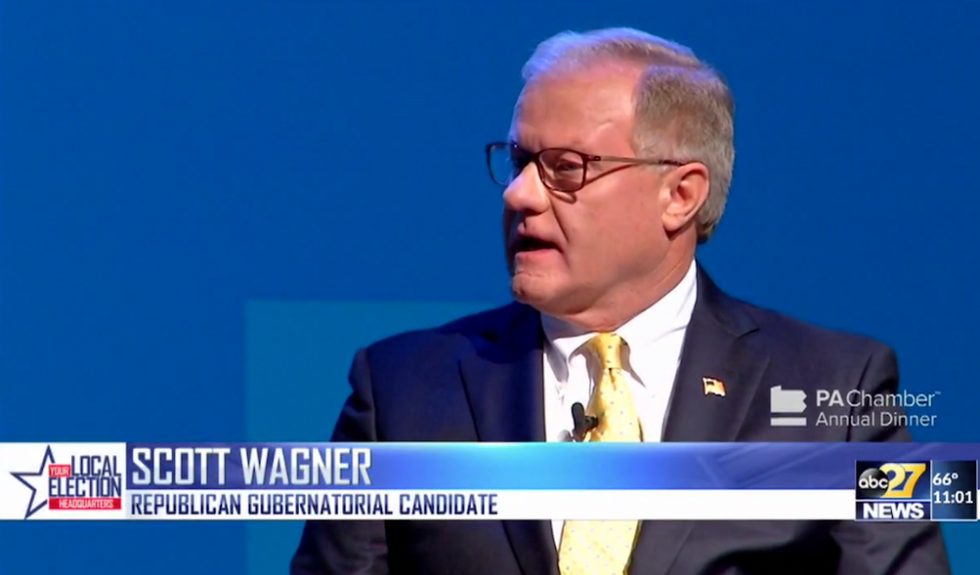 Image source: WHTM-TV video screenshot
Wolf countered that he wants violent criminals in prison but doesn't support the death penalty, WHTM reported, and then cited a moratorium from a bipartisan Senate commission.
"Their recommendation was that Pennsylvania should continue with the moratorium, so I'm continuing to do what that bipartisan commission said we ought to do," Wolf said, the station added.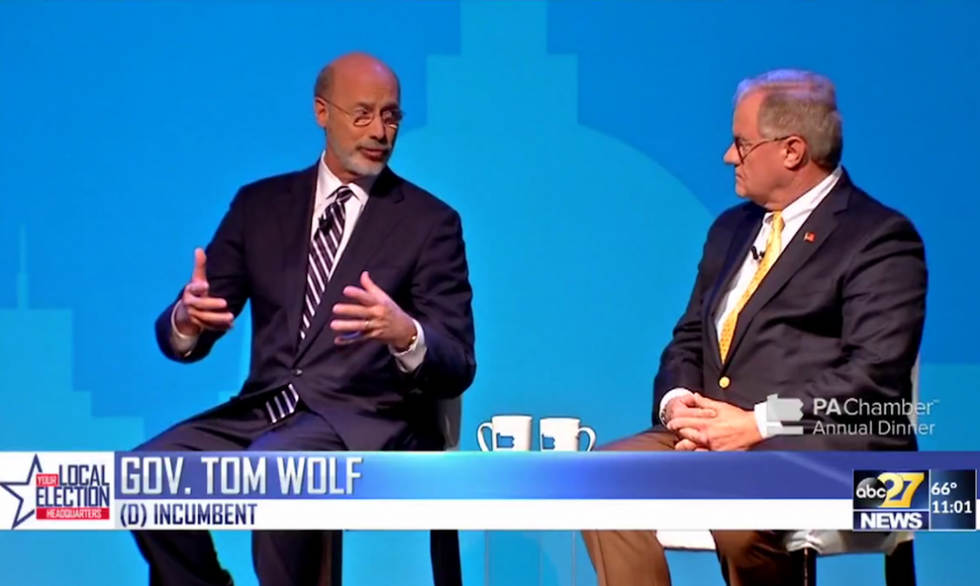 Image source: WHTM-TV video screenshot
Wagner got kudos from the crowd for supporting local businesses, WHTM said.
"How about if we start treating the businesses that are here like customers and start being more business friendly, roll back some regulations?" Wagner offered, the station reported.
Wolf pumped up his efforts on behalf of education, WHTM said.
"If you start from where I started three years and eight months ago, Pennsylvania was underfunding its schools," the governor said, according to the station. "We need to do a better job. I have put a billion dollars into our schools."
The zinger heard 'round the Keystone State
Wagner arguably saved his best line for last: "When I'm elected governor, if I don't do anything in four years, I pledge to you that I will change my name to Tom Wolf."